Above: The Victor Pope Band. Photo credit: Jethro Collins
Humble Bumble : The Big Share!
HUMBLE BUMBLE 2021: 18th-19th Sept

Saturday:
2pm Onwards: Wolanski's Pole and Aerial Fitness
4pm - Mid Life Krysis
5pm - Laura Silverstone
6pm - The Victor Pope Band
7pm - Point Five
9pm - Roseanne Reid
10pm - Samba Sene and Diwan
11pm - Tunes Until Late

Sunday:
1pm: Charlie Jackson
2pm: Minor Swing
3pm: Wolanski's Pole and Aerial Fitness
4pm: Kitschener
Through the Day: Yoga with Hazel, Massages with Mhairi (if you're lucky!)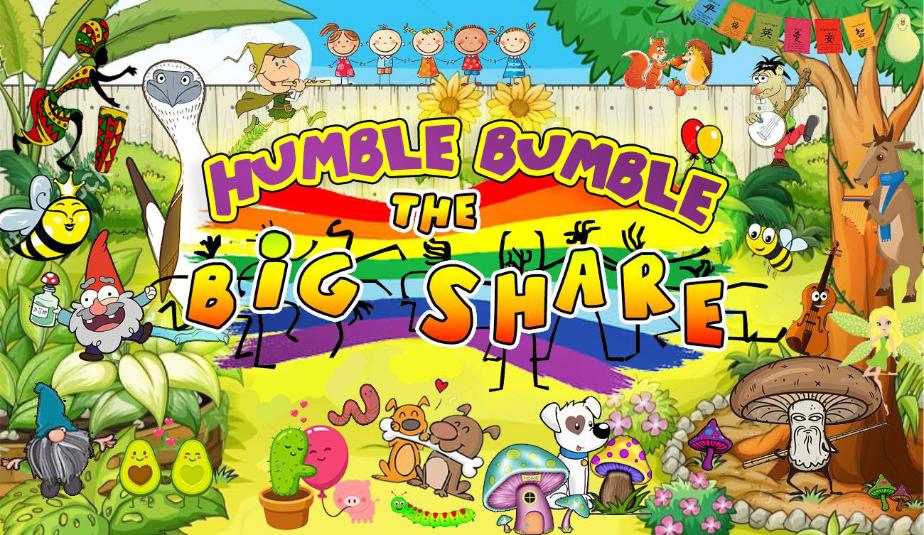 Above artwork credit: Doug Brown
1. Whilst absolutely HB in spirit, we are making a slight amendment this year due to how the C-bomb has affected artists over the last 18 months. When considering whether to host this year or not, I felt it was unreasonable to ask people to come as performers where performers have been stuck for work for all this time (and actually cost them a bit of money to get here too!). So, this year, we are taking donations for artists to make up travel expenses as a small offering. So BRING A BIT OF CASH to chuck into a bucket! (I may do a ruder late night version of this too!!)
2. As usual, bring: A BOTTLE OF SPIRITS for the Free Spirits Bar; FOOD to contribute to the table. There will also be a BBQ running if you want to bring anything to cook. This way, everyone eats and drinks freely all weekend. Amazing. (You can also bring your personal supply of drinks to keep private control of, of course!)
2. We are supported by a small, amazing surrounding community. If you bump into anyone in the area outside of the garden, please BE POLITE (but not overly generous with information - there are some arseholes too!).
3. The camping field has sheep in it that are being taken off for the weekend. LEAVE ABSOLUTELY NO TRACE. Not one bottle lid must be dropped and left in the grass. Please take responsibility for duty of care on this matter. The sheep return to the field on Monday. No sheep injuries to follow please.
4. This is a PRIVATE PARTY for friends and friends of friends. Your presence is your own responsibility as a guest at a private residence.
5. CHILDREN AND DOGSARE WELCOME during the daytime but things may get a little wild into the evening. It is up to you to judge when you wish to remove them!
Note: Campervans to park in main field alongside tents and cars. 'Quiet campervan zone' this year is being used as a kit unloading area. The on foot entrance from the road to the site will be marked with a sign.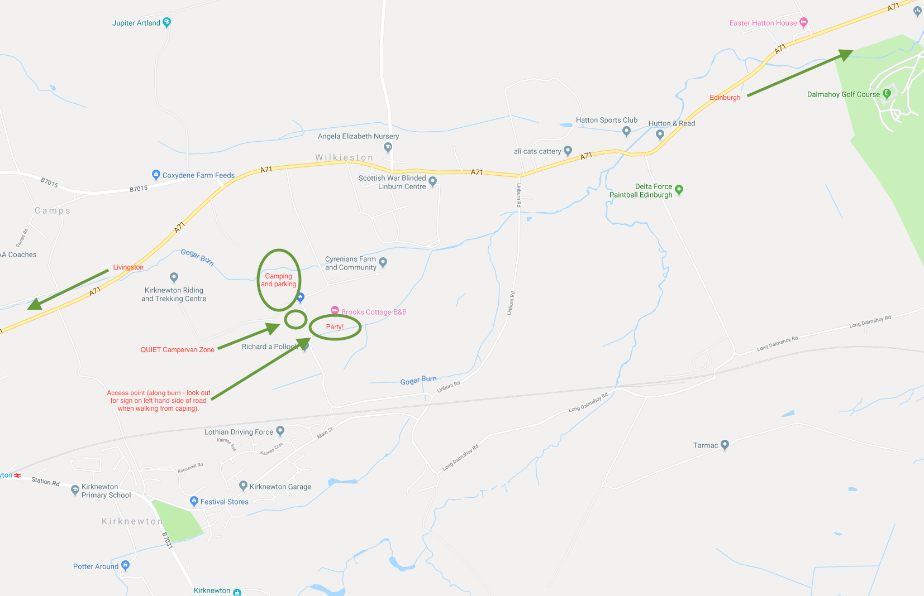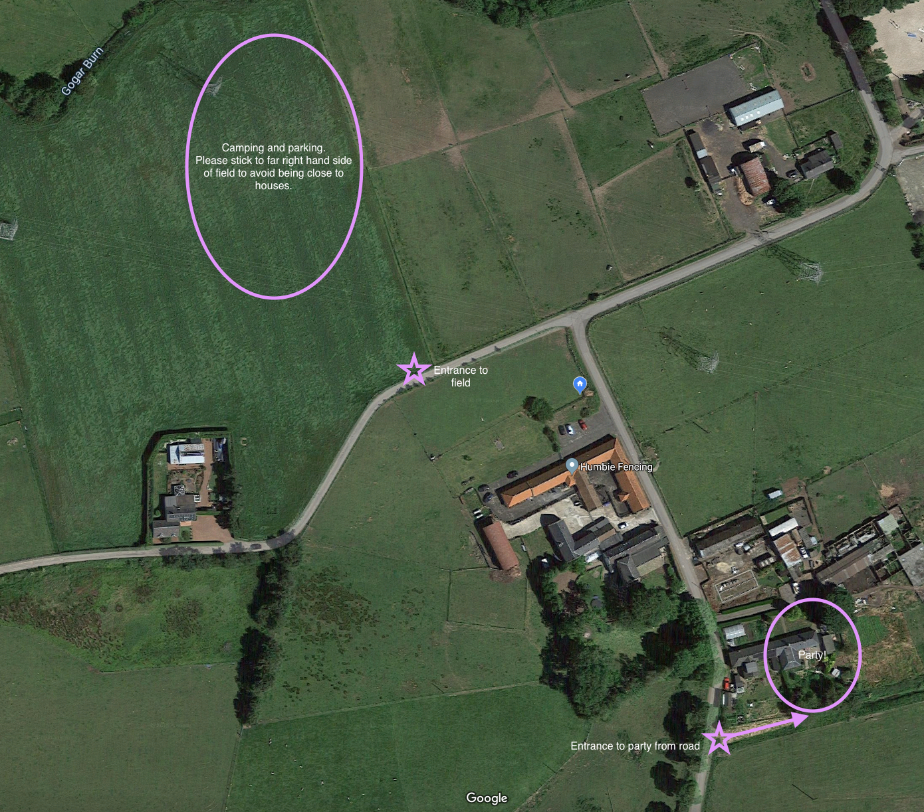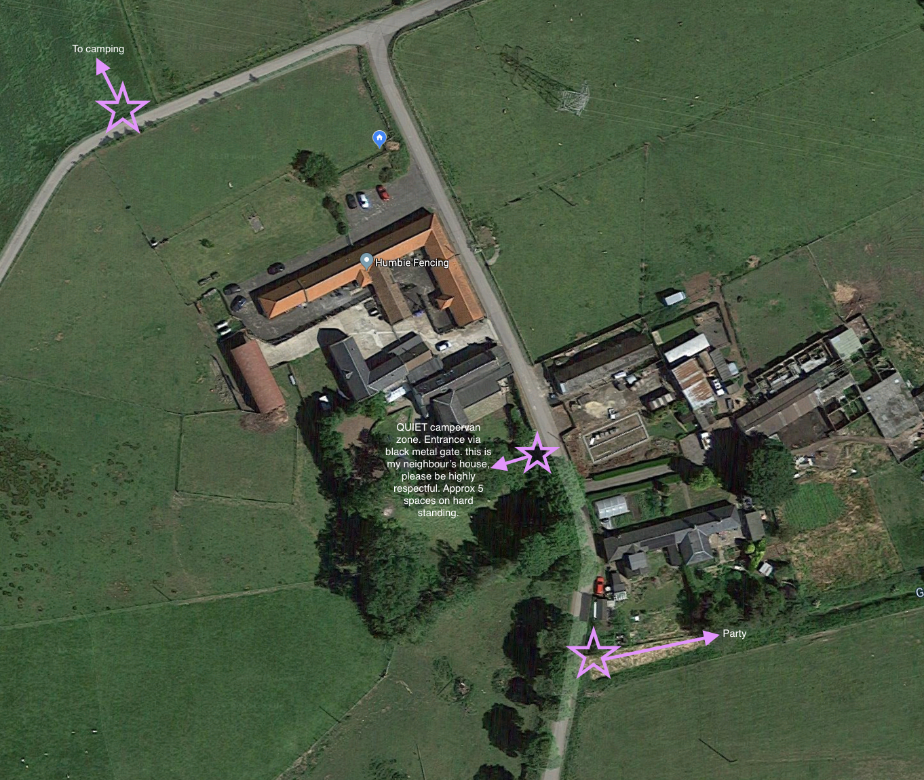 'Humble Bumble' festival is a MONEY FREE music and arts festival hosted at a wee cottage to the west of Edinburgh, near Kirknewton.
The story of the festival evolved because, one day a handful of years ago, the person who was living in this house woke up to some kind of spiritual awakening (existential meltdown) with regards to the amount of resource being used to host just one tiny human (roughly speaking, there was a fair bit more to it, but that is for another blog). The pre-empting factors to this I think were because the cottage and wee garden plot had come into my life slightly unexpectedly, I didn't have enough to do, read some influential books, ate a bunch of mushrooms (ok a few bunches fairly consistently over a multiple years) and had some other compelling life experiences. BOOM! Existential meltdown in the bag. (This experience also motivated me to write a book, which I thought I could do in a day, then a few days, then a week, and then I got so exhausted that I stopped and took a break that has now lasted at least four years - will get round to that one when the moment next arises.)
There was a fair bit of detail to sort through to resolve this overwhelming influx of catastrophic thought, but in short I had to reconstruct pretty much everything I thought I thought about the universe and reframe it into a different way of thinking. One solution to all this turned out to be the recognition that the house is a resource (phew), and that I could find some ways to use it as such, outside simply providing a place for me to live. And the festival was one of these ideas.
It occurred to me that if we were still innocently living in beautiful harmony with our resources in a naturally sustainable way (so, without having invented the money system and therefore capitalisation, and therefore non sustainable living, as well advances that are as genius as they are damaging, etc etc) then we would still, of course, get together, share and celebrate around fires, music and good will, and we would all graft to make this happen. People sing in wartime and in celebration. And the house is a resource that I can offer access to. So let's use it to enable people to come and do some of that.
So the ethos became to work, share and celebrate for goodness, because we (humans) always do, in any circumstance, regardless of conditions, monetarily or otherwise.
The first Humble bumble took place in spring 2018 during the last weekend in April - a risky weather choice for our impromptu stage, which was made out of just a few large pallets with some carpet (recycled from my bedroom floor) over the top.
People came in the months and weeks beforehand preparing the site. Friends helped get the garden under control, paint sheds and even build two compost toilets! Donations and lends of decorations and equipment came. Scayles Music Shop in Edinburgh lent us their PA and a film-making friend bought stage lights for us. We painted a Humble Bumble banner on a big catering cloth that I'd ended up in possession of after transporting a bed, and used it as a backdrop for our open air stage. The team effort was amazing and the artists that came and played their music were ace. And very fortunately, we were rewarded with a good weather window that lasted pretty much only for the two days we needed it.
For 2019, we decided to build a better (and more weatherproof) stage. In the time in between, a tree had fallen down in the right place in my garden, so we had the space to build something a decent size.
I spent months trying to track down posts that would be tall enough and wood for the sides of the structure. Word of mouth and efforts by all to make enquiries eventually lead us to four posts from the Pentlands and a pile of decking that had previously been used to build the temporary stages at the Edinburgh Fringe Festival. This was an amazing find and would have cost thousands bought new. (Even if I had wanted to I couldn't have done as there was no money in the bank account after spending about £500 on timber for joists, leaving me with about £300 to my name!)
People came once again in the months and weeks beforehand to prep the site and build the stage - the big task for that year. This even included a team of twelve to walk an enormous telegraph post out from a field at Three Hares last minute - about half a kilometer on foot! With the new stage built just in time and the compost toilets fixed, we had two full days of contributors doing amazing things and the guesstimated numbers of guests just about quadrupled (we even had the Jelly Fish of Love from Glastonbury!).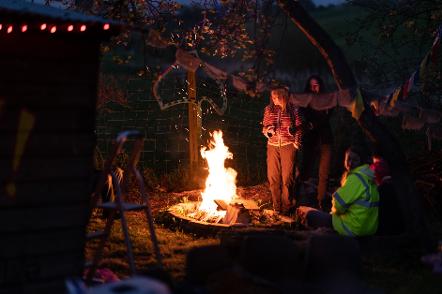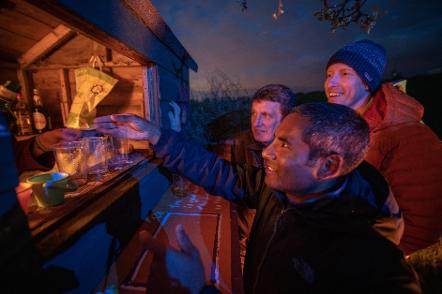 Left: People chilling at Morel Fire. Right: People playing dieshot roulette at the Free Spirits Bar. Photo credit: Jethro Collins
1. The mix of artists contributing is hugely varied.
By being money free, suggestions for contributors generally come from word of mouth, who you know, or who you bump into and find they 'get' the ethos and want to be a part of it. Of course, an event of this type is very inclusive, so the mix turns out to be eclectic, special, varied, unusual and interesting.
2. The type of people who show up are of a special kind.
That 'getting it' is pre-empted by the need to care about the issues surrounding the idea, a certain type of person is inspired to turn up. Basically, everyone is really sound...
3. People always come back!
There are certainly Humble Bumble core crew members who come back year after year. Once you've had a such an amazing time once, it would be hard to turn down again! But the core Bumblers also believe in the cause and are very and amazingly committed - thank you core Bumblers!
4. Everyone is REEEAAALLLY happy!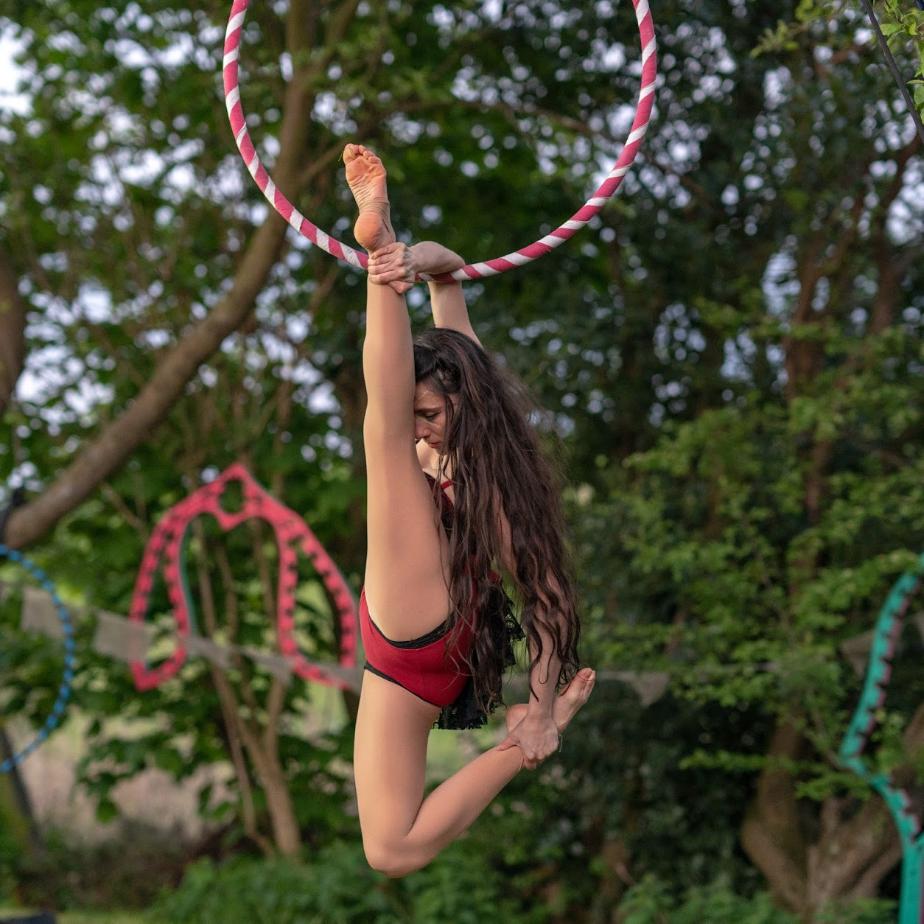 Above: Miriam from Wolanski's Pole and Aerial Fitness doing a performance.
Photo credit: Jethro Collins.
Cool things will take place:
2pm Saturday 18th Sept - 7pm Sunday 19th Sept!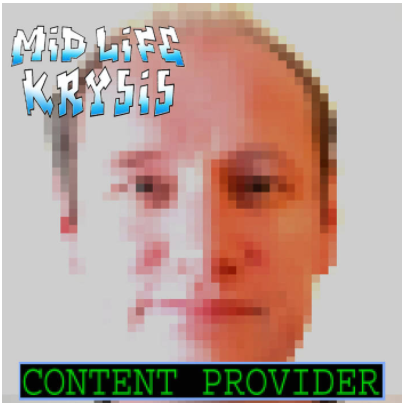 Mid Life Krysis
We are gona wake you up with these guys! Only since it's Steve (also lead of The Victor Pope Band), I will not claim to have any idea what to expect here, except for undoubted high energy, humour and clever lyrics. Out of the box idea - they're going on first, so be on time (don't miss it) and be prepared! Should be a great hoot, canne wait!
Roseanne Reid
Moving to the ends of the earth, Roseanne's voice and soulful singing is actually kind of intrusive (in a pleasurable way!) and she is generously enthusiastic about Humble Bumble. Also a newbie - as new as welcome! Very much looking forward to this gig and human :)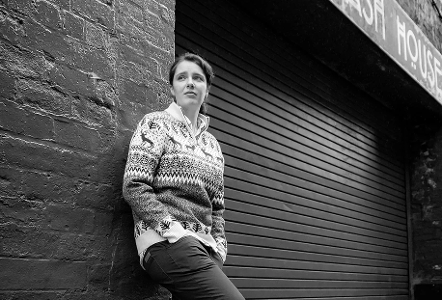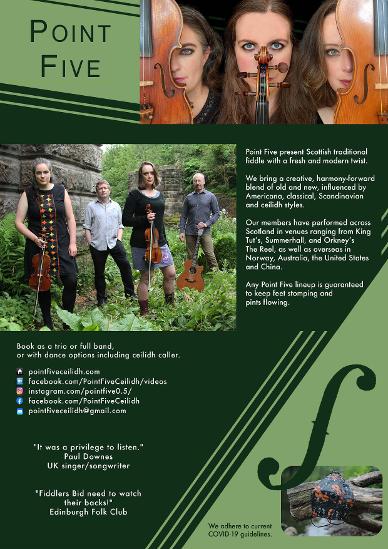 Point Five
This is especially great news as these awesome musicians and lovely people were intending to come last year, but someone got Lyme disease - disaster! So really happy that they are able to come and join in the fun this year!
They will be performing some of their own and other foot stomping modern Scottish trad tunes, as well as presenting us with some high energy ceilidh classics, so get your dancing hats, shoes, boots, heads, or whatever, on!
https://www.pointfiveceilidh.com
Samba Sene and Diwan
Amazing news! We now have confirmation the Samba Sene and Diwan! "An exuberant fusion of funky mbalax/Afrobeat grooves"
These guys are amazing, we are lucky to have them, can not wait for this gig! Check it out: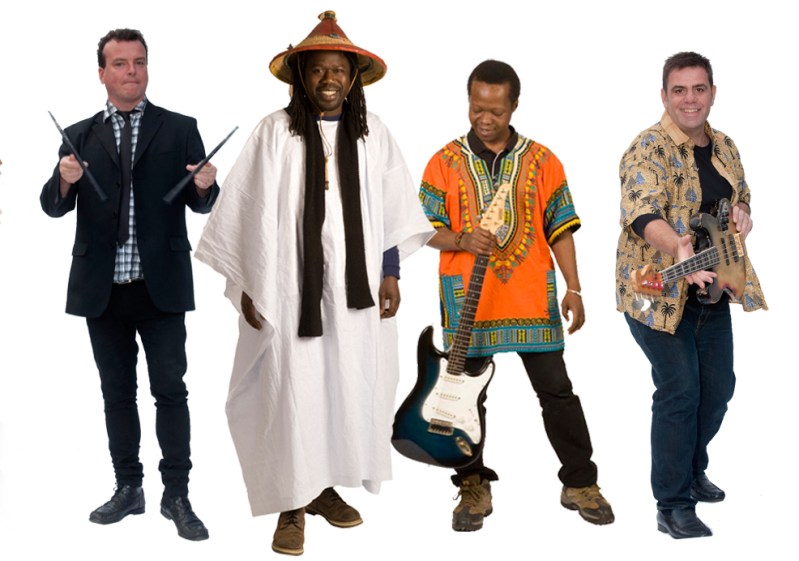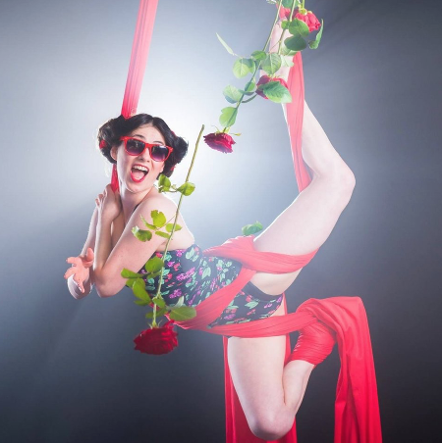 Wolanski's Pole and Aerial Fitness
Miriam and her crew get up to all sorts of cool stuff all over the country. They are awesome performers and great friends of theHumble Bumble. Check out their stuff here:
https://www.facebook.com/WolanskisPoleStudio
The Victor Pope Band
So happy to announce that these awesome guys are coming back! A truly amazing, surprising, fun and energetic gig! We are so looking forward to seeing you guys again!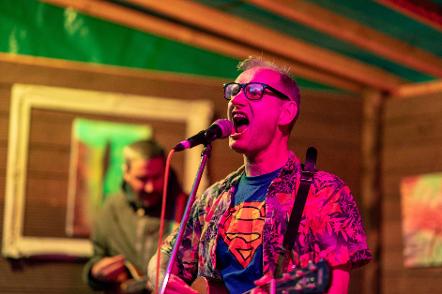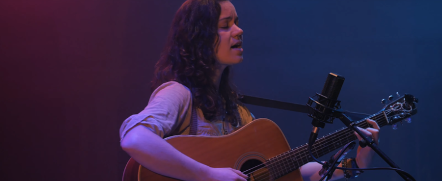 Laura Silverstone
New to the Humble Bumble community and fellow van dweller! Laura Silverstone and her band will be joining us for the first time this year and we can not wait to see her performance. Check out her stuff here:
KEEP UP TO DATE WITH THIS PAGE FOR UPDATES!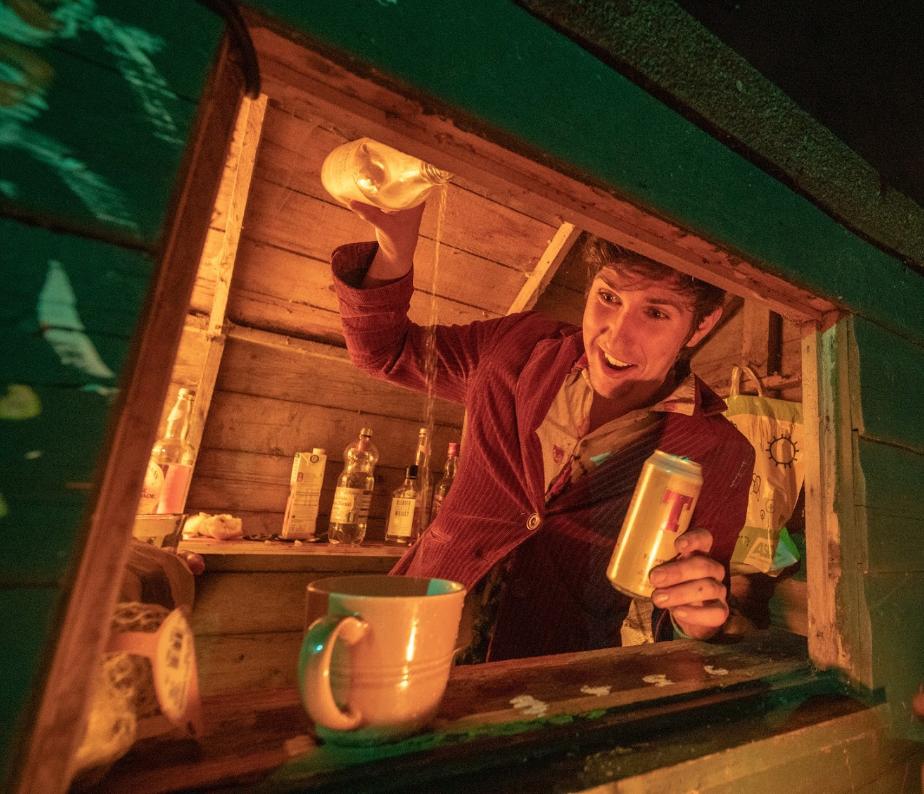 Above: Culann dressed in his best doing a shift in the Free Spirits Bar.
Photo credit: Jethro Collins.