Scottish Adventure: The Winter Slog
January-March 2016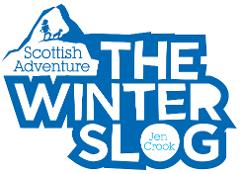 The 'Winter Slog' was a ten week long expedition up the length of Scotland from Jan 16th 2016, when Haggis (the dog) and I walked from Gretna Green to Cape Wrath over the mountains and camping out in all conditions in the depths of Scottish winter.
It started with thinking "I'll just go out for a couple of weeks with Haggis this winter for a bit of free phys for Antarctica", then turned into a five, then six, then eight week plan and a whole lot more organisation than I ever anticipated. It crept into a full time job approaching the last few months of planning and by the time we had finished, due to injury (for both of us at different times), we had pretty much walked outselves into spring, with Haggis needing to come off the hill about 14 days before the end, leaving me to run to the finish under a dwindling time limit after dropping her home! You can read more about our trip on the blog section of this site.
You can watch a clip of our expedition here on ITV Border Life's coverage of our first day.
Below you can track our tracker route via our Yellow Brick hourly tracking system, very kindly sponsored by YB tracking:
This expedition is in aid of charity. Please go the the charities page of this site or use the buttons at the bottom of this page if you would like to make a donation. Many thanks!
Our route was over 550 miles long, plus a lot of ascent, and I estimated we will complete it in around eight weeks. Plotted below are our food pick up points... And it took ten!
This expedition was intended to be communal and it was great fun to have a few people turn up using our tracker to locate us and walk with us for a few days!
General kit list:
Good walking boots (four season boots for the more northern legs)

Good, well fitted backpack

Map and compass

Headtorch and spare batteries

Base layers, mid layers, fleece layers, soft shell or Primaloft layer, waterproof jacket, hat, spare hat, gloves (think and thick), spare gloves, goggles, emergency down, etc.

Walking poles if you fancy

Tent if you plan to camp, plus associated camping equipment,

including stove, fuel, lighters, warm sleeping bag and Thermarest
Basic medical kit (plasters, blister tape, dressings, etc., and any personal medication)
Mobile phone
Food and water
Your dog?
High spirits and good chat
If you are able to make a donation to charity in support of the expedition, it would be hugely appreciated. There is more information about both charities on the charities page of this site.