Haggis gets Exciting Goodies from Ruffwear!
We are lucky enough to have gained some sponsors for the expedition, including Ruffwear, who have kitted Haggis out from head to toe in kit that she will need to stay fit and healthy in Scottish winter. Haggis' first blog video shows her trying on her 'booties' and not quite understanding why I keep trying to zip her into a sack...
Unfinished Business – Part II: The Catalyst
12th June 2015
Right, part II, the week in Cape Cod. This won't be such a long one, I promise.
About five years ago I read James Cracknell and Ben Fogle's book 'Race to the Pole', their account of their journey to the South Pole as part of a multiple team race. The inter-competition element of their adventure didn't appeal to me so much, but I remember being completely absorbed in the otherworldly nature of Antarctica they described – bizarre sastrugi formations that made Ben hallucinate and conditions on the plateau so harsh that pretty much nothing lives there. I immediately knew it was a place I wanted to go, but I didn't know in what capacity. For a second, I thought I might do an MRes in Biology at St. Andrews and get there via the science route, but instead listened to my instincts and committed to film-making, taking up a place on the MFA Film Directing course at ECA. So Antarctica sunk to the back of my consciousness and went unnoticed for a little while.
Then last year, I saw by chance Cas and Jonesy's film 'Crossing the Ice' at a film festival in the UK and Antarctica got into my head proper. Cas and Jonesy, along with Alex Gamme, who did the same journey solo simultaneously, were the first men to walk to the Pole and back from the edge of the Antarctic land mass unsupported. Their journey seemed horrendous in many ways, with the men suffering from incapacitating blisters on their lips and frostbite that threatened to take their toes. But the self-discovery they got from the experience and joy they got from finishing it was immense. I was totally hooked on and fascinated by the idea.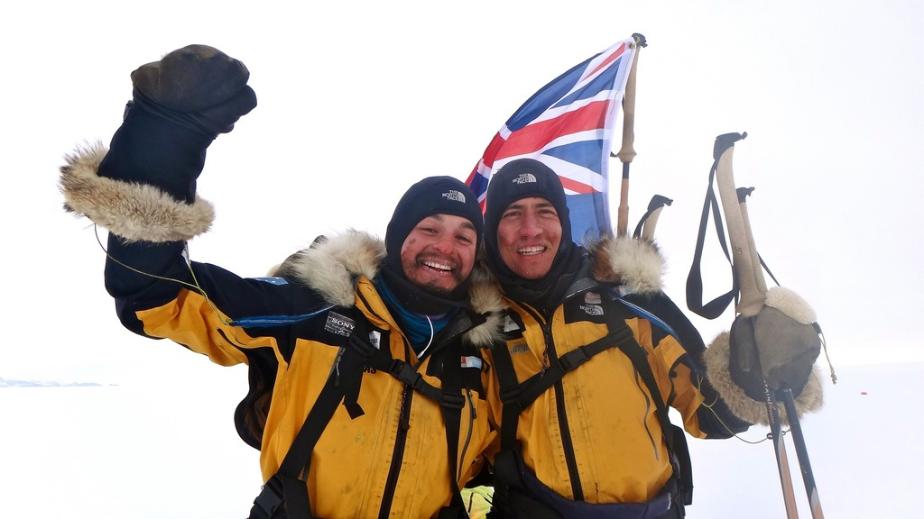 I got home, downloaded their book to my iPhone and read it in a oner. The experience was quite different from reading 'Race to the Pole' as, by this point, I had realised that the way I would end up in Antarctica was through an expedition of my own. I wasn't a safe, distant observer anymore. Instead of thinking 'Wow, that sounds cool', it was now more like 'Shit, I'm going to have to do that'.
I decided I would do the same journey, which has not yet been completed by a woman, although I also need to say that I'm a bit cautious about labelling the divisions between men and women doing the same things as I'm not sure how much it matters in the end. In general, men are heavier than women (I am 5'2" and 53kg) so the weight of the sled is relatively harder for a woman to pull, excluding considerations of any other kind of physiology. But women also eat less and have a higher pain threshold. In climbing, women are generally shorter and naturally weaker than men, but also light and flexible and their shorter limbs use less torque. Obviously, the argument goes on in any sport. The discussion of what motivates me is another subject, perhaps for another day, but I guess what I'm trying to say now is that doing a first would be great, but it's not my main motivation.
Next, I got in touch with Jonesy. I didn't really know what to ask at first as I didn't really know where to start. I didn't have any adventurous credentials, so how would I convince sponsors to invest in me? How would I get credentials if I had no sponsorship? Jonesy did a great job of offering me advice based on my not-quite-questions and we talked about the challenges of setting up sponsor relationships from nothing. Cas and Jonesy had been the first to kayak the Tasman Sea on their expedition 'Crossing the Ditch' before they went to the Pole, so they had access to previous sponsors from a smaller, less expensive expedition and, after exchanging a few emails, I felt that I would need to look elsewhere to do the same before heading south. I was also coming back from an injury at the time that had meant no climbing for almost two years and further justified putting off the South Pole so as to not let it interfere with training.
So Antarctica sunk away from my mind almost completely and by the time I reached Cape Cod last month, I was all climbing and hadn't thought of the Pole, as far as I can remember, for months.
Being around Sarah in Cape Cod, who was on the adventure of her life, however, as well as being immersed in a world of expedition planning, seemed to jumble up everything in my head and spit it out in a different order, in different sizes and with different colours. For a few days I felt genuinely depressed and as though there was a big void in my chest, despite the fact that the three of us were having a great little holiday together. There was something burning deep down and I absolutely couldn't put my finger on what it was.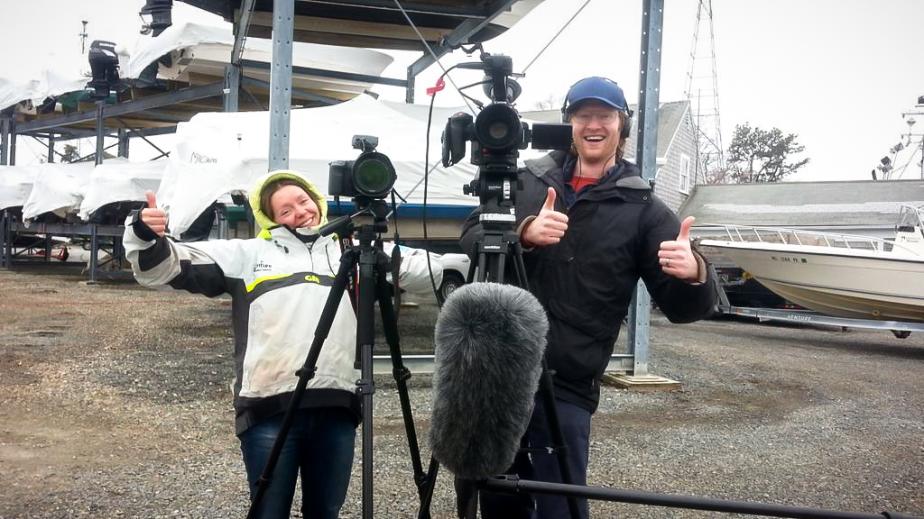 Above: Filming fun down at the boat yard in Cape Cod.
Below: Sarah and Lucy preparing Sarah's boat'Happy Socks' for the launch.
It took until about mid week for my conscious to catch up with my subconscious and start thinking about Polar stuff again, albeit tentatively. I was cautious to commit to the idea as I didn't want to be half-arsed about it after thinking I had committed the previous year, only to find myself retracting it for some floppy justifications a short time after. Despite Sarah and Lucy's enthusiasm and encouragement, I couldn't say I was going. I had to check with myself that I was serious first. But by the last evening of the trip I had realised that I had to do it now. Apart from the powerful emotional spin I'd had earlier in the week, there were other, rational reasons too. Firstly, postponing something so big would probably be a good way to make sure I ended up wondering in old age how I never got round to doing it and, secondly, I don't know where I'll be and in what condition in ten years time. Maybe my knees will be knackered or maybe I'll have ten kids and three more dogs to look after (although I find the latter two unlikely).
Another part of the break through came from talking to Sarah about her journey. She had no real adventure credentials when she decided to row across the Indian Ocean seven years ago and had no idea where all the funds would come from, but she started the process anyway by ordering a boat (which she didn't know how she would pay for at the time). I was surprised at myself to realise that, for the first time in my life, I had been intimidated out of starting something. Now this may be completely cheesy, but I found a quote in Sarah's book, which I absolutely love:
'Whatever you think you can do, or believe you can, begin it.
Boldness has genius, power and magic in it.'
GOETHE
I think the words boldness and genius really do it for me. In climbing, many people don't achieve what they are physically capable of as they are inhibited by fear and, in lots of climbing, the fear is irrational. For me, the most reward doesn't come from the physical difficulty of the climbing, but from the fluidity of movement over rock that can only be achieved when you're headspace is sound. If I get to the top of something knowing that I wigged up it, incapacitated by fear, the reward of succeeding on the route is tainted by knowing deep down that I wasn't able to control it well. Conversely, my most happy andmemorable experiences of climbing are of when my headspace has been perfect and I have moved over rock with zero fear. And to be able to control your head, you have to be pretty cunning and get to know yourself and your psychology very well. I was shocked to realise that I had not applied this thinking to the first problem I encountered with getting to the Pole. Point taken.

Revelation in place and starting to believe myself, I was finally able to get excited about it and was completely bursting. Whilst Sarah cooked dinner and at her suggestion, I wrote down action points on a timeline on a big piece of paper. I was going to the friking Pole! I drove myself to the airport the next day, my head filled with tick lists of what to do when I got home.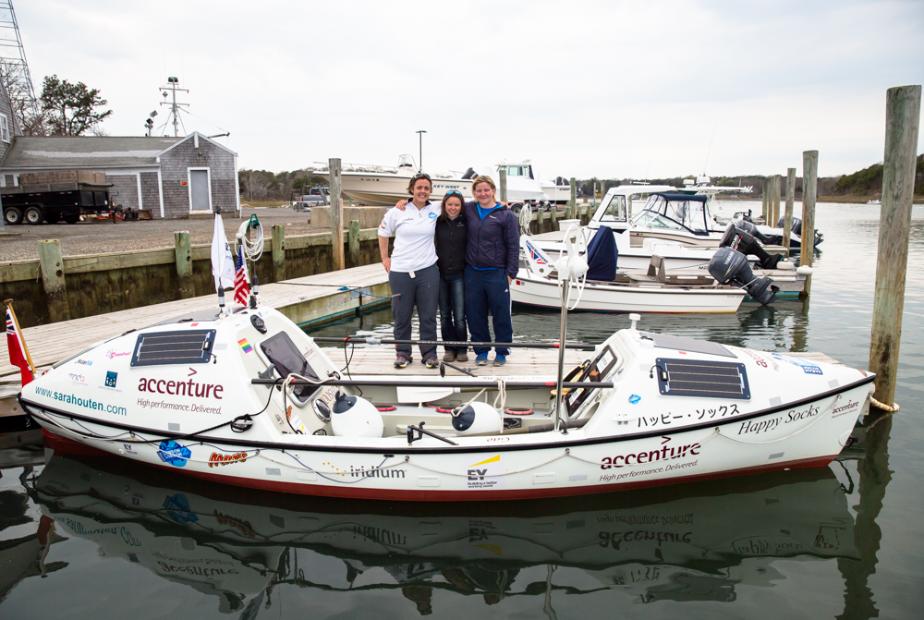 Above: Three happy people next to 'Happy Socks' at the end of the week's filming.
One of the most useful bits of input Sarah gave me was to talk to as many people about it as possible. It's really easy to shy away from this as, for one, you feel like a bit of a fraud as you technically haven't done anything yet. It's also easy to feel like you're holding back some kind of control for yourself if you don't tell people, just in case something happens and you don't go after all. But neither of these things are useful, so I heeded her advice and told an unsuspecting woman in Heathrow Airport all about my plans. The woman had commented on the amount of luggage I had with me and asked me what I had been doing, which lead to climbing, Sarah, filming, expeditions and, of course, the Pole. It felt like a guilty pleasure to tell her all about it and initially and she actually told me not to do it and certainly not on my own! But by the end of our chat she had noted down my name, wished me luck and said she'd look out for me. It may sound odd, but it was a real boost of confidence to see her reaction change over the course of a ten-minute conversation. This is exactly what Sarah was talking about. The more you tell people and see them being convinced by you, the less you feel like a fraud and the more you believe in it yourself. Cheese-o-mometer maxed out, I know.
My Mum wasn't surprised at all. I thought she might express a slight concern, but her initial question was actually what I was planning to do with the dog whilst I was out there! When I asked her why she wasn't acting like a normal parent and worrying that I would end up a lump of wasted, frozen meat at the bottom of a crevasse somewhere, she simply said in her forced comedy Australian accent that if I had the gonads for it then I should 'blaady well do it maate!'. Legend.
So that's it, I'm going to the Pole in 2018 and in the four weeks that I've been back in the UK the idea has totally absorbed my thinking. I've arranged a training expedition to Iceland next May when I will meet with polar explorer Felicity Aston and have decided to walk the Scottish National Trail this winter, which I'm sure will be completely miserable but obviously, I can't do anything in summer anymore. (And, just by way of a caveat, as a climber, I fucking hate walking unless it's en route to a lump of rock somewhere...) Of course, there's a load more to be said about these mini expeditions, but, as promised, I'm keeping it short so will save that for a later date.
However, if anyone fancies doing a leg or two of the Trail this winter, please do give me a shout – I'm not planning to train the how not to go insane on your own for two months aspect of the Pole trip just yet.
Unfinished Business - Part I: The Nose
29th May 2015
Wo-ow-ow. I feeeeeeeeel! That is, I just feel a LOT at the moment.
Trips tend to have that effect, yes, but I didn't expect to feel so much this time round. The two months I spent in the States last year were pretty fucking pivotal for me. I learned a lot about myself, a new way of thinking, how to deal with feeling shit a bit better than I had before and how to man up and take my circumstances into my own hands when things weren't working out just a little bit more than I have before. I got all Zenned up in Yosemite, connected with the place more than I have ever connected to a place before and knew I had changed as a person when I came back. The trip felt hard at times and I knew I would feel the difference the other side.
This time, however, Yosemite wasn't a new place. I knew where I was going and I knew what I wanted to do. I was going back to reconnect with the Valley and, most of all, I wanted to do a big wall – something that caught my attention last year when I discovered the place but wasn't able to due to partners, time and skillset. It was unfinished business. I expected it to be awesome, a bit hard and involve some learning. But, as ever, a bit more stuff than can be anticipated happened and now I'm feeling contented absorbing it all again.
Before I go too much into what happened in the Valley, I'll mention that the second part of the trip involved travelling to Cape Cod to shoot some footage of adventurer Sarah Outen, and also fiancé of my old RAF pal Lucy, set off on the last leg of an epic adventure she's been on. For the last four years, she has been cycling, kayaking and rowing around the Northern Hemisphere of the globe (apparently it's important to say that it has all been in the Northern Hemisphere because there are people that are into the grammaticism of this and simply saying 'around the world' would be incorrect). She has now just set off across the North Atlantic in her boat 'Happy Socks', which will occupy her for around 100 days, reaching the UK in August, all going to plan. Although I knew Lucy before the trip, we never really best buddies and I had never met Sarah before. It was the work part of the trip and I didn't expect it to be pivotal in my thinking at all. But, unexpectedly once again, a ton of stuff hit me whilst I was there and I have completely changed my five-year plan (if even I had one before) as a result. So, it too was a really impacting part of the trip. Anyway, more about Cape Cod later.
So, back to Yosemite. Pwoah! Where to start… I suppose last year seems a good place (don't worry, I won't cover everything in between). So, last year in the Valley, during my two weeks of mental-for-a-wall psyche, I pretty much stalked anyone I could think of via any means I could think of (such as messaging people tagged in photos with Alex Honnold, mostly because he was the only Yosemite name I knew at the time, plus any of their friends and any of their friends who had big wall photos on their timelines. As I say, I was mental for it, so sorry if this was weird…) to try find someone to do a wall with me. I got lots of responses, but none of them lead to doing something immediately as everyone had either left the Valley or were bouldering. Knowing what I know now, perhaps they just thought "Fuck that!" after reading a message, copied and pasted to their buddy sitting next to them in the room, from some over-psyched British chick who had never jugged, hauled or been on a wall before. And I'd also now say: Fair enough!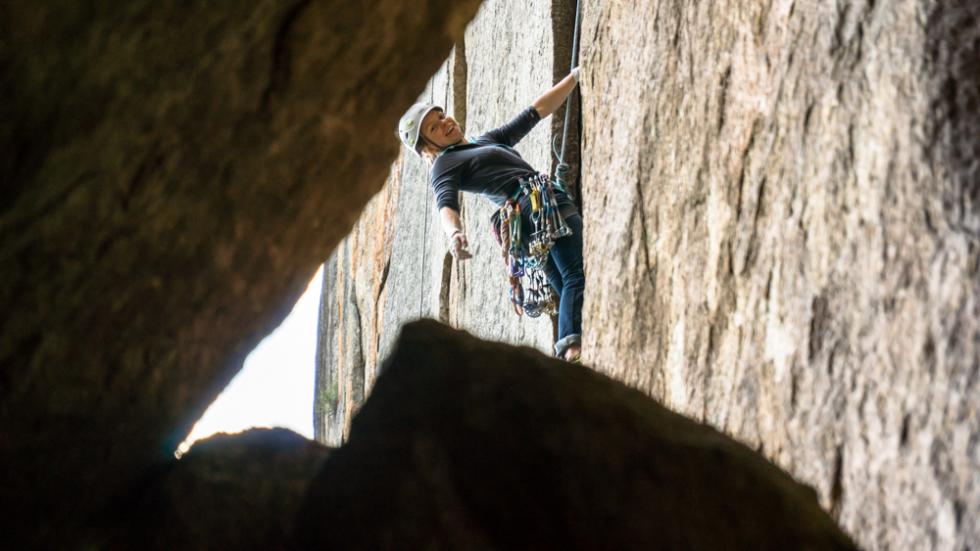 Above: First days - leading 'Outer Limits', my first good battle of the trip.
From the class of promisingly positive responses, one guy, Reed, was (a) notably good at replying and (b) pretty damn enthusiastic, so stood out in my memory. Eventually being forced to accept that a wall was not going to happen this time around, I turned my attention to reducing my outgoings back at home to facilitate getting back to the Valley as soon as possible. I arranged for a buddy (now my housemate, Ross) to go sign up to a house I found on Gumtree from a rainy tent in Curry Village and decided that I'd be back out in April – as soon as the Valley would be climbable again. By Christmas, however, I realised that finances were still not going to allow it (it turns out furnishing is expensive, so my gains were made up for by my losses) and receded to that fact that my not-in-the-real-world-at-the-time daydream would have to be postponed until at least the following season.
But then something very well timed came up when Lucy got in touch, all excited that I was a film-maker after seeing my Facebook page, coincidentally after I posted a photo that I had taken in Bishop on last year's trip. Funny how things go in circles sometimes. She told me all about Sarah and her adventures and we rapidly became best Whatsapp buddies. I cut together a teaser from the mountain off footage from Sarah's expedition so far and they asked me if I was free to come to Cape Cod to film Sarah's final launch. Yes, I was fucking free! And just before they booked the flight, it also suddenly occurred to me that I would only have to rearrange a couple of very rearrangeable things in April to be free for the whole month. And I was already going over the Atlantic , soooo…. it was obvious – I could get back to the Valley for April after all!
Reed picked me up from Fresno airport on April 2nd. We had until April 25th to climb, when Reed was leaving to visit family. Our main motivation to go after 'The Nose' on El Capitan was in despite of it's reputation of being one of the world's best and most popular routes, but more because it is one of the easier and safer walls to aid in the Valley. The piece of rock wasn't up for question, as it was El Cap that made my chest go all funny when I drove into the Valley for the first time last year. So that was the goal.
We drove to the Valley in Reed's rickety van, complete with bottle tops to line the roof and about 200 too many 5.10 stickers on the window (he claims he was trying to use them to block out light), whilst I slept in the back. Each time we went over some of that noisy road paint, which was often, I'd wake up to dreaming that I was in an aeroplane that was landing. I'd been on four flights over five days and wasn't used to cars. Arriving at about 2am, I found Mark's door to be locked. Mark is a friend I met on my first trip to Yosemite and I had arranged to stay in his warm, comfortable and cosy house in Curry Village, complete with unlimited shower usage, a group of friends to drink beer with and Jack the Cat. A very sweet Valley deal indeed. So, with us locked out, Reed gallantly stayed on a pals floor and I enjoyed the memory foam mattress in his van once more.
I rested the next day and climbed the day after. It's funny looking back to our first day climbing now. We did a couple of easy trad routes on Glacier Point Apron and I worked out that I hadn't trad-climbed since the last time I was in Yosemite. It was a bit of a shaky start. I don't know why, as it never feels like my head, but after some time away from trad my body always seems to function a bit strangely on the first few moves of the first route. Maybe it's rock reading, I'm not sure. In any case, I did wonder what Reed must be thinking as he watched his climbing partner for the next four weeks step up and down the first few moves of a 5.8 to reset and start again!
We somehow managed to form a trio with a guy called Jimmy who we picked up at the staff communal area, and hung out with him for most of the month. Jimmy is a very small dude with a very massive personality, a load of positive energy and huge mullet to match. He says stuff like 'man' and 'dog' a lot and, to be honest, I actually didn't warm to him much the first time I met him (sorry Jimmy, you were just so fucking loud! But yeah, I know, I can hardly speak…). Anyway, it was great fun being around Jimmy and he is now a friend that I will keep in touch with indefinitely. Going around as a three did mean, however, that we were basically cragging and doing bits and bobs here and there for the first ten days or so. Yes, Reed had taught me to aid and I had practised jugging, blah blah, but it all kind of felt a bit slow, easy and empty. By this point we had also already had a bad weather window, which made everything feel even slower, and we were both starting to get a bit de-psyched. It was like we had forgotten that we were on a mission, or that we had started not to be on one anymore. The serious 'van chat' that followed revealed that the second statement was the most true.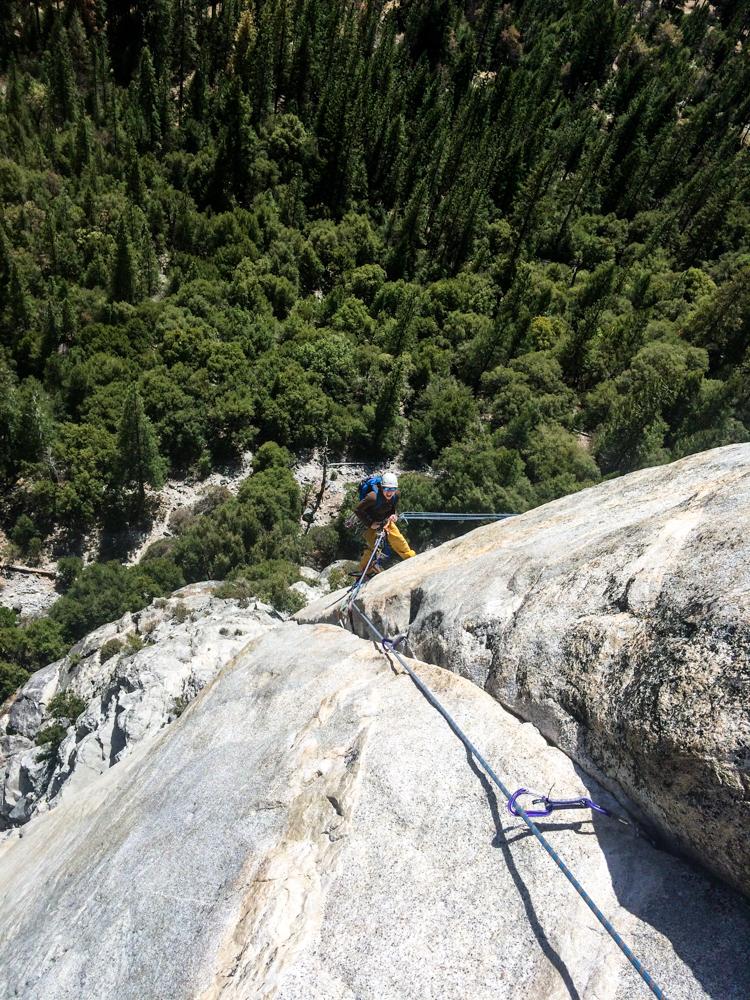 Above: Early days - very excited by the mechanics of my first lower out.
Reed had started having doubts about doing The Nose and, actually, about doing a wall at all. We had clicked well early on and became instinctively close during the first week, without really getting to know each other on a mechanical level. Of course, what follows is generally more rocky than someone you are instinctively less connected to and I remember feeling very vulnerable as he told me that he didn't want to be seen as a silly kid that took on more than he was capable of, that he wanted to do The Nose with his fried Keith and a whole heap of other stuff that didn't make that much sense at the time but all seemed very pessimistic in terms of getting on a wall together. I knew that he was struggling with lots of internal conflicts about being away from family and his sense of purpose in the Valley (and perhaps life in general!), but it was still pretty confusing to listen to. Looking back, a lot of it was also very selfish, but I know now that we hadn't worked each other out by this point and as a result, there was a lack of mutual respect that was necessary to be able to commit to each other for climbing. What I had learned about Reed by this point was that he is quite internal and sometimes (not always) needs to be left a good amount of space to process things, which required a lot of disciplined silence from me. A positive swing on this is that, since I found this so fucking difficult, I it must have been a beneficial human learning experience for me!
After this, we didn't talk about the wall for a while, maybe more than a week. It wouldn't have been possible at this point without asking too much of each other. We did, however, find a new energy for big days and exciting climbing and decided to do 'Freeblast' the next day – the first ten pitches of Salathe Wall and all free climbing at about 5.11b, or 'E4+', according to UKC. Doing that route was one of the single, most memorable and best days of climbing of my life. We were both super-psyched, trying hard and taking multiple falls on dodgey gear with no irrational fear to impede on the experience. I actually popped my first cam from the roof of the third pitch too and landed below Reed at the belay too, woah!
We "French freed the fuck" out of the bolted parts of the upper slab pitches, as Reed elegantly put it, which seemed ridiculously thin, and I had a pretty sketchy moment on one of the pin-scarred trad sections. It was super-windy and I had to stop climbing and brace against it a few times before continuing. As I went up the pitch, the climbing got gradually harder and I suddenly realised that the last three pieces I had placed had gotten progressively worse and that I didn't know how many of them, if any, I trusted to fall onto. Since they were all placed in pin scars, they were reasonably well spaced too and I had no idea where I'd fall to if I came off and they all failed. Since falling now felt like a likely prospect, it suddenly seemed that things had got all the more sketchy without me having really noticed. A few wobbly-whahay-that-was-close noises (and a couple of cheeky tugs on my last shit cam) later, I made it past the tricky bit. I didn't feel relieved though, I felt uncontrollably and burstingly PSYYYYCCHED! I screamed down something like "Baaaaaah!" through the wind to Reed, who no doubt was enjoying the vibes beaming off me (that thing where, for some reason, it is genuinely hilarious to watch your mate wig a bit, in spite of the fact that they would be at genuine risk of hurting themselves a little if they actually messed up). When Reed took his pitch next, I remember him turning to make a similar selection of noises down to me and I knew that he was having the same kind of fun. I was psyched that he was psyched and he was psyched that I was psyched. We were super happy climbers by the end of that day. So-much-fun!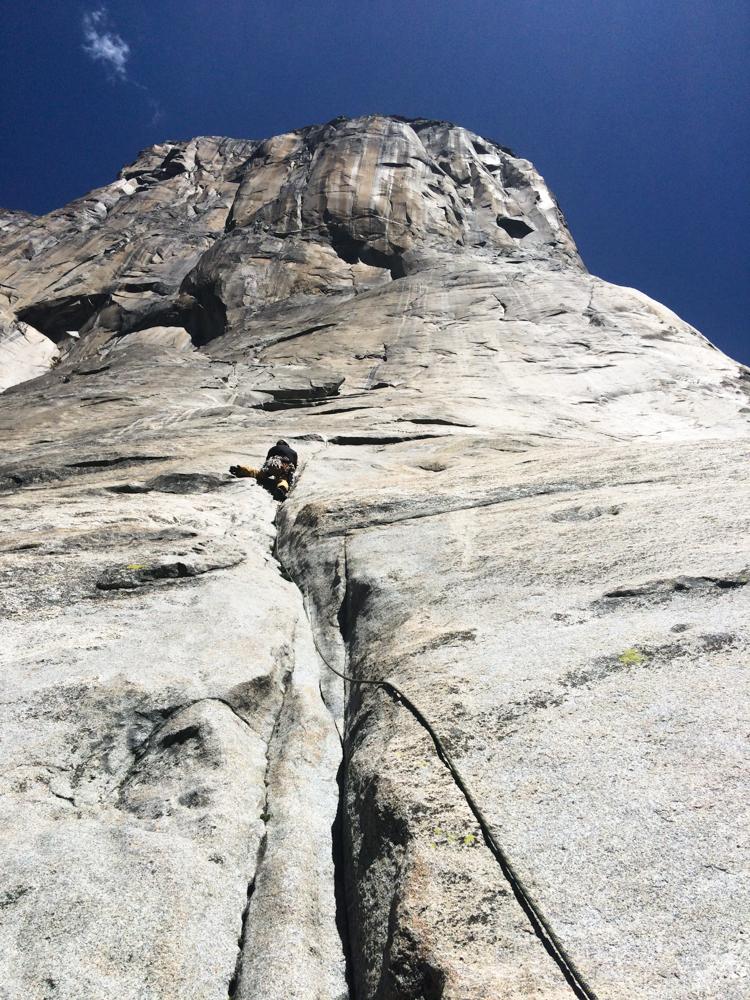 Above: The beginnings of the slab pitches on 'Freeblast'.
We did some other stuff in those first few weeks, but none of them stood out like Freeblast. I guess an essential detail was going up Washington's Column. It's kind of a mini-big wall and easy to climb in a day, but for the sake of camping out on Dinner Ledge just for the fun of it, we hauled and stayed up there for a few nights with the intention of ticking off the three different routes that all left from this same spot three pitches up. All-in-all, it was a complete cluster fuck. We went up late on the first night, climbing and hauling in the dark, which was fine. We then drank a whole bottle of 'Fire-something-or-other' (cinnamon whisky, of which Reed says I had two thirds) and got up late the next day. I was to aid the first pitch of 'South Face', and set off without really a Scooby about, well, anything actually. It was all pretty relaxed and later became a lesson to both of us to check understanding before setting off, which proved to be very valid one for us later on in the trip. I aided the Kor Roof, which culminated in a traverse, removed too much of the gear and made it impossible for Reed to aid without leaving a draw behind (we got it back later). I realised I had royally cocked it up when he stuck his head around the roof to inspect what I had left for him and started shaking it in disapproval. Since I was dehydrated from my whiskey hangover, I had also necked a lot of water before getting on the route and by this time was dying for a pee. By the time Reed reached the belay, we'd been on the pitch for I'd guess around three hours. It was also incredibly windy again and I was shivering. We decided to rap back down to the ledge, but were using a lead line and a thin tag line and the roof looked sharp, so we rapped to an intermediate station instead. After pulling the ropes, I let go of the lead line and the wind whipped it upwards into the roof above, which duly ate it. FUCK. I would have to aid back up to the roof to get it. I now needed a pee so badly that I had bladder pain at the slightest compression or effort. That is, proper pain that actually forces you to make involuntary noises. (I didn't even know it was possible to hold a pee this long before that day on the Kor Roof.) I aided back up to the roof, trying very hard not to piss in my pants (I thought it was happening at one point) and got the rope back. By the time I got back down to the ledge I guess it had been another hour and by this point I had entered such an extreme realm of wee compression (or bladder expansion) that I couldn't even work out how to get the damn thing out! Anyway, enough about my pee. After finally ending that atrocity of a urinary experience, I set about untangling the tag line, which the wind had knotted into a mangle of twists and loops, including three overhands along it's length (including one right in the middle – what?) taking me at least twenty five minutes, so that Reed could also rap down. CLUSTER. Any learning experience is a positive one, however, and the next day, freshly reminded to check I knew wtf I was doing before setting sail, we went up South Face again and did all the aid pitches. It was actually a pretty fun day and I had the benefit of falling whist aiding, which was definitely needed I realised retrospectively as I had felt sketchy (in an uncomfortable way) aiding before this. It kind of felt to me as though I wasn't protected by the rope since I was standing on fabric ladders that were part of a different system. Whether that makes any sense to anyone else or not I don't know but it was definitely an irrational concept that was solved by falling and feeling that it's exactly the same as falling whilst free climbing. So all in all a good day.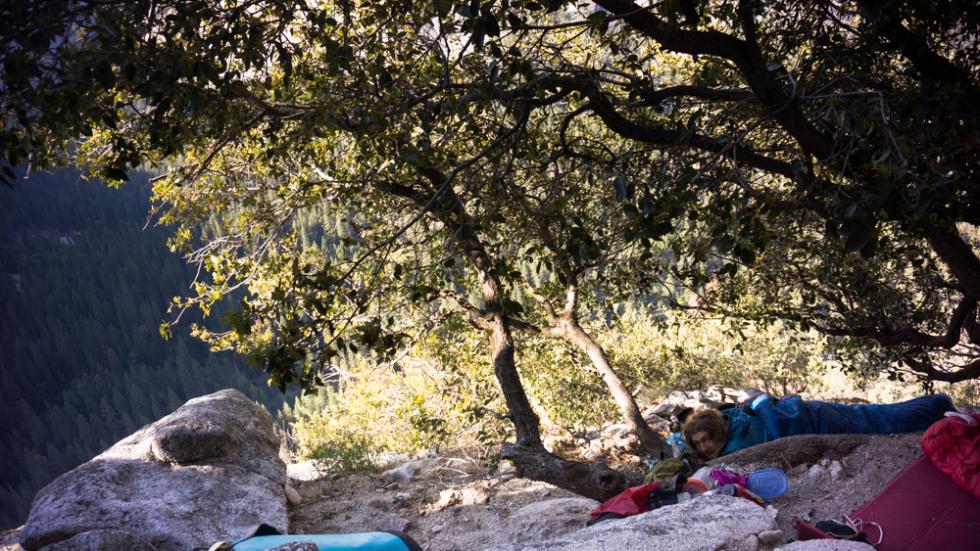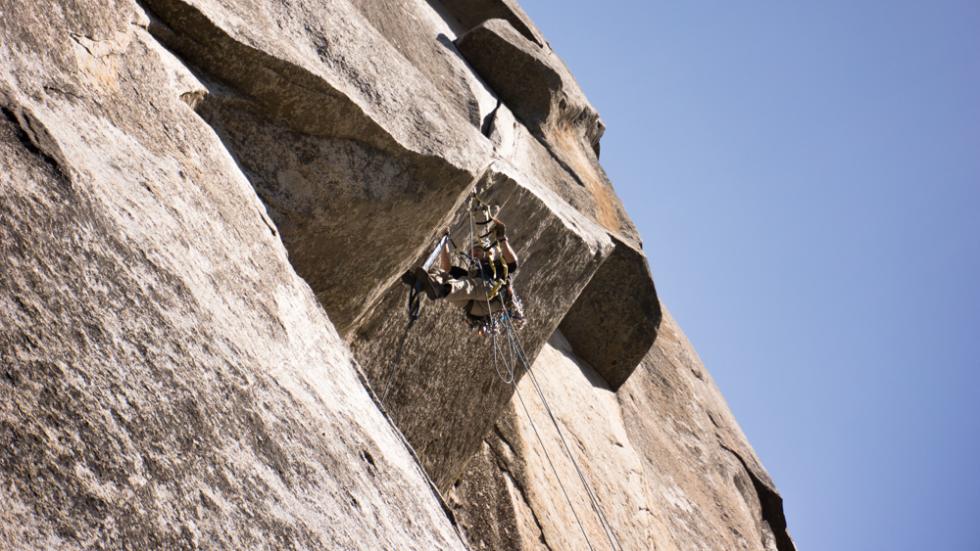 Above left: Reed waking up on Dinner Ledge the morning after the whiskey night.
Above right: Reed solo-aiding the Kor Roof on our second outing on South Face,
with the ominous rope-eating roof visible above (so, where I nearly wee'd myself).
Below: Reed coming up the top aid pitch of South Face.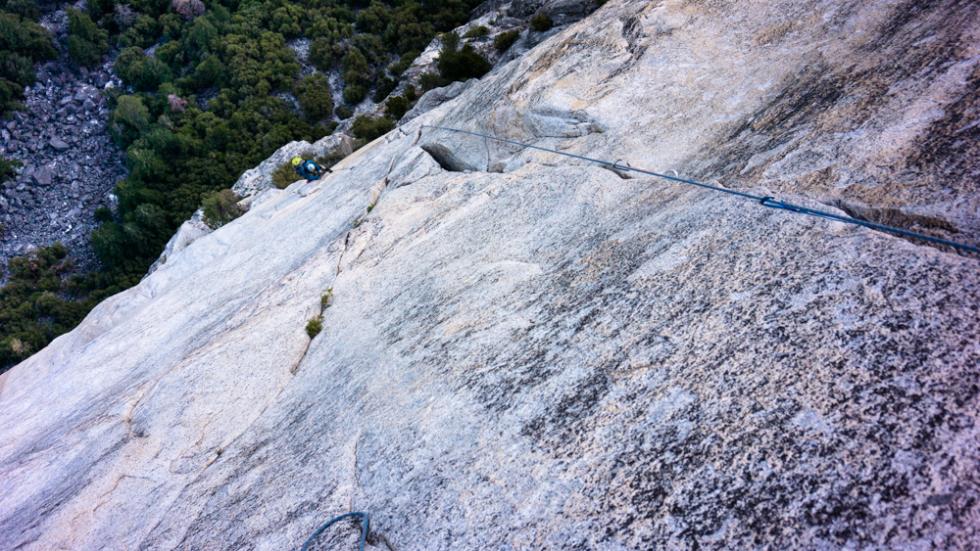 With the experience of Freeblast, the lesson of South Face and our little camping trip up to Dinner Ledge behind us, things had kind of started to flow again, but there was still something not quite right. Another bad weather spell hit us and things slowed down again. It's all a bit hazy now, but somewhere along the way, things exploded between Reed and I and we more-or-less fell out. I think it started when Reed mentioned something about leaving the Valley, which firstly concerned me as I was still completely committed to climbing with him, but secondly pissed me off since he clearly wasn't! I remember recognising that it was the right time to come out with it a bit and felt that I now knew him well enough to do so, as well as being necessitated by my own needs as I would have to cut and run and find other partners if Reed wasn't sure what he wanted to do.
Some words of the non-mincing variety were exchanged and we went our separate ways for a few hours. In this time I realised that I had been feeling unnecessarily dependent on Reed for climbing up until this point. Preoccupied with sorting through things, I had put El Cap to the back of my mind for a few weeks and now had let go of the idea completely because it seemed an impossibility given the current state of our friendship. But then I realised how disappointing it would be to go back to the UK having been in the Valley for a whole month without even getting on the thing. I had expected to climb with Reed for the month and had forgotten that there were other options out there. It didn't seem right to be out of control of my own plans because my climbing partner had doubts. It wasn't, and all I need to do was change my headspace to make things happen. With this new wave of clarity established, I set about contacting some of the other people I had been in touch with the previous year and within a couple of hours I had a promising reply.
Having completely shifted my focus, I also felt pretty detached from Reed and I think this did us good. I know that part of the struggle from his point of view was to do with a feeling of obligation to do The Nose, which was a very important route to him and an experience that he had anticipated and preserved for a long time. He also had a sense of internal pressure in that he didn't want to take on more than he could handle, especially since he would be the leader of the two of us on a big wall. These pressures were now gone – neither of us were committed to doing anything with the other.
Not sure whether I was expecting him to disappear for a few days, weeks, or even from the Valley completely, I was fairly surprised to see him approaching Mark's house a few hours later with two ice-cream sandwiches in tow – a well considered offering, given that we had made the plan to give me my first ever ice-cream sandwich experience after getting off doing… well, something big. With my commitment to Reed reset to flexible, with a possible outcome of anywhere between zero and one hundred, and Reed's commitment to me reset to just climbing, without the effects of any of the pressures he had felt previously, we were once again able to plan days together.
Not realising yet quite how healthy our little reset had been, we planned a cragging day with Jimmy and Reed's friend Keith. It was now approaching the last week of climbing and, once again, I momentarily forgot about doing a wall. Thinking of it now, I have no idea how, but I guess I was absorbed in feeling my way around our newly rebuilt friendship one last time. But I also guess I hadn't really forgotten about it at all as something popped into my head later that night…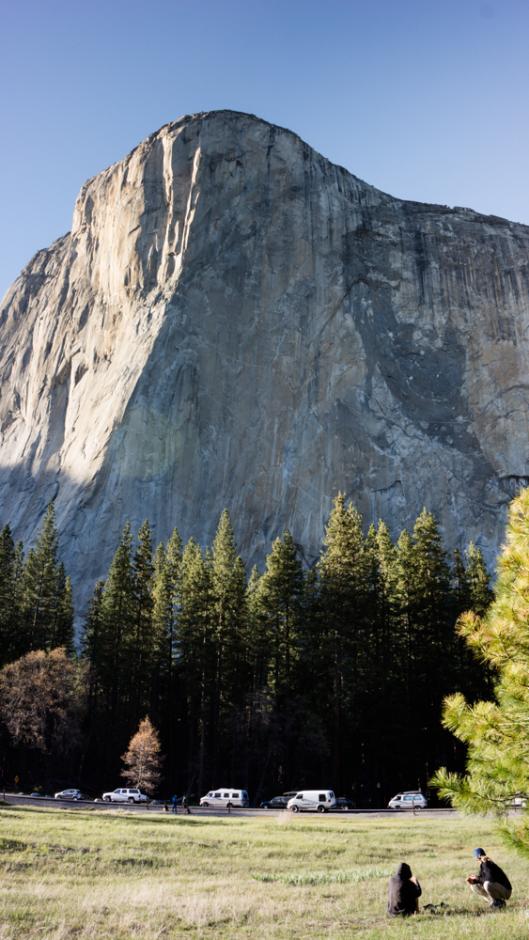 Above: Reed and Yosemite local Dan McDevitt staring up at The Nose.
Why was there such a big THING surrounding The Nose? Why shouldn't we just set off up the thing and see how far we get, rap down and do that for a day's climbing? I mentioned this to Reed and, slightly to my surprise, he saw no problem with it. So far so good with the new climbing partnership. We started looking at pitches in the guidebook. And then we thought, why not just take enough stuff to survive with? Down jackets, enough food and water for two days, and just do it with a big pack instead of haul bags? Then Reed suggested that we just do the whole thing in one push. Why not? We just keep climbing and if necessary grab half an hour's kip on a ledge if we get desperate, take the tag line so we can still retreat If necessary... Wait, why not NOT take the tag line and just commit to finishing it… The conversation went from one thing to the other until suddenly we were doing The Nose in a day – NIAD. Again, knowing what I know now, this was a ridiculous idea, but we didn't know that at the time and the most important thing was that we were psyched and totally energised again.
By the time the NIAD conversation had started, it was the following morning and Jimmy and Keith were sitting in Mark's lounge waiting for us to go climbing with them. Following on from seeing us fall out the night before, and not seeing the ice-cream-and-make-up part, poor old Jimmy was most definitely confused and I'm pretty sure concerned for us.
Anyway, we spent the day gathering kit and visiting Nose experts in the Valley. First was Alex Morris – NIAD regular and super hardcore bitch. Her reaction was pretty surprised, cautious, but also encouraging. She did suggest that we wall it out over a few days just for the experience, but, we had already considered this idea and had dropped it due to the bad weather that was due to come into the Valley in a couple of days. After that it looked as though thunderstorms would hit for three or four days, leaving us too shorter time to get it done afterwards before Reed left the Valley. Next was Erik Sloane, whose reaction was far more definitive. I wasn't actually present for the conversation, but the long and short of his reaction was "No, that's not how it works". Although I found it a bit of a strange description, it definitely does the job of describing The Nose… It's like having sex with a virgin: if you go too hard at it when you don't know what you're doing, neither of you will like it. Pretty graphic, even for me, but definitely true!
Erik suggested that the weather report was debateable enough to give it a bash – Valley weather reports have a habit of being pretty wrong most of the time and it's just a case of being able to judge in which direction. So, we were back to walling it out. Shit, now what? Okay, another day of prep. We organised haul bags, food, a fucking expensive saucepan and all the other stuff we were short of the following day.
The plan was to set off the following morning, after spontaneously fixing lines late the night before on Erik's suggestion. Another parties' were already in place, so we could use them to avoid the first four pitches, which we decided we could allow as we had done them a week before (yes, if we were doing anything exceptional then we may have been bothered about strict ethics, but we were doing something pretty standard with the knowledge that no one gives a shit about the ethics of Reed and Jen and just wanted to get up the damn thing, so pipe down!). This meant that we were super tired by the time we set off, but we didn't care. We were psyched to the nuts!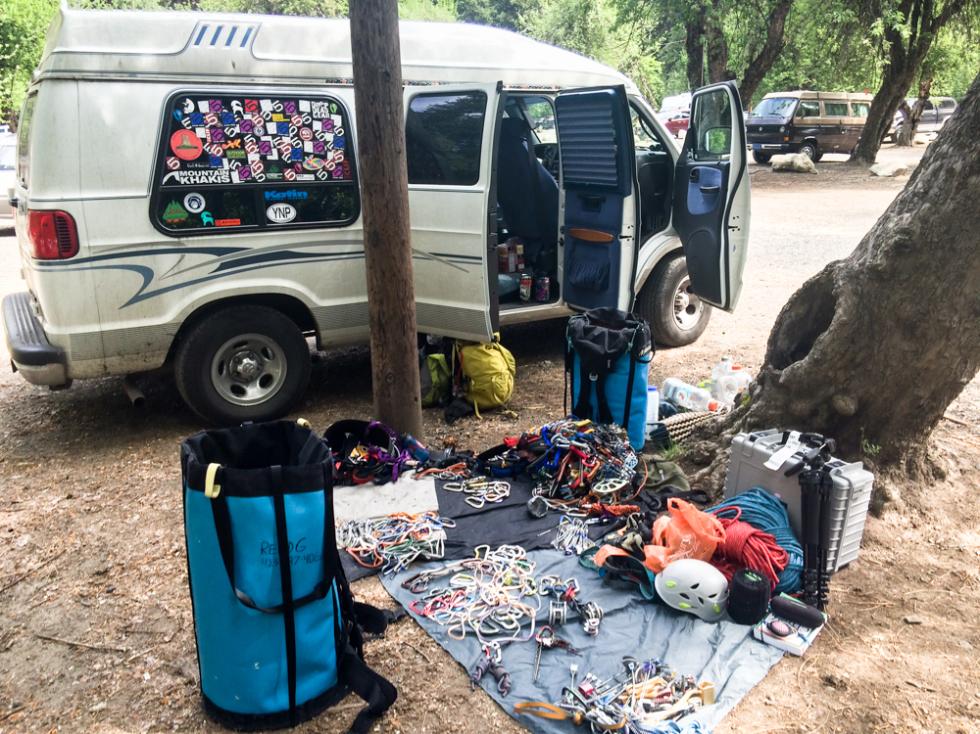 Above: Kit prep outside Reed's rickety van.
Below: Ready to go (and prepared for darkness)!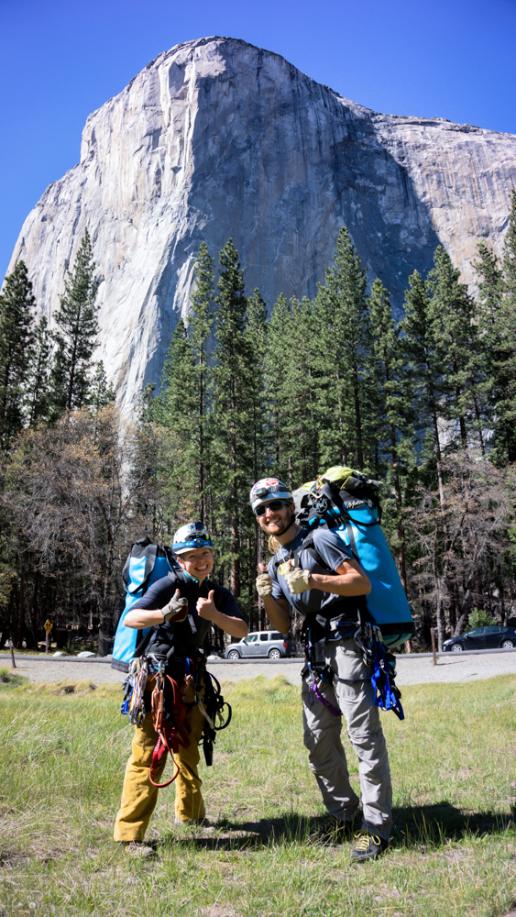 We slept in Reed's van in El Cap Meadows and got up at 5.30am, after sleeping through our 4am alarm. We jugged the first four pitches slower than expected and got to Sickle as it was getting light. The party of three who had fixed the lines we had used were still in their beds and were suffering from a massive blow of low psyche. They justified a little that the weather was turning, but it was obvious that wasn't the real reason they were retreating, although I'm sure they were happy watching us battle it out in a thunderstorm the following day from the comfort of the meadows…
The first day was pretty intense for me. I had learned to haul on the route and was leading the first two pitches from Sickle Ledge to Dolt Tower, meaning that I was constantly doing something – leading the pitch, fixing the lines, hauling the bags, docking the pig, re-racking and setting off to lead again. It reminded me how much juice it takes to set up systems that aren't second nature to you and I was also finding it very hard to bring up the haul bags (pigs) since my body weight was at least only about equal to them, meaning I had to stand upside-down in my harness and push off the rock above me to get them to budge. When Reed almost guiltily announced that he wanted to lead the Stove Legs, I had no sense of even caring how good the climbing I would be jugging passed was. I was more then ready to hand over the lead and belaying has never been such a pleasurable experience.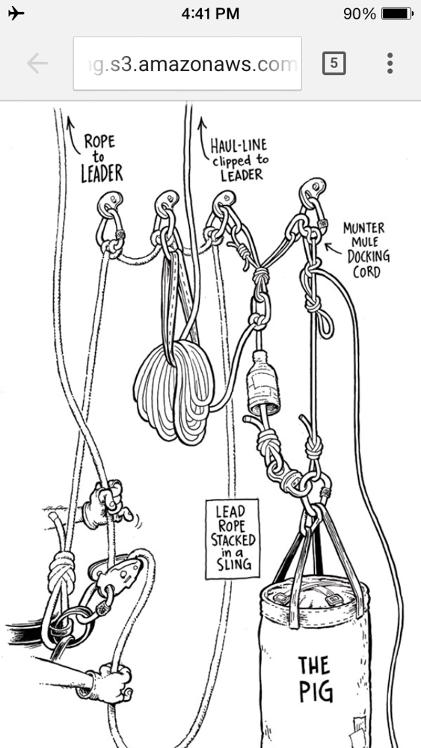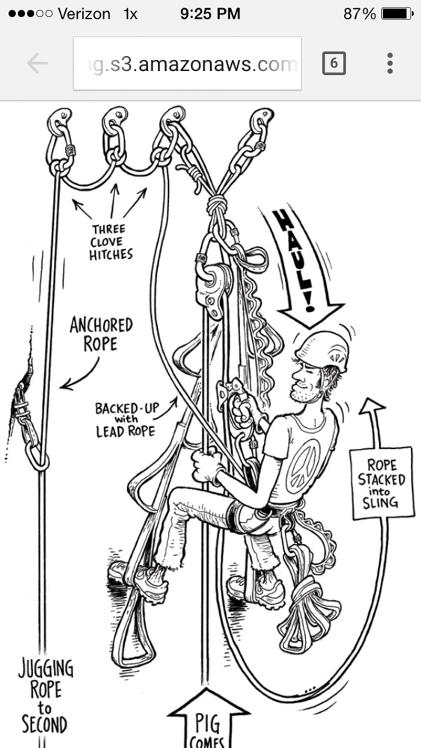 Above: We took these with us...
Walling in the style that we were, the leader free-climbs and the second mainly jugs for speed. I'm pretty sure that Reed dealt with some horribly wide sections of climbing that I wouldn't have enjoyed if they had been my pitches, but I hardly noticed the climbing I was passing them. We were racing the weather, had been climbing since 6am, my brain was fried from double- triple-checking that I had everything right with my newly learned hauling system and I was now concentrating only on getting up the ropes as fast as possible. I was also still in need of honing my aiding technique a little, okay a lot actually, which I nailed before we were off, but it wasn't on the first day.
We got to Dolt Tower as it was getting dark and decided to pitch the portaledge in case of rain – the reason we had decided to bring it along. The double bolt belay was too low to get it set up high enough above the bouldery surface, so we hung all our eggs off just one and decided to sleep attached to long lengths of rope leading out of the portaledge to the safety line in case it blew. Even so, if it had it would have hurt a LOT as the boulders beneath us were huge and the added tumble until the lengths of rope pulled us tight would have probably polished us off. But the bolt was shiny and new and wasn't going to, so we weren't too worried. The portaledge was surprisingly comfortable and, apart from initially finding it hard to sleep with Reed's nose squeaking away, I had a good few hours kip. I did had some very strange dreams, the details of which I can't remember, but I think they were nice dreams as I remember being absolutely devastated that the alarm that had started making them bad dreams was in fact real and that I did in fact have to get up at 4am not long enough after we had crawled into bed.
We were climbing by 6am just as the sky was light enough to see without headtorches. It was still Reed's block until after the King Swing, when I would take it through the Lynn Hill traverse and The Great Roof – the main pitch of anticipation for me. For the first few hours I felt pretty drousy, but woke up through the day and by the time Reed got to leading up the inside of the Texas Flake, I was wide awake. As in, totally horrified to see that he ever had to lead that pitch. Obviously I'm biased towards not going up wide, unprotected cracks as I'm British and much prefer crimpy, unprotected faces, but this thing looked horrific independently of any bias. There is a bolt low down inside the flake but it's completely useless higher up and if you clip it, the second has to jug up the inside of the flake, which is far more awkward. I have to say I would have been very tempted to clip it if I was leading it, but Reed stuck to his guns and saved me the hassle. There is no way to protect the rest of the pitch and by the look and sound of it the top out is the scariest part as it involves converting whatever weird body jam (this is undoubtedly the incorrect terminology for whatever kind of 'climbing' this is) into whatever manoeuvre you choose to gain the top of the flake, which is about 4' away from the main wall. I was intimidated standing on the freeking thing when I first got up there, let alone soloing onto it from a 'body jam'! Anyway, I guess I'll have to lead that pitch one day but I'll think about that sometime that's not now.
The next pitch was the King Swing – an enormous 30' lower out, followed by some running across the rock-face shenanigans to gain some holds somewhere far off to the left that I never got to see. It took Reed a few attempts to realise that he needed a bit more rope and a lot more running to get across and it looked super fun. After a couple of attempts, I noticed a crowd cheering him on from the meadows. He ran, they cheered "wooooaaaaaaah…", he missed "ahhhhh!" It was so exciting to hear people encouraging him from far below, knowing they could see us in our world from theirs. When he eventually made it and received the "whooooo!" from below, I woah-woah-woah-woah-whoooooped back at them. One of the things I love about Yosemite is the crazy psyche that is kind of allowed, where it might be a bit weird elsewhere.
So Reed had made the swing and was all set for him to finish up the rest of the pitch, when suddenly the weather than had been looming in the East forever arrived on El Cap. We had seen it coming, but often the angry looking clouds would cling to the tops of the higher ground surrounding the Valley and would never actually make it down to us. But this evening it had finally made it and the weather turned from pleasantly sunny to an upward cold, fast wind bringing snowflakes from below us in minutes. Suddenly we were in the middle of a storm. I also had a bag of cams on my back and there was lightening filling the air behind me. Not ideal. The details of the next seven hours are in places a blur, but the sequence of events of what happened are more or less as follows.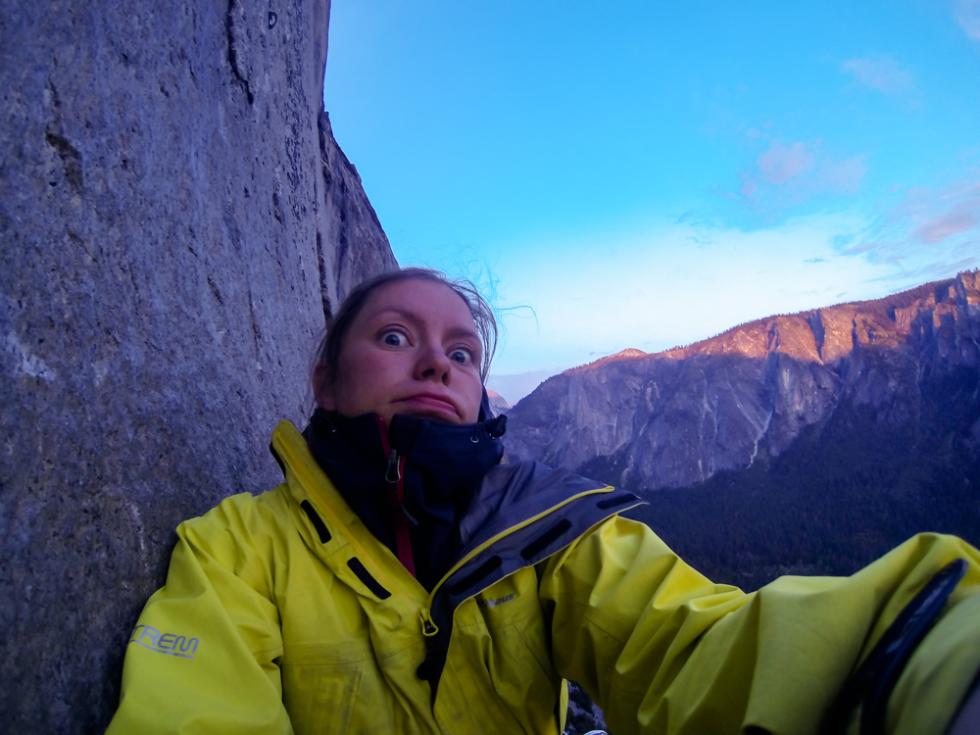 Strange Leaves, Sheep Shit and Tree-Hugging
24th February 2015
Since leaving the States I feel like I have been slowly changing as a person. I really feel different from whoever I was when I left the UK last October. Here's the briefest explanation I can manage of why…
At the time of my previous blog, I thought I had reached the crux of some kind of change, but it wasn't quite done. I climbed for the last week in Yosemite and had some great and really memorable days out with some amazing people. I also felt totally at home in the Valley. I remember sitting on a belay ledge one day and suddenly remembering that I was a visitor to the place - and it was a shock. In only two and a bit weeks of being there, I really felt like part of the environment.
Then it came time to leave. I hadn't been sentimental about leaving a place previously during the trip, but something was bothering me. I felt a bit sad, but I also felt that something wasn't quite finished and I couldn't work out what it was.
A few days before leaving I had lost a cam to the first pitch of a route called 'Nutcracker'. This, coincidentally, was probably the most memorable day I had in the entire two months. It was Thanksgiving and we were late off the crag after faffing trying to get my gear back earlier. I sat, belaying by moonlight, happily absorbing the vibes of people partying in the car park at the base of the route. It was also my climbing partner, Katie's, first multi-pitch trad route and we only had one head torch between us. We ended up doing the last pitch in complete darkness and, in the end, I had to climb it on one rope and pass the headtorch back down on the other. Thank God for that British two rope thing that Americans don't get. I left the torch on so I could see it's whereabouts, but when it disappeared over the crag beneath me and she still didn't have it, I started to doubt myself. Shit, maybe I crossed the rope underneath a piece of gear somewhere… Bollocks, can I remember how to do an assisted hoist? When I asked her if she had it the second time I could hear the nervousness in her voice as she replied "NO!". This was all getting a bit exciting, so when she did eventually get it after a lot more rope wiggling, I was pretty damn happy!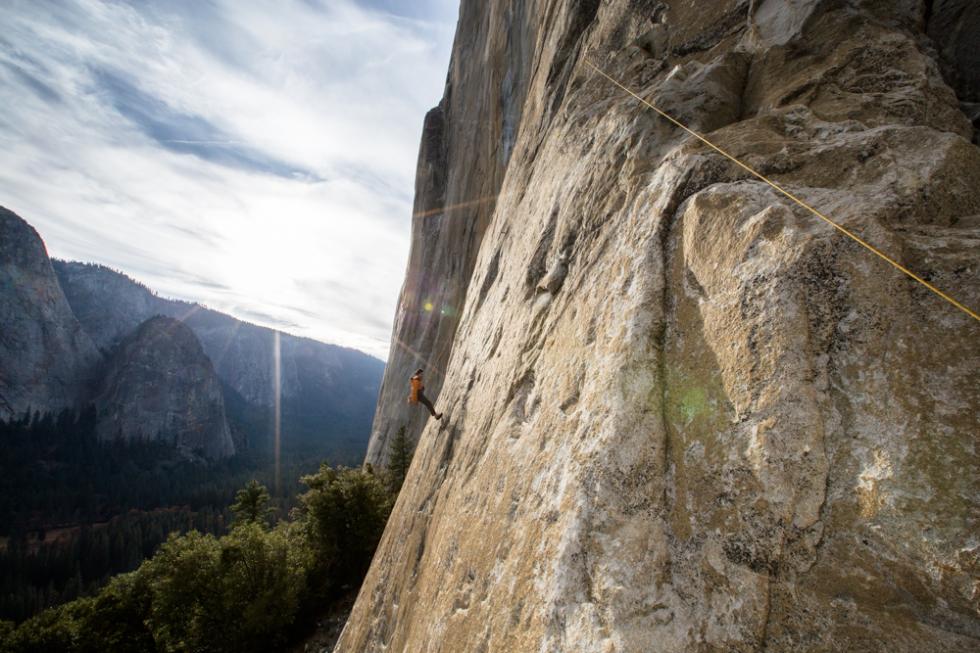 Above: Amit lowering off after messing about on top-rope on'The Bluffer', an amazing, techy 5.11d slab on the base of El Cap.
Anyway, en route out of the Valley, I decided to go back to the crag to see if my cam was still there or if someone had nabbed it the following day (we also forgot the nut key… yeah). There was no real logic to this as I wouldn't have been able to climb up to it, but I felt instinctively drawn to go back there anyway. I went with it and parked up, wondering what I would find when I got there and ignoring the fact that I still had a four hour drive to Sequoia with a broken arse cheek, meaning it would probably be more like six or seven.
Again, following an instinct that drew me from place to place, I scrambled up to the base of the route. I considered soloing up to try get my cam, but the thought of how angry my Mum would be if I cocked it up entered my head so I decided against it. I spent some time looking up at the route and remembering the day we had up there. I wasn't really sure what to do with myself next, but I didn't feel like leaving, so I sat down on the belay ledge. Then I started experiencing all these really peculiar sensations. I started feeling really in touch with everything around me - the rocks, the trees and the leaves moving gently in the wind. I ran my hands along the hard granite boulders, concentrating on every detail of the rock - little fragments of quartz, rough bits, smooth bits, bits that had been polished by people setting off on the route, thinking about where the rock had come from and how it ended up here being touched by me and lots of other people's climbing shoes, where the rubber on their shoes had come from and how everything is just a big collection of molecules that move about in different forms coming into contact with other molecules that have ended up as other things. Next, I stared at the leaves blowing around on some distant trees and realised that my head had become completely empty. I did a test and tried to think about what I was going to think about an hour down the road or what I had done previously, but I couldn't make my brain function in the normal way - it felt incorrect. So I just let my head be empty. Then I leant against a tree, feeling it's bark with my fingers. They started to feel like they were an extension of the tree, like everything in the environment, including me, had almost no boundaries. They actually started tingling at the tips and I got a strange, hot sensation in the back of my head.
Then something really weird happened - I felt the urge to hug the tree. Yep, hug the fucking tree! Eh? Christ, what happened to me in Yosemite? So, I did! Er… I've always thought of this as a pretty strange past time. Each to their own, of course, but I still think it's pretty odd to see a large group of people caressing trees at music festivals whilst others are walking passed eating ice-creams. Anyway, I got a bit of insight that day. It wasn't really about hugging the tree or loving it or whatever else I might have guessed beforehand. It was more about experiencing more of what I had felt in my fingers - that my body was just an extension of molecules and energy linked to everything else around me. And being in more contact with the tree seemed the natural way to achieve this. So, yeah, didn't see that one coming!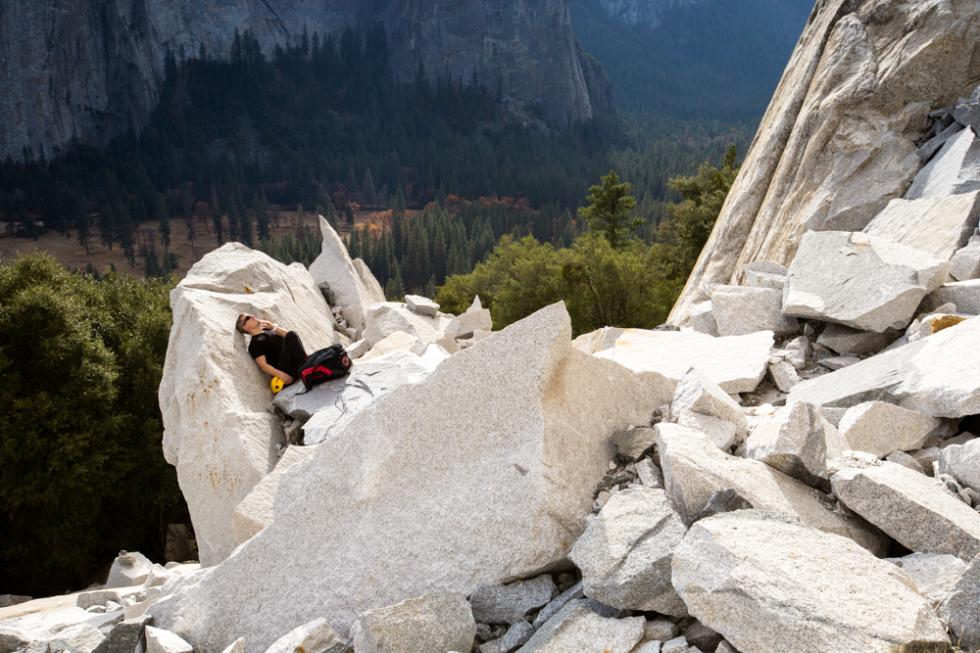 Above: Lars chilling at the base of El Cap.
Fortunately the weather was shit so I was on my own. I was actually getting a bit wet by now too, which was also pretty pleasant. Once I had finished hugging my new little friend, I still didn't feel that I could leave, so I sat there for about another 45 minutes. I felt completely overwhelmed by the experience, to the point of feeling the need to cry to let out all the intensity, but no tears formed and I was stuck with all this crazy energy inside me.
By the time I was eventually ready to go, I felt completely happy to leave the Valley. It was like I had found a connection with nature that I could leave there in a memory, making it okay to now depart. Happy as anything, I set of up the road, overwhelmed, excited, touched, amazed and happy about everything in the universe.
When I arrived back in Vegas following my month of venturing around in beautiful, natural environments, I realised how disgusting I found the place. It reminded me of how amazing the places in the world that we have chosen to preserve can be. It was also strange to be back at Benny and Marty's for a night with all these rich experiences floating around in my mind after setting off into the unknown what felt like ages ago. It was back to reality, but it felt different from before - I wasn't really part of it again yet.
Following this, I had two weeks in New York until home time to shoot something with Sandy. I'm not really a city tourist and I'm not at all bothered about going to see monuments, etc., so I didn't do any of that! Sandy and I brainstormed for a few days on what to shoot, however, and realised we were both pretty into the same kind of themes. In the end we shot the beginnings of an experimental documentary, which we are going to continue shooting when Sandy comes to the UK in May, but more about that then.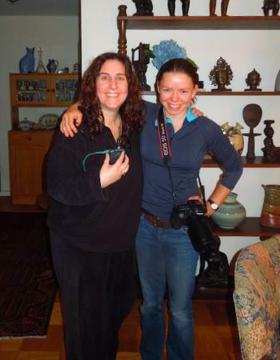 Above: Shooting in New York with Sandy.
What this blog is really about is the affect that the moment in Yosemite had on me. I didn't realise the lasting strength it would have at the time, but it has been slowly changing me ever since. First of all, I felt a LOT more chilled when I got back to the UK. I went straight to my parents house in Dorset for Christmas and spent over two weeks there - probably a record in the nine years since I moved out. My totally awesome little brother, Bryan, has also been getting into Zen Buddhism and we had some lengthy chats about Zen and meditation. As a result, I realised that I think I had accidentally meditated in Yosemite. Cool! In normal times, I'm the classic monkey-brained person who gets bored and agitated when they try and haven't yet found the discipline to push through it, so it's great to have got an insight by accident.
I also found that things going wrong didn't stress me out in the slightest. There was a bit of an incident in Sequoia the morning I was due to drive back to Vegas to get my flight to New York. I got up in the morning and got out of the back door of the car, which duly locked behind me. I needed the loo, had no food, water or anything else that's quite nice to have when you wake up and I knew I had to leave within a few hours. Hmmm. The surprise, though, came from my reaction, which was pretty much "Oh, I've locked myself out of the car." I'm pretty sure a few months beforehand I would have sworn a few times, gone over how stupid I was and dwelt upon how annoying or terrible this situation could be, but there was none of that at all. I postponed thinking about it for ten minutes and went off into the trees to find a pee spot, with no idea how I would address the problem. When I came back I spoke to the people in the campsite next to me and was very fortunate to find that the man of the family was pretty familiar with breaking into cars (he told me he had a lot of stupid friends). He went and fetched a coat hanger, a pair of pliers and a rag, bent the corner of the door backwards and poked the coat hanger in. It was looking pretty pessimistic, but amazingly, after about ten minutes, he managed to hit the lock and the door opened. And that was that. No stress, no swearing and someone to give my spare beers to. Yes, okay, it could have been much worse, but the point is that everything seemed fine regardless. It was noticeably odd!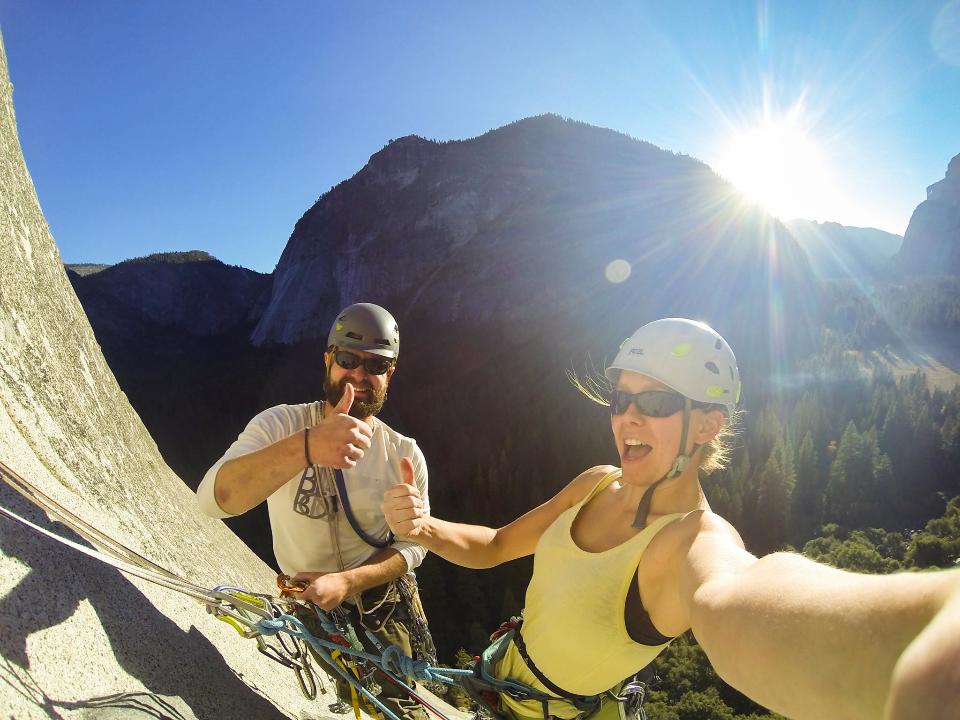 Above: Brandon and I on the last belay of 'Serenity Crack'.
I could go on, but I think you get the picture. There's just one more thing that happened to me on this topic, only a few days ago in Scotland, that was another surprise. I was feeling pretty deflated and went for a walk round my garden for a break from work (I also moved house to the Pentlands after Christmas, a master plan I hatched whilst sitting on my laptop in a tent on Yosemite when I was trying to figure how I could get back to th eValley as soon as possible…), and I suddenly noticed the leaves on the trees in the field next door in a similar way to how I had noticed them in Yosemite. I could feel something coming, but I was so demotivated that I couldn't really be bothered to go through the two gates in between me and them to investigate further. I stood at the fence for a bit trying to imagine sitting underneath them to see if I could get something out of the experience the lazy way, but it wasn't really happening. I tried to walk away, but it was bugging me too much to be able to. I convinced myself that it's always worth investigating and I basically had no choice anyway, so I went through the two gates and wondered into the cluster of trees. Again, I felt the bark on the trees and then felt drawn to a particular spot in between them. It took me a while to find the exact right spot - the sky and arrangement of trees around me had to look right, like they had to be composed properly around me. There was also sheep shit everywhere, so I didn't really want to lay down in my fluorescent yellow down jacket (alright, it's already part brown) but then realised that the long, tough, clean grass was enough to make a little nest in without getting sheep poop imprints all over me.
I lay there in the grass looking up at the trees blowing around in the wind. It was REALLY windy that day, but I was sheltered low down and felt completely safe surrounded by the trees and the grass in the calm pocket surrounding me. The experience I had was not as intense as what I had discovered in Yosemite, at least not physically anyway, but I just felt really, really nice all of a sudden. I spent about twenty minutes laying on the ground and then got up and leaned my head backwards onto a tree, letting the wind hit my face. I was fucking cold, but I didn't really care (I did end up pretty snotty the following day though, so more clothes may have been an idea). This time, I felt like the wind was the part of nature that was in contact with me, partly continuos with my body. It was whipping over the rugged land, becoming part of my face for an instant and then moving on to wherever else it was going. It felt pretty liberating.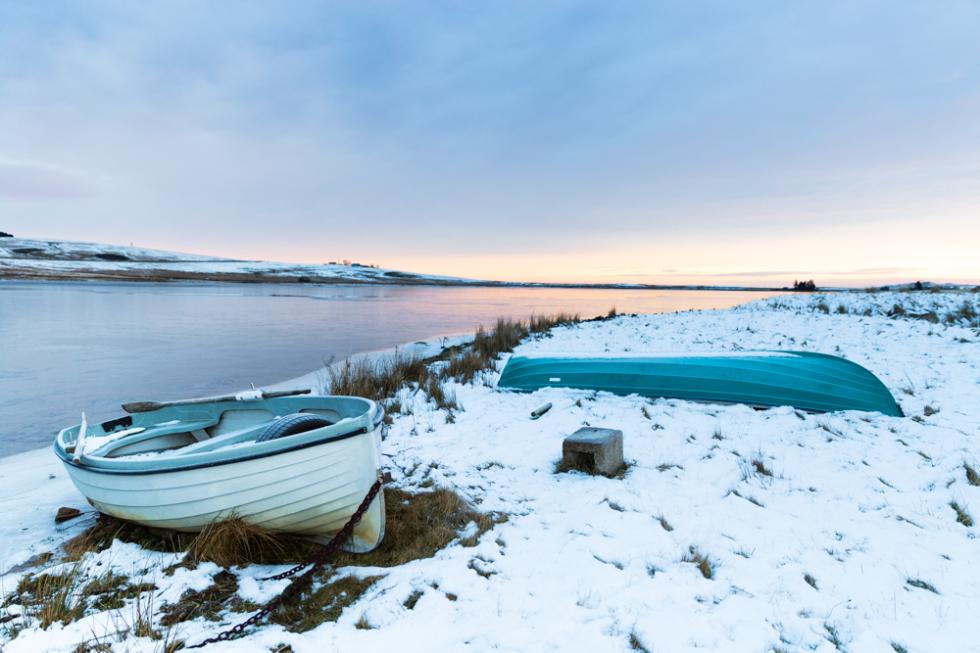 Above: My new local reservoir out in the Pentlands back in Scotland.
So now I have a little nest at the bottom of my garden where I can go lay in sheep shit and feel all happy when I need to. Amazing. But the main point of mentioning this was because I had previously thought that Yosemite had been a one off. The uppy-downy experience of the trip, along with the complete change of environment, would be a pretty good explanation. And I'm sure it was the start of it. But I now realise that there's a bit more to it than that. I think I've found a calmer place in life in general and that I have become more open, enough so at least to have these meditative-like experiences with nature - something I don't think I could have done before. I also don't think I would have admitted to hugging a tree, or a whole load of other stuff I've chatted to people about over the past few months, and it's pretty nice to be able to do so. I think the more you chat openly to people, the more you are forced to be okay with yourself and everything going on inside you, and that feels healthy.
So now, instead of reflecting on this amazing experience that happened to me on the belay ledge in the rain in Yosemite, as if it's something that has passed me, I'm trying to stay open to exploring instincts more than I did before. So if the leaves start looking a bit odd to you after some kind of low moment, perhaps you should try hugging the tree!
Valley Zen...
25th November 2014
Right now, I'm sitting in a rainy house in Yosemite National Park and have been thinking about how I've been so absorbed by the experiences that the past three weeks have brought to me that I haven't found the time to write it all down.
The last time I wrote was in Vegas, which seems like AGES ago. Looking back, it was a really difficult time for me for a few different reasons. Firstly, the physical reminder of having an injury was wearing me down. It was hard to sleep, stiff to walk and if I caught my leg strangely or corrected my balance it could be really painful. Having climbed almost every day until this point, I was in the zone of worrying about not getting training in and counting the days I was having to take off. I didn't really have any independence, since everything is a drive in Vegas and I had no wheels. I was also not really surrounded by people. I was staying in an empty house and wasn't able to distract myself with social. It may sound trivial, but I felt really alone.
After not very long of Skyping my Mum way too much, I decided to rent a car and set off on a road trip. The morning I picked up the car from the airport I felt pretty emotional and took the opportunity to have a little cry on the drive back. I expected that this was probably the head of the difficult time and that some positive feelings would follow.
Setting off had a pretty strong effect on me. With the rollercoaster of emotions that I'd just experienced, I felt a strong sense of freedom and adventure setting off down the road. I actually spent the first half an hour squealing with excitement as I navigated my way out of the spaghetti of traffic that is Vegas.
Once I got off the main drag and out into the desert, the landscape was mesmerising. It was dry, flat and incredibly empty. I found myself working out how many days of food and water I had in case I broke down or had to change a tyre (which could take days to work out). I had about five –long enough to see someone else, I thought. I drove through ghost towns and past rusty trains sat rotting on tracks. I almost felt as though I shouldn't get out of the car in case I got shot!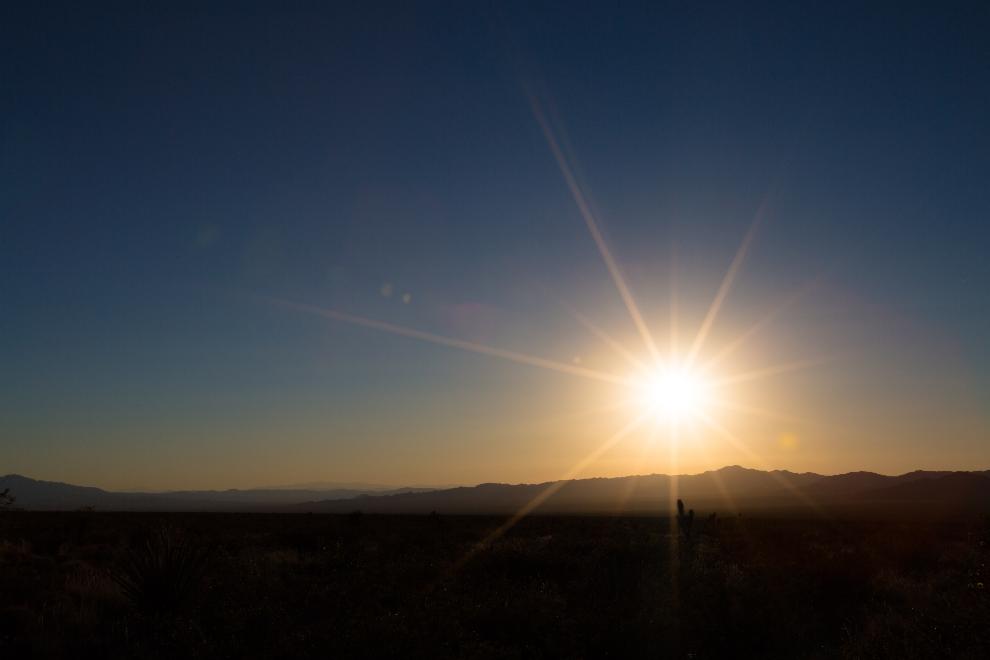 Above: Driving through the Mojave National Preserve.
Eventually arriving in Joshua Tree National Park after five and a half hours of driving (it should have been three, but I had to keep stopping to take photos or to rest my incredibly sore butt…), it was dark, COLD and I was tired. Lucky to find the last campsite available in the Hidden Valley Campground, along with a pile of wood that had been left, I pitched my tent, made a fire and settled down with a box of red wine, staring contently into the flames and absorbing the day's experience.
Later that night a couple of girls swung by and asked to share my spot. We climbed together the next day on some super easy ground – a good bottom test. It felt okay, but it was definitely too early to start trying anything more difficult and even some of the easy moves were a bit tender.
The following day, I left a note on my neighbour, David's, car as I'd identified him as a lone traveller and we ended up sharing a fire over the next couple of nights. We had some interesting chat about some of his conspiracy theories and it was nice to have the company, although, by the end of my four days in Joshua Tree, I realised that it's a different kind of effort to be on a trip on your own. In the past, anything I've done alone has been with a specific goal in mind, like cycling a long distance, so I've been perfectly occupied in my own company whilst being active. Now, without such a clear purpose, it was taking some adjusting to get used to.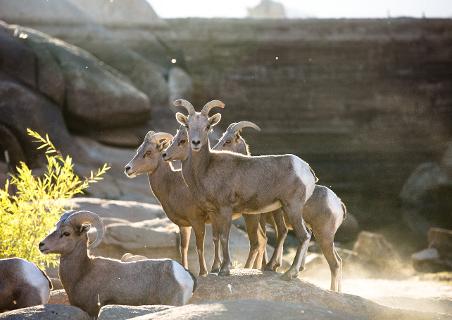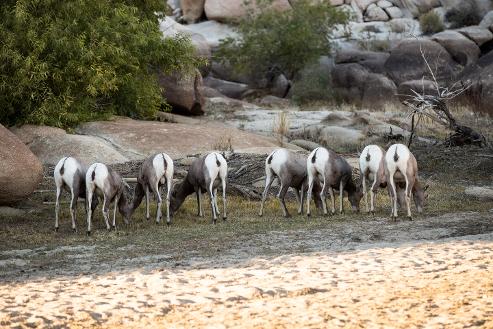 Above: Big Horned Sheep in Joshua Tree National Park.
Below: Skyline dotted with the instantly recognisable Joshua Trees.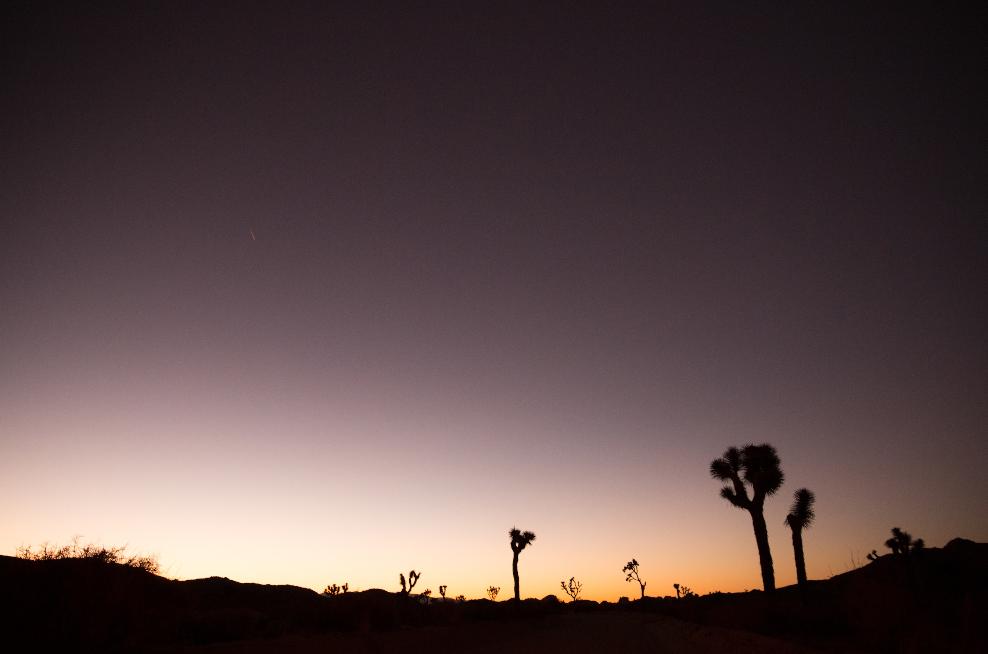 Next, I headed to Bishop for the Craggin' Classic Alpine Association Meet. I knew it would be a good place to meet people as hundreds of climbers would be milling around in the same place all weekend. Initially arriving in Bishop, again, felt hard. There was something very familiar about arriving in a US town with a bunch of admin to do – get map, stove (last one knocked out), fill up water bottles, find shower if possible, set up camp, get to that night's film screening of Valley Uprising (totally awesome if you haven't seen it). But there was something very unfamiliar about doing it alone. I felt the absence of someone next to me in my car and it felt lonely.
Feeling a bit sad and running out of time, I decided to get a motel for the night. I determined a budget of $35, based on what we'd had to pay for a Motel 6 a couple of years ago when we hadn't made it to Moab on time. I thought this was reasonable, so I was shocked when the first motel I tried was $59. I drove to another two. They were worse. Fuck. Feeling too guilty to spend the money, I had a word with myself to man up and go camping. But then, driving up the road, I realised how rubbish the prospect seemed to me at the time, so reversed my decision AGAIN and decided to let myself off the hook. Phew. I hated handing over my bankcard, but once it was done it was amazing. I had a huge, comfy bed, shower, tap and kitchen all in one place. Amazing!
Following the same rule as the day I left Vegas, the tricky part was followed by a high. I met a lot of really good people over the weekend and took some cool climbing snaps. I couldn't help but to try a bit of bouldering, of course, which quickly ended when I re-tore my butt slightly. I was a little annoyed with myself for trying and then hurting myself, so slowing the healing process, but I had to find out I guess. So bouldering was off the books for a while.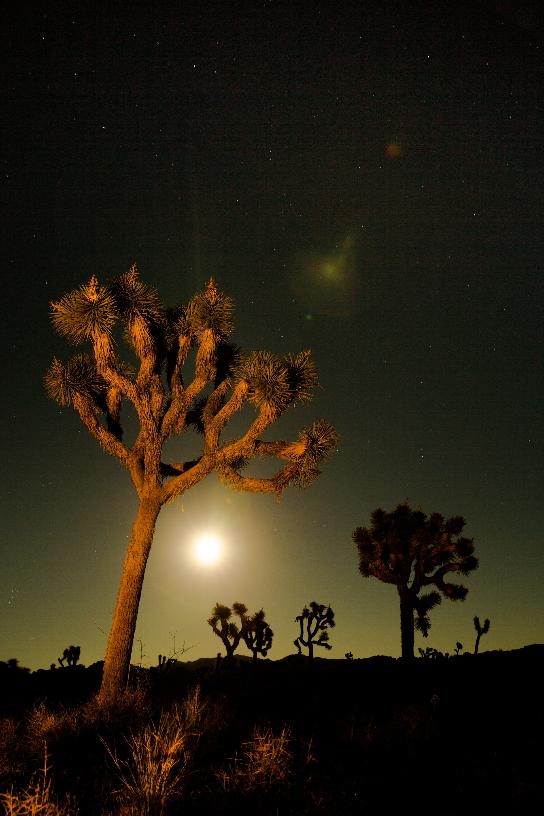 Above: A Joshua Tree backlit by moonlight.
Below: Colton Edson enjoying an evening solo in the Buttermilks, Bishop.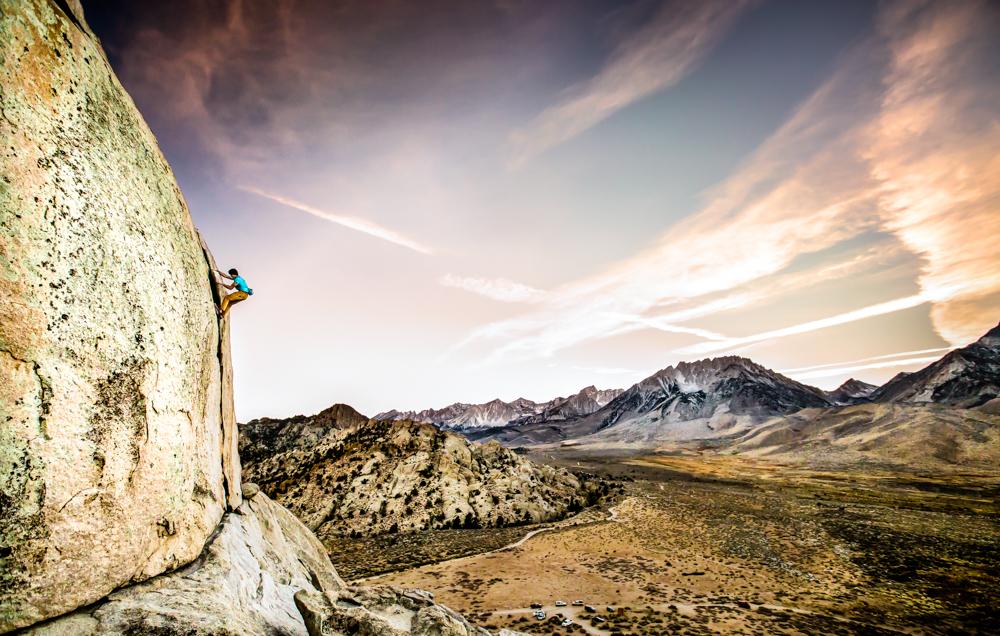 I was invited by Ryan – someone I had met at the party on Friday – to stay in his house, shared with three other climbers, for the weekend, which was a pretty awesome offer compared to going back to camping in the cold. The people living there, as well as all the others that seemed to draft through all the time, were totally chilled out and I was enjoying the social, games and communal eating. I was surrounded by good people and felt happy, so my stay extended into the next week.
By the Wednesday, I decided to try a bit of sport climbing. Apart from being really sick (initially I thought I had an uncharacteristically bad hangover, but when it lasted four days I realised I must have picked up some weird virus), climbing was surprisingly okay, provided I didn't go on the steep. Wow, I could actually climb again. Amazing!
The following day I felt the sudden instinct that it was time to leave and decided to head to Yosemite the following day. By this point, I was used to the independence of travelling alone and when the Tioga Pass into the Valley was closed, meaning I'd have to divert by five hours, I noticed that I reacted differently to the situation than I think I would have before. Previously, I would have dwelled on the fact that if I'd left a day before, I would have saved several hundred miles and two days of travelling. But instead, I felt happy to embrace the change of plan. I chose to head up to Tahoe South Lake for a night, a beautiful ski resort town, and I hardly spent any time at all comparing my new situation to what could have been perceived as the more perfect scenario.
I booked a super cheap last minute deal on a motel and treated myself to a steak – a first since leaving the UK. I was also incredibly excited to stumble across my Mum's Christmas present en route to the restaurant, so that's my Christmas shopping officially started!
The following morning I got up at 5am and drove to South Lake to take some sunrise pictures. Unfortunately, there was no sunrise to be had, but it was refreshing to be out and about with my camera next to the beautiful lake and, instead, I played with some reflection shots. At this point in the trip, I felt like some kind of internal change had happened and that I was happy and motivated to be spending time with myself, even without a well defined purpose to what I was doing. I felt freed by not needing to achieve a goal the whole time, which was a new and liberating experience for me.
Later that morning I set off for Yosemite, when unfortunately the virus returned for one last kick and I spent the journey stopping to throw up by the side of the road every few hours. After realising that the sickness was induced by eating, but that I could keep down chocolate (how unfortunate), I happily munched my way through two 600g bars and had started to feel more normal by the time I arrived.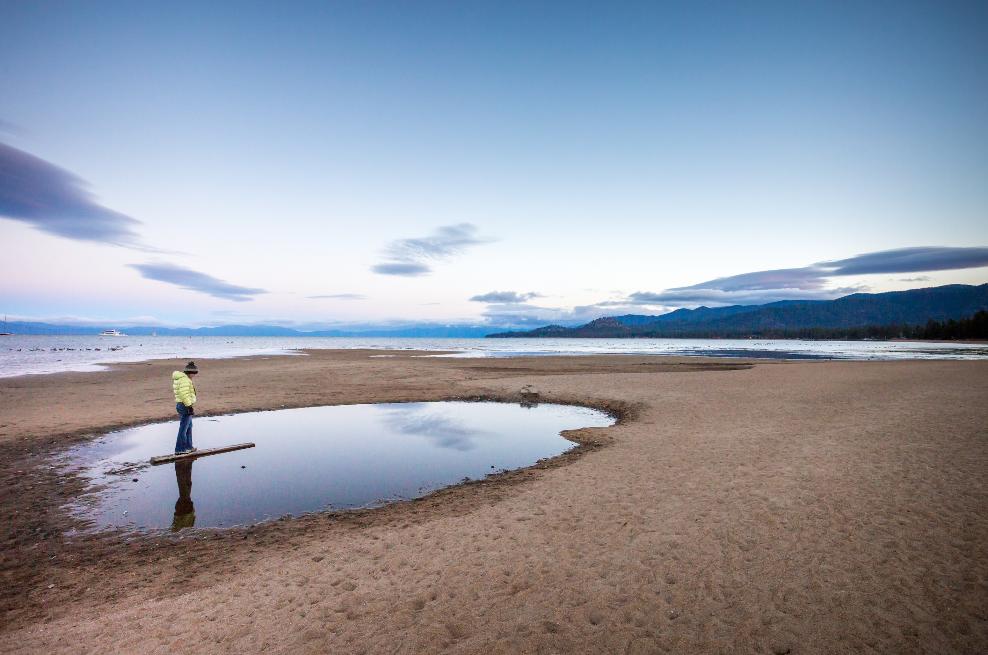 Above: Playing with reflections early in the morning at Tahoe South Lake.
Below: Caples Lake on the drive from Tahoe to Yosemite National Park.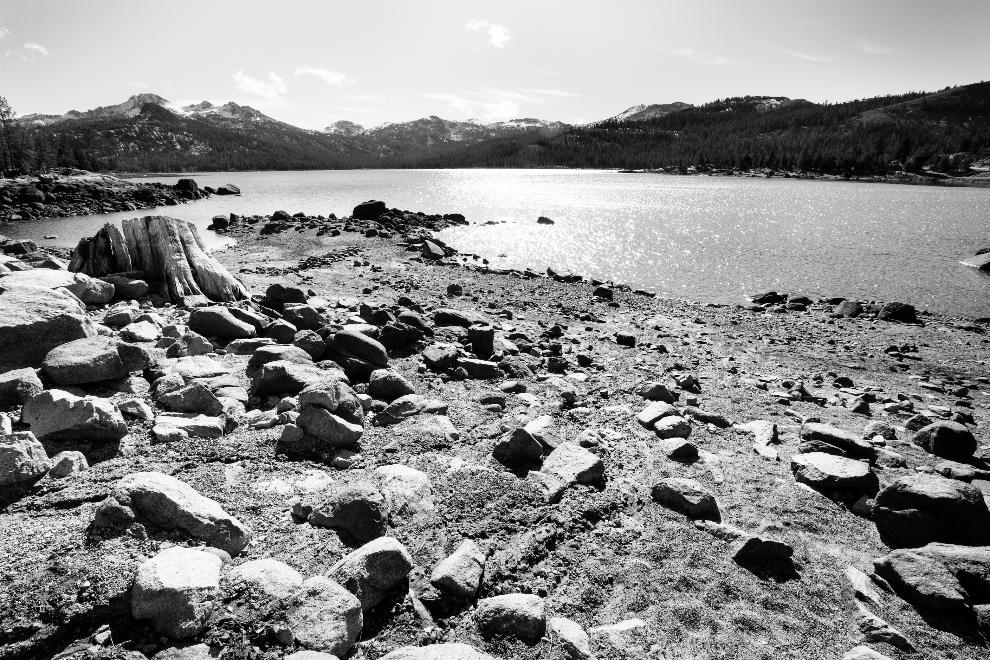 I was incredibly excited to finally be entering the park, having planned to come earlier in the trip and cancelling due to weather, injury, or any of the other reasons that have incapacitated climbing over the past five weeks. Yosemite is a place with an immense amount of climbing and photography history and as I drove down towards the Valley I felt a nervous excitement about what I was about to discover. With everything that had happened over the past few weeks, I felt a strong sense of being in a highly evocable emotional state.
When El Capitan came into view, I was amazed by the size and stature of the piece of rock. Photographs really don't capture its' presence like seeing it for real. Although I knew I was emotional, I hadn't expected the reaction I had. It was mixed and strange, something I had never experienced before and difficult to explain. I was completely moved. Whatever culminated to create that moment for me, it has had a lasting effect and I am now completely drawn to Yosemite in a way that I never have been to a place before. I hope to spend a lot of time here.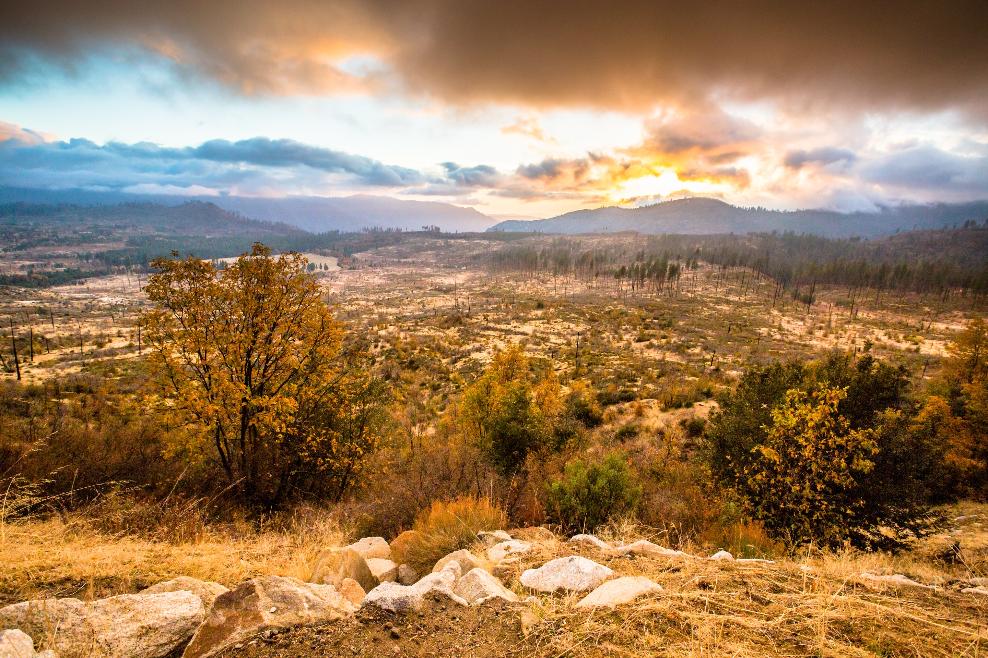 Above: My first sight of a Yosemite sky on my way down into the Valley.
Below: Half Dome catching the last rays of evening light, Yosemite Valley.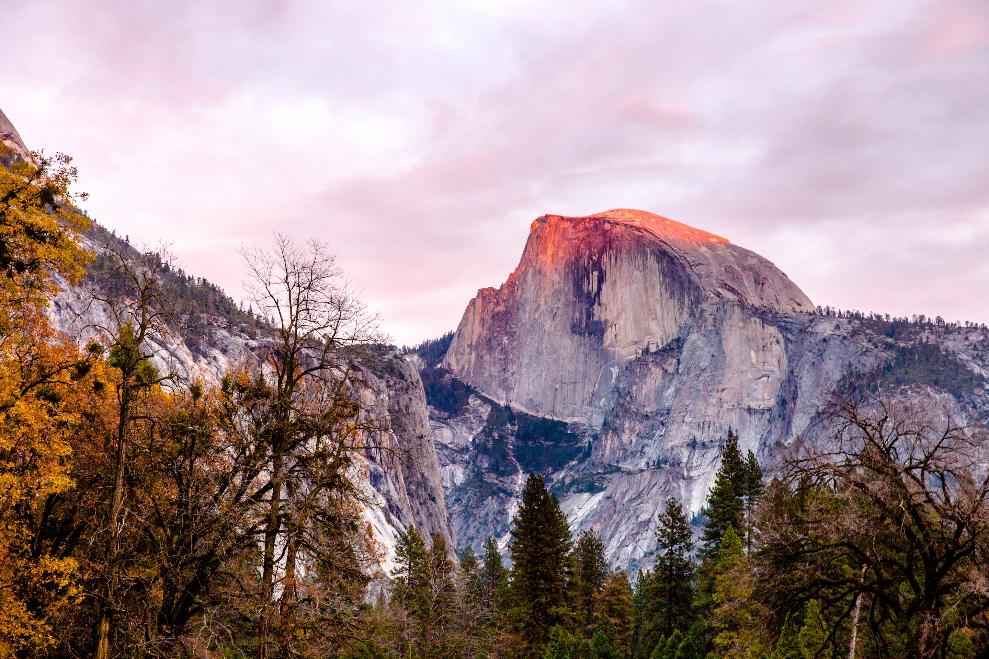 I have now been in Yosemite for a week. Initially, I met up with Matt, a friend of someone I met in Bishop, which led me to more people. I'm now staying in the original house of Mother Curry, the woman who built Curry Village in the early 1900's – the first collection of log cabins that tourists could rent out for a visit. I have again found people to socialise with (as well as heating and hot water, and it is far from warm here right now) and I feel happy where I am. I've done bits and bobs of climbing but weather and partners have been on and off. Next week the weather is good, however, and I have seven days left to climb, so I'm hoping to get out and get some good stuff done before I have to leave for New York.
Climbing aside, however, I feel that this trip has ended up being a lot more for me. It has been completely unexpected and highly impacting. I've learnt to be alone in a way that I never have before. I've learned that I don't need to be achieving something the whole time, but sometimes just being. I feel like I've chilled out a lot and worry about things less. I've also changed my focus in life. Although I want to make adventure documentaries in principle, I feel that what I want to do right now, more and more, is to focus on climbing and having my own adventures. So I've decided not to do a film project next year. When I decided to change from drama to docs, I thought I was realising the value of not focusing on a future image of myself. But now I've realised that I can go further with that. I've always been highly motivated by success and the natural way to feed that motivation is to focus on career goals. But actually, I think film-making for me may be about doing what I want to be doing anyway and maybe filming it if I feel motivated to at the time. How nice is that? No pressure, no goals of success, just filming something because you genuinely want to document it. And I'm comfortable with knowing that this may not happen for several years. I really feel like a different person to who I was several months ago – I could never have imagined myself being so unfazed by the question of success. I dare to say it, but I think I may have become more Zen!
WTF, I Broke My Butt.
2nd November 2014
Well this first two weeks in the States has been a complete whirlwind of ups and downs.
…was pretty awesome. I met some great folk, did lots of climbing and drank a fair amount of beer. Perfect. I ended up staying at Kate's house, a friend of a friend who I'd never met before, for pretty much the whole ten-day duration. This was an extension to the original plan, so massively grateful to her on that one. She also kept me topped up with wine and cooked me the best gnocchi I've ever had. In fact, I don't think I would have ever eaten gnocchi again had she not demonstrated how good it can be. Forget that packeted shit. She made it with butternut squash, cream cheese, ground almonds and fresh rosemary. It really was awesome.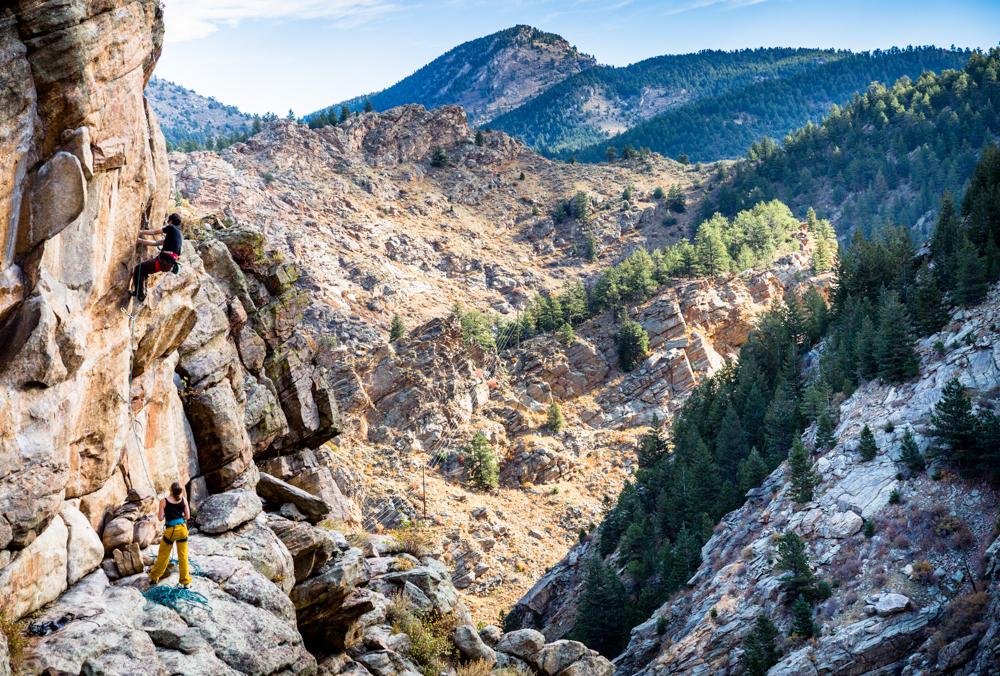 Above: Keith warming up for an attempt on Matt's project 'Clouds in my Coffee', 5.13b, Staoked Bowl, Clear Creek Canyon. FA: Matt Lloyd, October 2014. SA: Keith North, October 2014. Photo: Matt Lloyd.
I climbed through the week with Matt Lloyd – another friend of a friend and a full-time climber. He dragged me up some easy stuff, some hard stuff and some stuff that I didn't get up, which basically provided a tantalising taster to Colorado climbing. There is SO MUCH to do there and I hope to get back to do a month just in Eldo (Eldorado Canyon) sometime. The grades can be a bit sandbaggy, especially at the dubious 5.10 grade (there was a time in the States when climbers were reluctant to add another grade, so you can get piece of piss or likely airmiles depending on your route choice), meaning you have to be a bit careful, but the climbing is immense. It's a beautiful, big, trad playground and a lot of the crags are basically roadside (although Americans will tell you a ten minute walk-in is a bit of a hike). A must on the revisit list.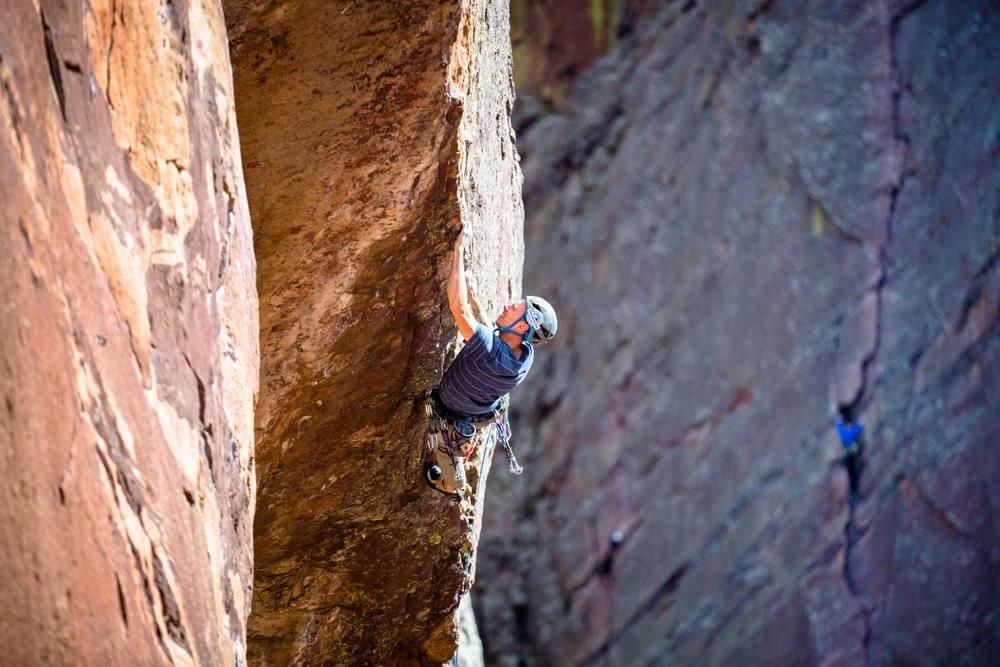 Above: Matt on the scary run-out of Candallegro, 5.13b, Redgarden Roof Routes, Eldorado Canyon. Below: Tyson seconding Kloeberdanz, 5.11c R, Redgarden Roof Routes, Eldorado Canyon.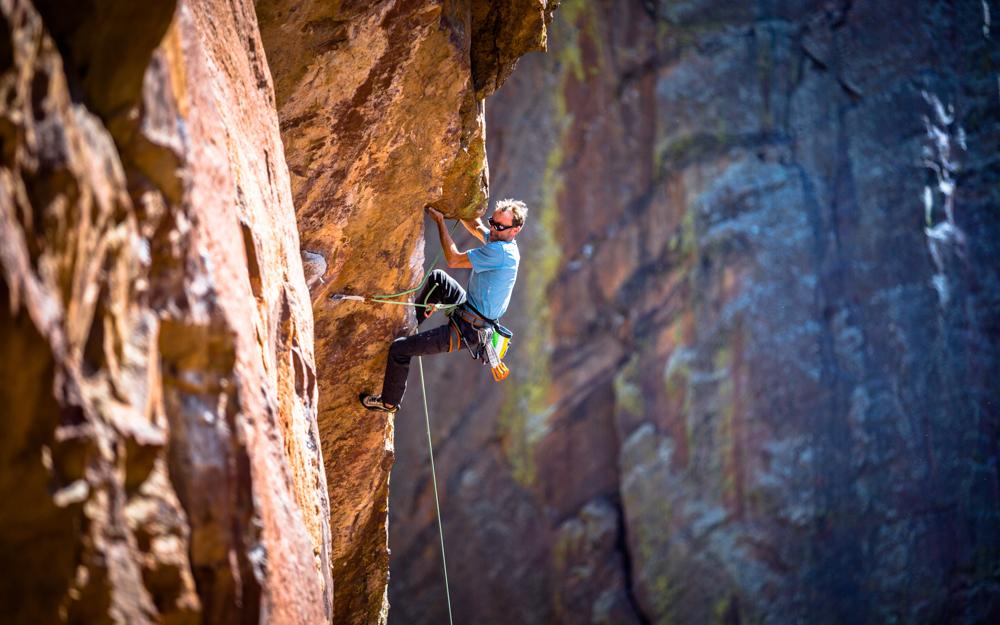 Matt also lent me his moped half way through the week, which was frikin' awesome and gave me some independence around Denver, meaning I could get to the climbing 'gym' in the evenings and also provided some ground training in the ridiculous, dangerous and scary road system of the USA for the road trip I'm about to do. More on that later.
I did a wee bit of filming of a project that Matt was trying (and got) but mostly chilled out climbing without too much self-imposed pressure. One thing I've learned over the last few years is to only film something if you really want to film it. If the circumstances are any different, you'll end up with a hard drive full of crap footage that never makes the edit suite. Unfortunately, troubleshooting with the quadcoptor continued meaning I wasn't able to play with it in Colorado. Amazingly, however, just as I'd started to really hate the thing, I finally got it working this evening with the help of another friend of a friend, Sunny (I'm now in Vegas). The issues boiled down to a dodgy gimbal tilt switch, which I've managed to set manually by going inside the controller. It's not a perfect solution as adjusting the tilt now involves screwdrivers and about ten minutes for every adjustment, but it means that I can film stuff that's not just the ground for the rest of the trip. Phew.
At the end of the ten days, Kev, the actual friend from back home in Scotland, who came on a climbing trip to the States and more or less never went home, took me up to his house in Evergreen for my final night. He lives in a wooden mountain hut that smells of burning pine, at 6,000 feet, overlooking beautiful scenery, with his dog, wife and baby. Two years ago he was on the trip I am on. I love the way that life does that sometimes. We had a great night and I wished I could stay up in his cosy, picturesque log cabin for longer, but the following morning he dropped me off at Denver airport to head to Vegas. I actually got a bit psyched for winter climbing that morning as, despite having climbed in 32 degrees earlier in the week, at altitude, the car was frozen. I got the familiar, sharp, cold smell of frost mixed with exhaust fumes and the sense of early, dark winter starts when we left the house. Yum :)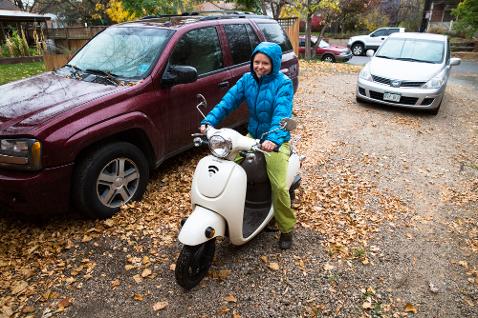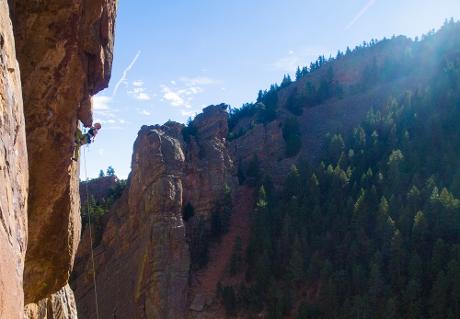 Left: Moped fun in Denver (the only day it wasn't blistering sunshine). Right: Me attempting to second Kloeberdanz, 5.11c R, Redgarden Roof Routes, Eldorado Canyon. Photos: Matt Lloyd.
…so far, has not been so much of a success. I touched down around 10.30am and by 2pm we were climbing in Red Rocks Canyon. It was really, REALLY nice to catch up with an old RAF friend, Benny, and to meet his wife, Marty, when I got here. We had a great afternoon playing on some sport routes and, for me, remembering how to use a Gri Gri (it took a few attempts to put the rope in the correct side, despite the climber picture hint). But then, devastatingly, disaster struck. I got on something that would require a bit more climbing effort that I'd eyed up before arriving – Fear and Loathing, III, a steep 5.12- sport route that would guarantee to get the blood flowing around my stumpy little forearms. I rocked onto a heel hook fairly close to the start of the route and suddenly my whole right ass cheek felt like it tore apart. It made a horrible noise and I felt the whole thing crunch. Shocked and concerned, I let go and got lowered to the ground. Not knowing anything about bottom anatomy, I was initially convinced that I'd pulled some kind of a joint out of it's socket. On Google diagnosis en route home I realised that this was, however, pretty much an impossibility since the only joint I could have done this to in that region would be my hip. Yeah, that diagnoses was a bit off. We concluded that I'd torn my gluteus muscle - I had broken my bum. I walked around on it as much as possible in an effort to stop it from stiffening up. The following day I even tried to climb on it, which was a painful mistake. Fortunately, Marty teed me up with a physio friend, who poked me around whilst stripped down to my pants (proper British pants, not American trousers) and confirmed our diagnosis, with the addition that I'd probably pulled my hamstring a bit too. Bummer. Literally. On the upside, because one's ass is in the middle of one's body and because it is huge (mine is actually quite small, but relatively speaking), it heals pretty quickly. Depending on the extent of the tear it can take between one and six weeks to heal. I have four. I did it on Tuesday and it is now Sunday and it still feels pretty ropey, so I'll be psyched if I get to climb again on this trip.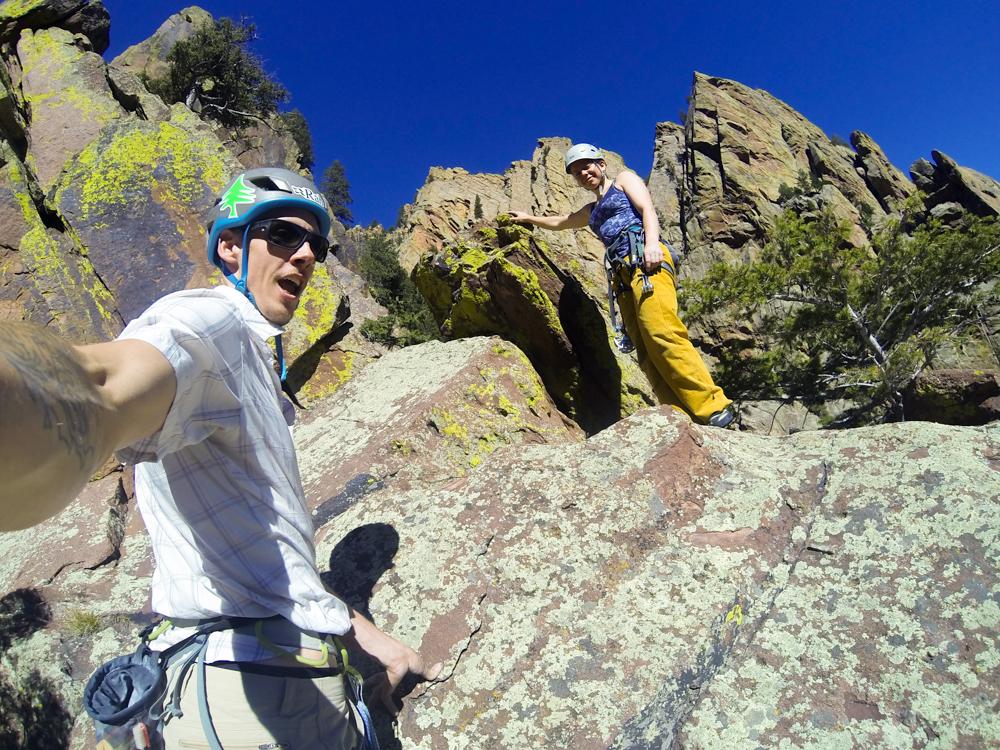 Above: Matt being an idiot.
Like with any injury, and when you're totally psyched at the time of incident, you generally 'allow' it a day or two of climbing loss. This is obviously a ridiculous exercise, as you have no control over the compulsory healing time whatsoever. Then, as things carry on, you resign yourself to the fact that it will take longer. Okay, one week, that's okay, that's better than the rest of the trip. And then longer. Okay, it's not healing as fast as I thought, I'll have to do something else for now. And then… Oh well, it'll be a bonus if I get to climb again on a six week climbing trip.
So, to save myself the torture of sitting in a house and waiting for my bum to heal, I've rented a car (trip budget now well and truly blown) and am heading down to Joshua Tree tomorrow. I get more of a sense of being on a trip when I camp, as opposed to staying in a house, as I am in Vegas, and I find it more memorable too. Even whilst not able to climb, I think that camping and socialising with climbers will be a fun and memorable adventure. Fortunately, I also have film-making and photography to get up to, so I'll see what I find when I get there and do something productive with the time, which is something I now have plenty of.
So, injury = bad and all too-familiar. But, opportunity to do other things = good and excitingly unknown. Perhaps I'll make a film this month, who knows.
Following that, I still have a film to shoot with Sandy in New York in December. I didn't know it until recently, but apparently I'm the DOP and Sandy has just bought a C300, so that's also pretty exciting! Lots of time and lots of things to come. Positive. Good.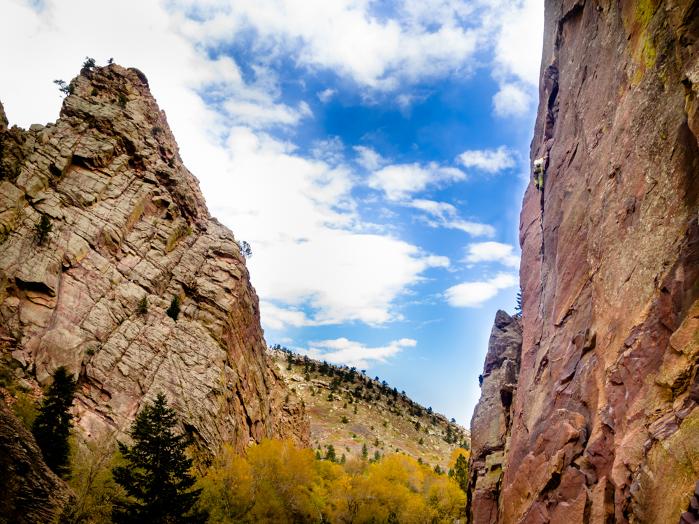 Above: P1 of The Bastille Crack, 5.7. Beautifully easy and fluid climbing. Photo: Tyson. Below: Matt soloing up a bit of unknown rock on demand for a GoPro shot.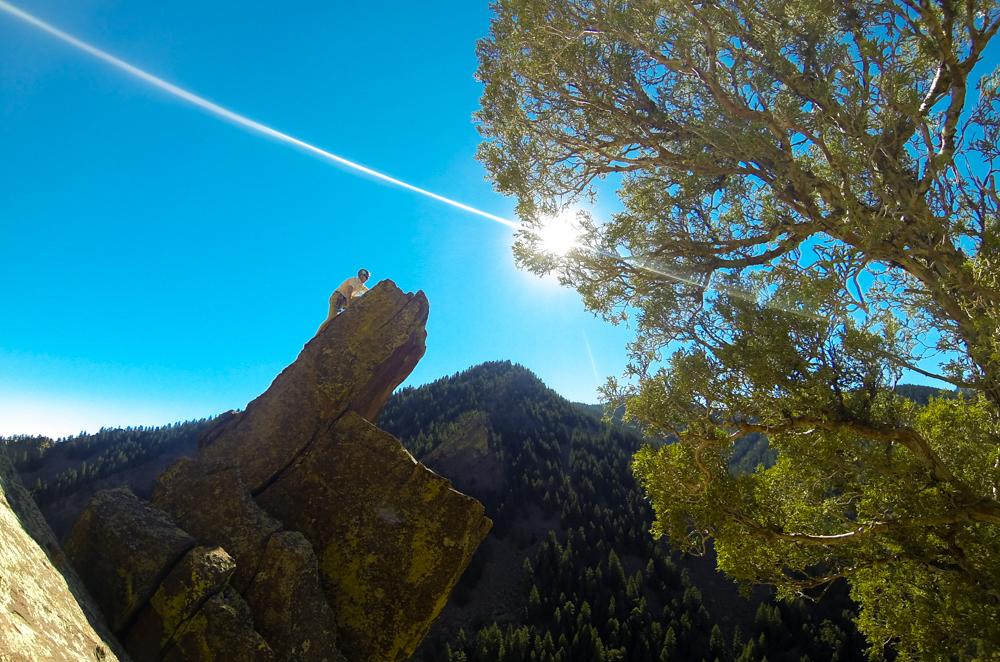 Premium Gold Moments…
18th October 2014
Okay, so I'm sitting in the United Premium Gold Lounge at Heathrow Airport waiting for a flight to Denver. Well that's a surprise!
I always find that travelling alone, especially when gazing out of a window somewhere, stirs some kind of deep reflection in me. Scenarios, smells and sounds always remind me very strongly of what I was doing, thinking or saying when I last saw, smelt or heard them. Sometimes they seem completely trivial, like remembering the thought I had when I was on a particular bend of road on a long bike ride, or where I was when I last smelt Nivea hand cream (Indian Creek three years ago – I now LOVE that smell!) but, of course, there is something that singles them out and makes them stand out in my memory. Apart from journeys generally making you think about where you are going in your life (I mean this metaphorically rather than literally - hopefully you know where you are going by the time you are on the coach to the airport), they also mean that old music collections come out and places visited years ago are visited again. This morning on the coach to Heathrow, I listened to a Queens of the Stone Age track on a really old iPod that I dug out whilst packing. It reminded me of a particular run I went on and exactly where I was on the path when the track came on, in my second year of Uni – eight years ago! Obviously, I've listened to that track loads of times but for some reason that moment resonated with me. I remember the details, like that there were lots of leaves on the path making it slimy and slippery to run on, that it was very sunny but only on the grass next to me (I was in the shade of the trees) and that I was thinking about the fact that I had given up smoking at the beginning of the year to pass the RAF fitness test (yes, you'll be glad to hear that that now sounds laughable, but all achievements are relative!) and was now suddenly finding myself motivated for running and other sports, including climbing. So, in short, I was thinking about big life changes.
I think that travelling puts me in a reflective mood because journeys tend to signify the beginning or end of something. During my time of warm reflection wobbling my way down the M3 this morning, I realised that I have mixed feelings about this trip. By far the overriding waves are of excitement and freedom, but there's a little nervousness mixed in there too. The reason for this is because I'm not just going on (a very long) holiday – I'm trying to achieve something bigger and more important to me than that.
I've made some massive changes in my life recently. Things are completely different than they were just a few months ago. I've come out of a five-year relationship and I've completely changed my career plans. For a while – about three years – I've had a feeling of time running away with me, like I've left it too late to get the things done I want to get done before I'm to old to achieve them. I've also found myself reviewing all the things I did before those three years and feeling impressed with myself, that is, impressed with myself then and not so much now. I've wondered why I've not felt as on it as I was before. "Is that age too? I just don't quite have the drive I had before, the energy. So maybe that's just what happens when you get a bit older..." NO! I'm pleased to say that this thinking was completely and utterly WRONG!
For those three years, I've been focusing solely on the future. Previously to that, I was doing everything in my life purely because I fancied it and I was totally on the ball. I seemed to be able to juggle a million things at once and never stopped to wonder if I could be bothered. I just got on with it with unfaltering motivation and was incredibly productive. I then turned my focus to getting around to tackling that 'career thing'. Error!
Firstly, I had the wrong idea about what I wanted to do. This is not too insightful, I know, but I need to include it to explain myself. I had created a future image of myself when I was about 16 and was adamantly sticking to it, thinking that this was an honourable and determined way to proceed. You have to work your ass of to get to where you want to get, right? Well, yes, but there's a big problem with that statement. It gives the impression that you should be gruelling away at something your whole life purely for the end goal. But if you're doing the thing that you really want to do, then working your ass off becomes something you don't even think about. It might be hard work but it doesn't have to be work that you don't want to work at. If you're natural motivation to get your work done is low, then maybe you're working at the wrong thing. And if you're working at the wrong thing, then perhaps you'll feel like time is running away with you – because deep down you know that you're not getting the things done you want to get done.
Secondly, my focus on the future was all wrong. A future image of yourself is theoretical. By it's nature, you can't ever reach it. When you get there, your future will have moved and you're image will have changed – probably to something that you think is bigger and better.
Fortunately, your subconscious is far more intelligent than you are and these instinctive feelings of discontentment generally bubble to the surface and let you know that something is fundamentally wrong. Having said that, I think it's a hard a skill to learn to recognise and listen to it. Fortunately for me, I did suddenly recognise my own feelings of discontentment and confusion during a conversation with my friend Evie about a month ago, and realised that I have been barking completely up the wrong tree.
My 'incorrect' future image had been to direct feature length fiction films and there are a couple of reasons why I think I had rigidly stuck to this plan, despite the growing feeling that everything about it wasn't really me. Firstly, I'm incredibly stubborn and each time someone asked me the obvious question for someone who is into climbing and the outdoors – "So, are you going to make adventure films then Jen?" – it spurred me on to 'prove them wrong', as if they were suggesting that I couldn't do something that wasn't expected of me. Hmmm. Secondly, I had for some reason put the world of fiction on a pedestal compared to documentary and other forms of filmmaking. Perhaps because it wasn't me it felt more unlikely, spurring me on to do it, or perhaps just because making money out of directing fiction is generally perceived as unattainable, I became determined to do it. Lesson? Determination can be a misplaced, self-imprisoning quality, as well as a useful one.
So, during that conversation with Evie, an influx of revolutionary thoughts (revolutionary in the bubble of my little world anyway) occurred and overnight I changed everything on my to-do list. The issue of knowing what I wanted to do was distilled down to the simple question of what I would do if I didn't have to care about what I wanted to do – if I didn't care about success or failure or what I perceived to be a 'good' career. It's painful to admit it, but as much as I have always believed in the principle of not caring about what other people think, the truth is that it's unlikely I've ever really achieved it. With this realisation, I asked myself the question "What do you want to do right now?" And the answer was: climb, and go on adventures.
There's also something in relation to climbing to me that I noticed about the word "just". Over the past few years, I've come back again and again to saying things like "Fuck it, I might just sack everything off and just go climbing". It's a massive give away. I used to think that it was a throw away comment for momentarily fantasising about the freedom of ditching all your ambitions, choosing an unacceptably easy or non-meaningful option. But I now realise that it's the part of you talking that wants to just do what it is that you really want to do. It is a simple statement because it is stripped down to your core, simple needs.
I am not an elite climber. I'm still a pretty average one on the scale of things. I have been injured for nearly two years and am still coming back from that. Of course, being reintroduced to climbing after a very long lay-off has massively contributed to my newfound motivation, as has evolving out of a long relationship and slapping myself in the face with regards to my career choices. And as a non-elite climber, there is also the question of making a living, which muddies the simplicity of the answer "climb". I do, however, already identify myself as a filmmaker and I feel comfortable with and excited by that. So really the simple answer of "climb" is actually "climb and make films", it's just that half of it was already in place and climbing was the half that was missing from my life.
There's a phrase I learned through studying directing drama: What's the itch you can't scratch? It's about making sure that you need to make the films you make. Every film you invest in should be about something you need to explore. It's an itch that you can't scratch. For years, I've been looking for those itches. I've found topics and characters that interest me immensely, but I've never quite gotten that definitive itchy scratchy thing going on. My interest in a script always tends to dissolve away after a few months of development, or when I've explored the topic enough in my life that I've solved my interest in it without the needto make a film. It was such a supremely happy revelation to me to realise that my itch has been itching me in the face for years, I've just never noticed it – my itch is absolutely, definitely and definitively climbing and adventure!
So, I'm a filmmaker and I finally have my itch. I have my answer (for now, anyway). Filming allows me to go on adventures whilst having a career and climbing allows me to film stuff that's itchy for me. Good. And over the same night that I rewrote my to-do list, I got the energy, drive and motivation back that I had been missing for the past three years.
With that done, I started seeing opportunities that were staring me in the face that I had failed to see before. For starters, this trip took on a different meaning. Initially, it was planned as a trip to New York to shoot and edit a film with a friend, Sandy, who I met on the Film Directing course at ECA, with some climbing tagged onto the beginning. Post-revelation, I was astonished to think that I was going to go on this trip and NOT FILM IT! That is kind of ridiculous for any filmmaker, even if the trip doesn't fit into their 'designated genre' (not that anyone reallyhas one), let alone someone who's into adventure as a hobby, and it just goes to illustrate how blinkered you can become to the opportunities around you by having all your energy focused on the future, or on some other prescriptive life formula. The trip has now become three film projects – the New York project with Sandy, a film of the trip and maybe a second film of some 'real' climbing at Creek's Giving. But we'll see what happens and I'll make sure I stay open to all options at all times!
And just by way of a quick caveat, all this talk about documentary filmmaking doesn't mean I'm not still interested in and open to all projects. It just means that my natural focus is very different to what I thought it was before.
My final thought is about not focusing on where you want your actions to take you. If you're freed of thinking about this, then you're free to make instinctive and passionate choices about what you do in the here and now and you'll probably see and create opportunities around you that you may otherwise have been blinded to. Things just seem to fall into you're lap in this open state. It's always the choices made in this state that seem to turn into the unexpected and unfathomable successes that people have. Those in seemingly unbelievably 'lucky' places have always travelled there via winding and unpredictable paths. They can't be planned for or predetermined, so trying to control them not only puts you in a closed state but may also be a waste of energy!
Not planning for the future is hard and scary, especially if all the people around you are warning you otherwise. It's viewed as reckless and irresponsible in our society and it's engrained in us from playschool to have a plan B and maybe C for when plan A fails. What a depressing thing to teach kids. I hate plan B's. They sap energy from plan A and I think that the way of thinking has the ability to utterly crush people's creativity and freedom of ambition.
Not planning also involves a certain element of risk, which conveniently brings me back to where I started (after my pre-ramble, that is) – that I have slight nervousness I have about this trip. I fear that I can't make the film cinematic, that the kit, limitations and environment that I'll be working with will make it too hard, that I won't find the characters or the footage to make something worth watching. I'm nervous that there won't be a story to follow. But at the same time, rationally, I don't feel worried at all as I trust myself to find something when I get there. It would be easy for me not to admit this, but I'm purposely exposing myself and forcing myself to be honest. If I wasn't nervous, then I either wouldn't care enough or wouldn't be trying hard enough. But I am, and I think that's healthy. And really, the worst case scenario really ain't that bad! I could fail to make a single film - not that bad. If that does happen, then I'll learn from it.
I know that this blog has been very long and self-absorbed, but, despite my inclination to write "sorry about that", I'm not going to. If it's only my Mum that reads this then that's fine by me (Mum – you better not be skim-reading). But if you're not my Mum and you have made it this far, well, then that's an achievement for both of us! By way of compensation, I promise to make the next one less intense and will also include some pretty pictures! ;)
Oh, and the Premium gold bit – that's down to Sandy using her airmiles to get me over - thanks Sandy. The houmous sandwiches were rubbish but the cheesy wraps were awesome.
Quadcoptor Test
8th October 2014, Scotland
So, Stu, Vadim and I ventured out to test the GoPro / Quadcoptor set up last Wednesday. It wasn't exactly smooth. We forgot half of the kit (okay, I forgot half the kit), then got so overexcited by the prospect of flying it, chasing each other around with the thing and testing out the speed and height capabilities (which are both very impressive), that we flossed over GoPro settings, sacked off reading the instructions properly (very naughty) and didn't look up the functions of the controller. But hey, we just wanted to fly it!
This was so incredibly fun it bordered on becoming dangerous (I mean this literally). After we'd used only one battery (about 20 minutes of flight time), I could feel myself getting way too overexcited and knew it was time to land and go home before we pushed our luck any further. So, we're yet to do a test with the monitor and control of the gimbal, (which we now know how to use). But, for the time being, here's a taster...