Valley Zen...
25th November 2014
Right now, I'm sitting in a rainy house in Yosemite National Park and have been thinking about how I've been so absorbed by the experiences that the past three weeks have brought to me that I haven't found the time to write it all down.
The last time I wrote was in Vegas, which seems like AGES ago. Looking back, it was a really difficult time for me for a few different reasons. Firstly, the physical reminder of having an injury was wearing me down. It was hard to sleep, stiff to walk and if I caught my leg strangely or corrected my balance it could be really painful. Having climbed almost every day until this point, I was in the zone of worrying about not getting training in and counting the days I was having to take off. I didn't really have any independence, since everything is a drive in Vegas and I had no wheels. I was also not really surrounded by people. I was staying in an empty house and wasn't able to distract myself with social. It may sound trivial, but I felt really alone.
After not very long of Skyping my Mum way too much, I decided to rent a car and set off on a road trip. The morning I picked up the car from the airport I felt pretty emotional and took the opportunity to have a little cry on the drive back. I expected that this was probably the head of the difficult time and that some positive feelings would follow.
Setting off had a pretty strong effect on me. With the rollercoaster of emotions that I'd just experienced, I felt a strong sense of freedom and adventure setting off down the road. I actually spent the first half an hour squealing with excitement as I navigated my way out of the spaghetti of traffic that is Vegas.
Once I got off the main drag and out into the desert, the landscape was mesmerising. It was dry, flat and incredibly empty. I found myself working out how many days of food and water I had in case I broke down or had to change a tyre (which could take days to work out). I had about five –long enough to see someone else, I thought. I drove through ghost towns and past rusty trains sat rotting on tracks. I almost felt as though I shouldn't get out of the car in case I got shot!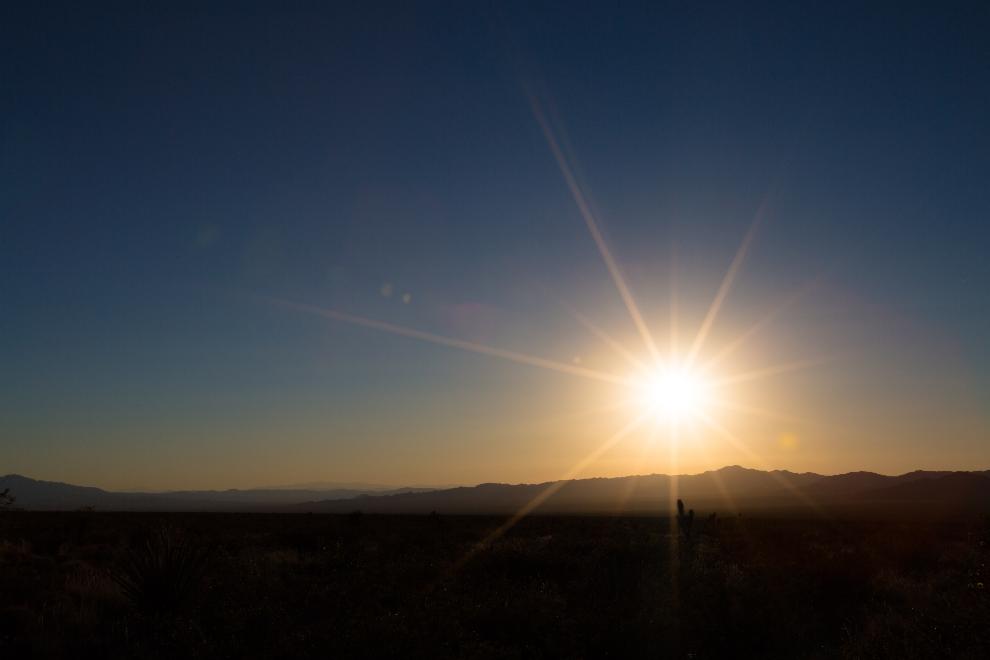 Above: Driving through the Mojave National Preserve.
Eventually arriving in Joshua Tree National Park after five and a half hours of driving (it should have been three, but I had to keep stopping to take photos or to rest my incredibly sore butt…), it was dark, COLD and I was tired. Lucky to find the last campsite available in the Hidden Valley Campground, along with a pile of wood that had been left, I pitched my tent, made a fire and settled down with a box of red wine, staring contently into the flames and absorbing the day's experience.
Later that night a couple of girls swung by and asked to share my spot. We climbed together the next day on some super easy ground – a good bottom test. It felt okay, but it was definitely too early to start trying anything more difficult and even some of the easy moves were a bit tender.
The following day, I left a note on my neighbour, David's, car as I'd identified him as a lone traveller and we ended up sharing a fire over the next couple of nights. We had some interesting chat about some of his conspiracy theories and it was nice to have the company, although, by the end of my four days in Joshua Tree, I realised that it's a different kind of effort to be on a trip on your own. In the past, anything I've done alone has been with a specific goal in mind, like cycling a long distance, so I've been perfectly occupied in my own company whilst being active. Now, without such a clear purpose, it was taking some adjusting to get used to.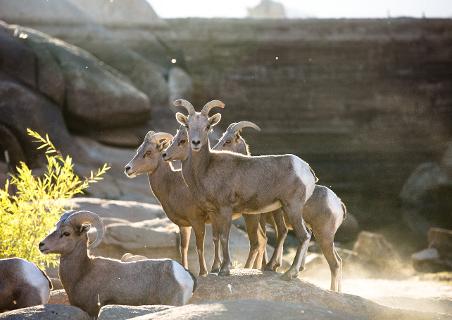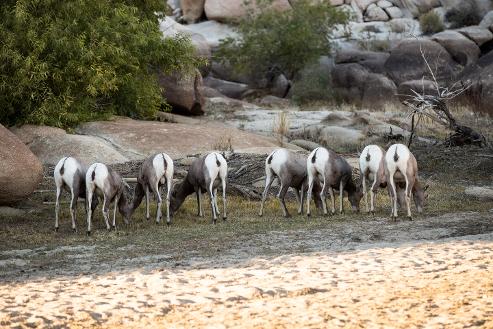 Above: Big Horned Sheep in Joshua Tree National Park.
Below: Skyline dotted with the instantly recognisable Joshua Trees.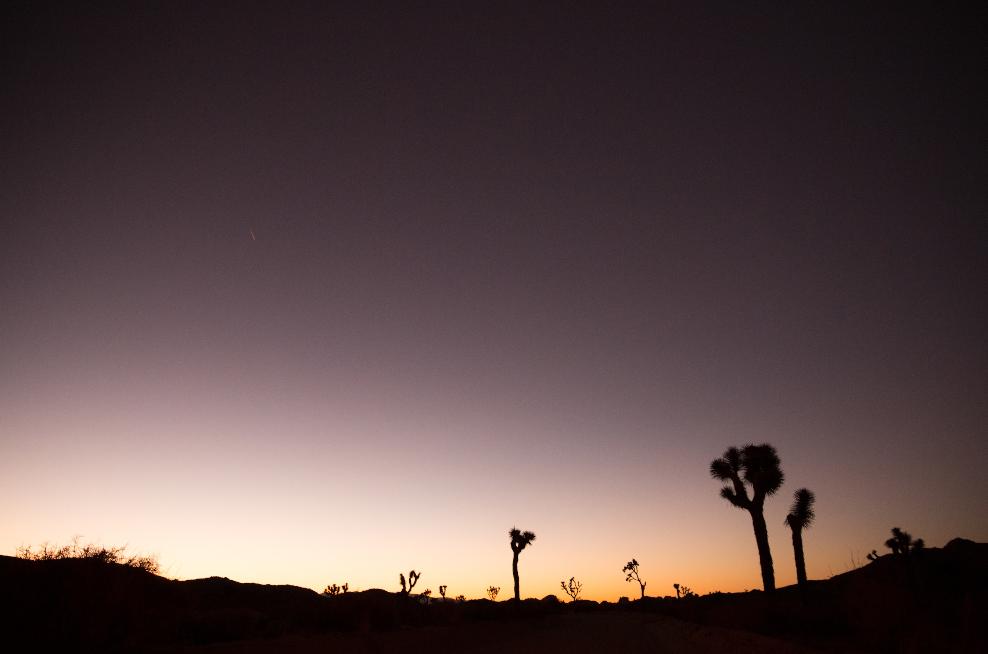 Next, I headed to Bishop for the Craggin' Classic Alpine Association Meet. I knew it would be a good place to meet people as hundreds of climbers would be milling around in the same place all weekend. Initially arriving in Bishop, again, felt hard. There was something very familiar about arriving in a US town with a bunch of admin to do – get map, stove (last one knocked out), fill up water bottles, find shower if possible, set up camp, get to that night's film screening of Valley Uprising (totally awesome if you haven't seen it). But there was something very unfamiliar about doing it alone. I felt the absence of someone next to me in my car and it felt lonely.
Feeling a bit sad and running out of time, I decided to get a motel for the night. I determined a budget of $35, based on what we'd had to pay for a Motel 6 a couple of years ago when we hadn't made it to Moab on time. I thought this was reasonable, so I was shocked when the first motel I tried was $59. I drove to another two. They were worse. Fuck. Feeling too guilty to spend the money, I had a word with myself to man up and go camping. But then, driving up the road, I realised how rubbish the prospect seemed to me at the time, so reversed my decision AGAIN and decided to let myself off the hook. Phew. I hated handing over my bankcard, but once it was done it was amazing. I had a huge, comfy bed, shower, tap and kitchen all in one place. Amazing!
Following the same rule as the day I left Vegas, the tricky part was followed by a high. I met a lot of really good people over the weekend and took some cool climbing snaps. I couldn't help but to try a bit of bouldering, of course, which quickly ended when I re-tore my butt slightly. I was a little annoyed with myself for trying and then hurting myself, so slowing the healing process, but I had to find out I guess. So bouldering was off the books for a while.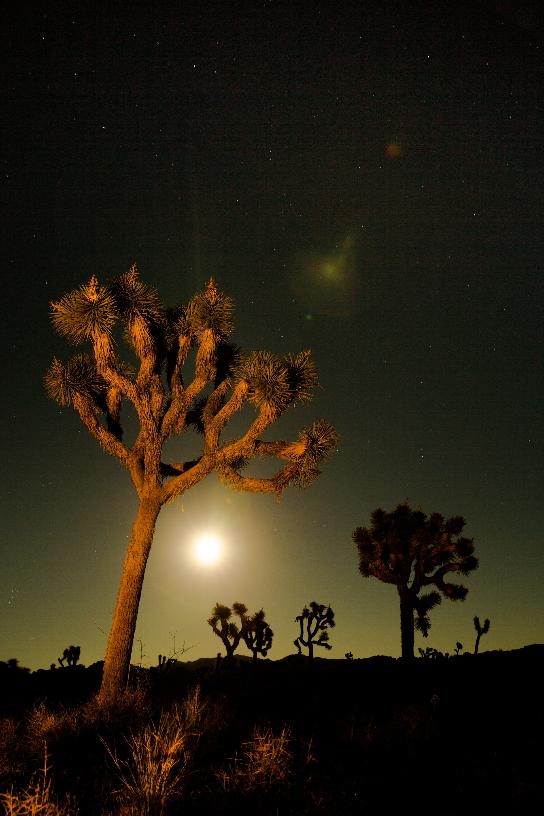 Above: A Joshua Tree backlit by moonlight.
Below: Colton Edson enjoying an evening solo in the Buttermilks, Bishop.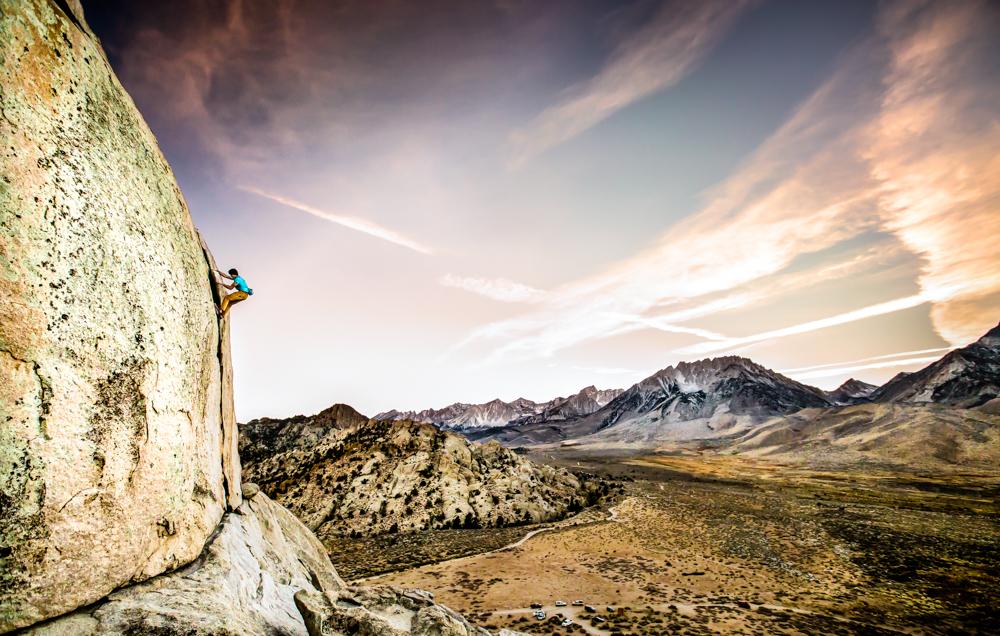 I was invited by Ryan – someone I had met at the party on Friday – to stay in his house, shared with three other climbers, for the weekend, which was a pretty awesome offer compared to going back to camping in the cold. The people living there, as well as all the others that seemed to draft through all the time, were totally chilled out and I was enjoying the social, games and communal eating. I was surrounded by good people and felt happy, so my stay extended into the next week.
By the Wednesday, I decided to try a bit of sport climbing. Apart from being really sick (initially I thought I had an uncharacteristically bad hangover, but when it lasted four days I realised I must have picked up some weird virus), climbing was surprisingly okay, provided I didn't go on the steep. Wow, I could actually climb again. Amazing!
The following day I felt the sudden instinct that it was time to leave and decided to head to Yosemite the following day. By this point, I was used to the independence of travelling alone and when the Tioga Pass into the Valley was closed, meaning I'd have to divert by five hours, I noticed that I reacted differently to the situation than I think I would have before. Previously, I would have dwelled on the fact that if I'd left a day before, I would have saved several hundred miles and two days of travelling. But instead, I felt happy to embrace the change of plan. I chose to head up to Tahoe South Lake for a night, a beautiful ski resort town, and I hardly spent any time at all comparing my new situation to what could have been perceived as the more perfect scenario.
I booked a super cheap last minute deal on a motel and treated myself to a steak – a first since leaving the UK. I was also incredibly excited to stumble across my Mum's Christmas present en route to the restaurant, so that's my Christmas shopping officially started!
The following morning I got up at 5am and drove to South Lake to take some sunrise pictures. Unfortunately, there was no sunrise to be had, but it was refreshing to be out and about with my camera next to the beautiful lake and, instead, I played with some reflection shots. At this point in the trip, I felt like some kind of internal change had happened and that I was happy and motivated to be spending time with myself, even without a well defined purpose to what I was doing. I felt freed by not needing to achieve a goal the whole time, which was a new and liberating experience for me.
Later that morning I set off for Yosemite, when unfortunately the virus returned for one last kick and I spent the journey stopping to throw up by the side of the road every few hours. After realising that the sickness was induced by eating, but that I could keep down chocolate (how unfortunate), I happily munched my way through two 600g bars and had started to feel more normal by the time I arrived.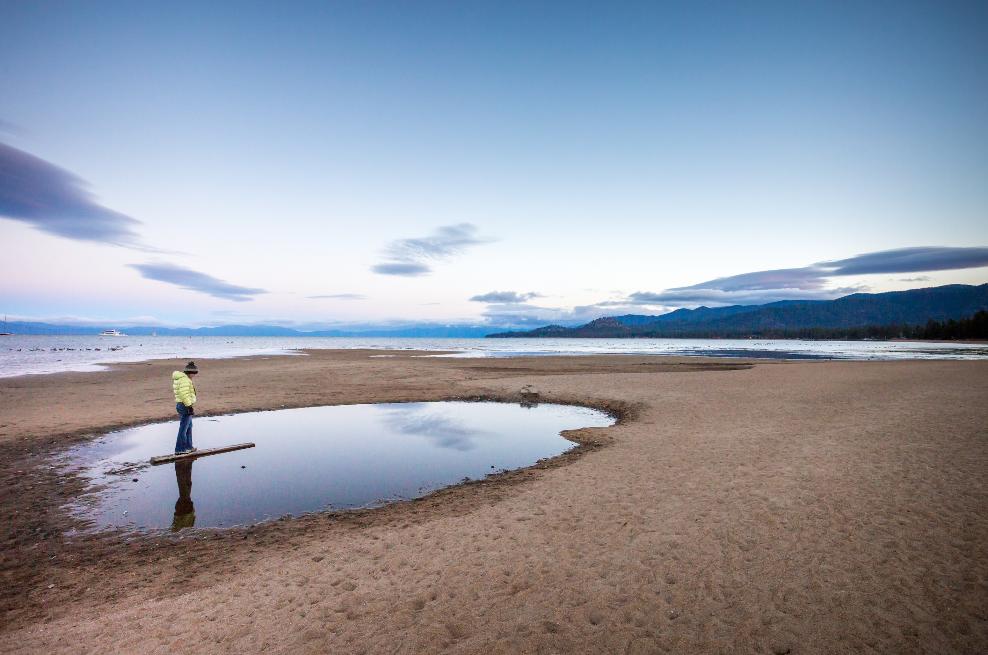 Above: Playing with reflections early in the morning at Tahoe South Lake.
Below: Caples Lake on the drive from Tahoe to Yosemite National Park.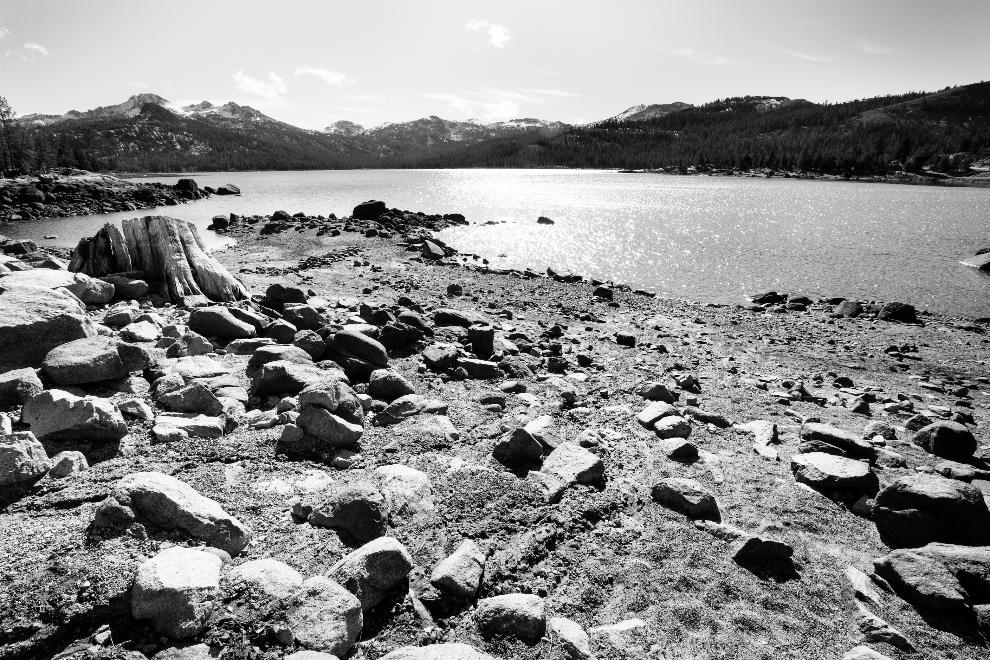 I was incredibly excited to finally be entering the park, having planned to come earlier in the trip and cancelling due to weather, injury, or any of the other reasons that have incapacitated climbing over the past five weeks. Yosemite is a place with an immense amount of climbing and photography history and as I drove down towards the Valley I felt a nervous excitement about what I was about to discover. With everything that had happened over the past few weeks, I felt a strong sense of being in a highly evocable emotional state.
When El Capitan came into view, I was amazed by the size and stature of the piece of rock. Photographs really don't capture its' presence like seeing it for real. Although I knew I was emotional, I hadn't expected the reaction I had. It was mixed and strange, something I had never experienced before and difficult to explain. I was completely moved. Whatever culminated to create that moment for me, it has had a lasting effect and I am now completely drawn to Yosemite in a way that I never have been to a place before. I hope to spend a lot of time here.