Valley Zen...
25th November 2014
Right now, I'm sitting in a rainy house in Yosemite National Park and have been thinking about how I've been so absorbed by the experiences that the past three weeks have brought to me that I haven't found the time to write it all down.
The last time I wrote was in Vegas, which seems like AGES ago. Looking back, it was a really difficult time for me for a few different reasons. Firstly, the physical reminder of having an injury was wearing me down. It was hard to sleep, stiff to walk and if I caught my leg strangely or corrected my balance it could be really painful. Having climbed almost every day until this point, I was in the zone of worrying about not getting training in and counting the days I was having to take off. I didn't really have any independence, since everything is a drive in Vegas and I had no wheels. I was also not really surrounded by people. I was staying in an empty house and wasn't able to distract myself with social. It may sound trivial, but I felt really alone.
After not very long of Skyping my Mum way too much, I decided to rent a car and set off on a road trip. The morning I picked up the car from the airport I felt pretty emotional and took the opportunity to have a little cry on the drive back. I expected that this was probably the head of the difficult time and that some positive feelings would follow.
Setting off had a pretty strong effect on me. With the rollercoaster of emotions that I'd just experienced, I felt a strong sense of freedom and adventure setting off down the road. I actually spent the first half an hour squealing with excitement as I navigated my way out of the spaghetti of traffic that is Vegas.
Once I got off the main drag and out into the desert, the landscape was mesmerising. It was dry, flat and incredibly empty. I found myself working out how many days of food and water I had in case I broke down or had to change a tyre (which could take days to work out). I had about five –long enough to see someone else, I thought. I drove through ghost towns and past rusty trains sat rotting on tracks. I almost felt as though I shouldn't get out of the car in case I got shot!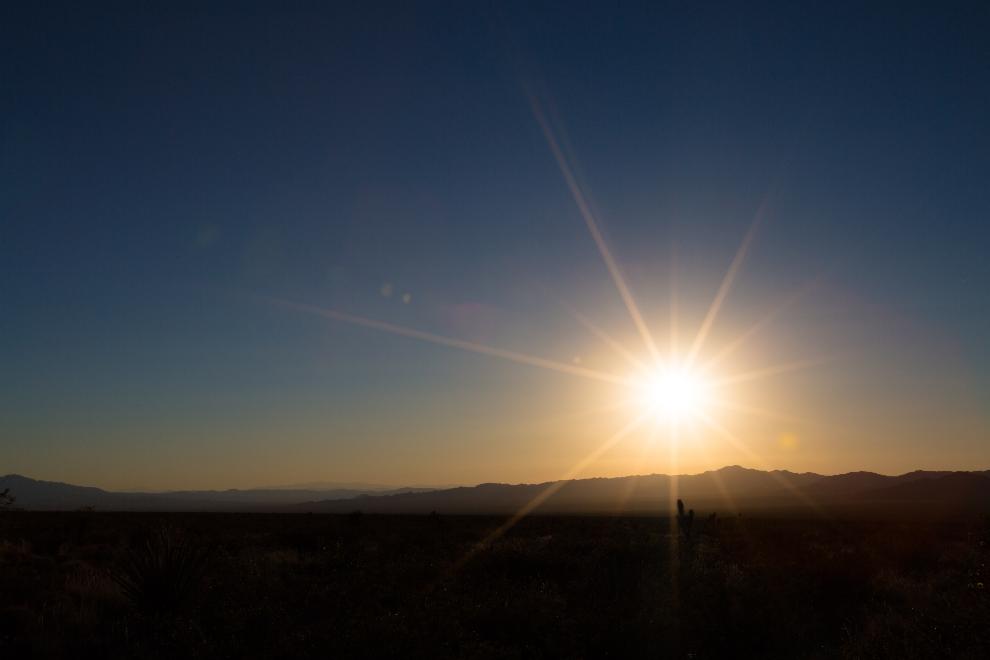 Above: Driving through the Mojave National Preserve.
Eventually arriving in Joshua Tree National Park after five and a half hours of driving (it should have been three, but I had to keep stopping to take photos or to rest my incredibly sore butt…), it was dark, COLD and I was tired. Lucky to find the last campsite available in the Hidden Valley Campground, along with a pile of wood that had been left, I pitched my tent, made a fire and settled down with a box of red wine, staring contently into the flames and absorbing the day's experience.
Later that night a couple of girls swung by and asked to share my spot. We climbed together the next day on some super easy ground – a good bottom test. It felt okay, but it was definitely too early to start trying anything more difficult and even some of the easy moves were a bit tender.
The following day, I left a note on my neighbour, David's, car as I'd identified him as a lone traveller and we ended up sharing a fire over the next couple of nights. We had some interesting chat about some of his conspiracy theories and it was nice to have the company, although, by the end of my four days in Joshua Tree, I realised that it's a different kind of effort to be on a trip on your own. In the past, anything I've done alone has been with a specific goal in mind, like cycling a long distance, so I've been perfectly occupied in my own company whilst being active. Now, without such a clear purpose, it was taking some adjusting to get used to.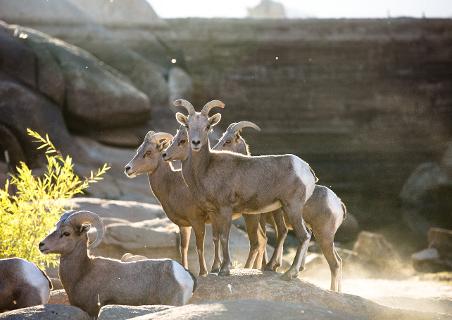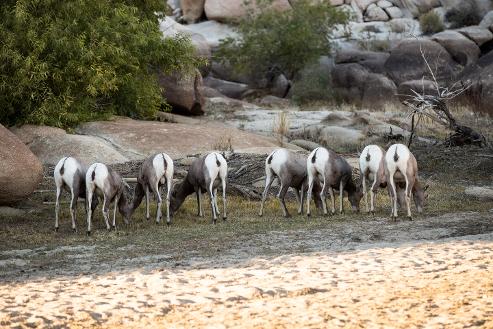 Above: Big Horned Sheep in Joshua Tree National Park.
Below: Skyline dotted with the instantly recognisable Joshua Trees.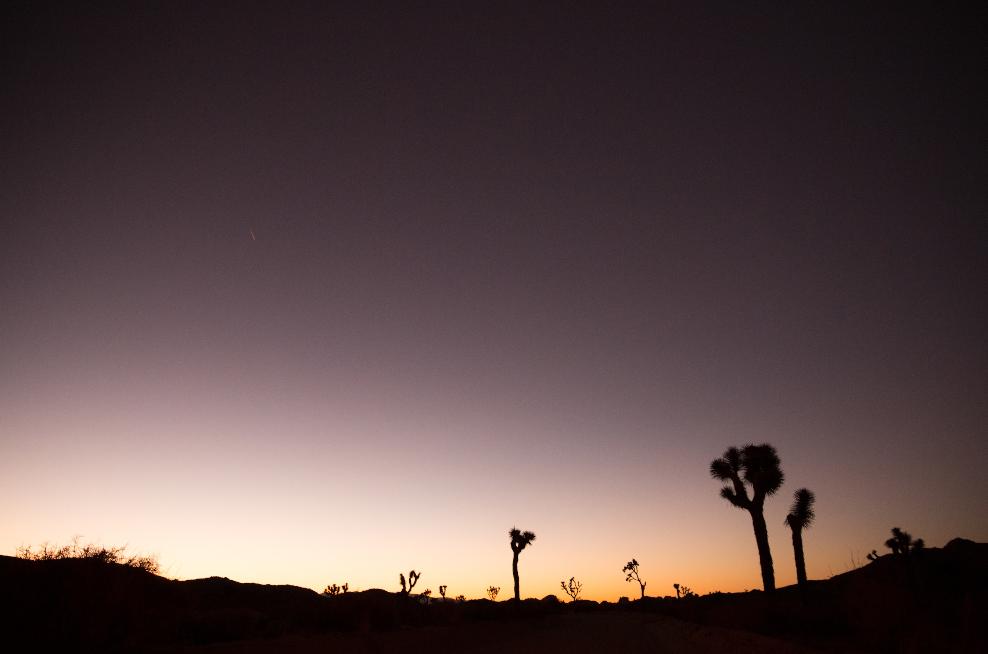 Next, I headed to Bishop for the Craggin' Classic Alpine Association Meet. I knew it would be a good place to meet people as hundreds of climbers would be milling around in the same place all weekend. Initially arriving in Bishop, again, felt hard. There was something very familiar about arriving in a US town with a bunch of admin to do – get map, stove (last one knocked out), fill up water bottles, find shower if possible, set up camp, get to that night's film screening of Valley Uprising (totally awesome if you haven't seen it). But there was something very unfamiliar about doing it alone. I felt the absence of someone next to me in my car and it felt lonely.
Feeling a bit sad and running out of time, I decided to get a motel for the night. I determined a budget of $35, based on what we'd had to pay for a Motel 6 a couple of years ago when we hadn't made it to Moab on time. I thought this was reasonable, so I was shocked when the first motel I tried was $59. I drove to another two. They were worse. Fuck. Feeling too guilty to spend the money, I had a word with myself to man up and go camping. But then, driving up the road, I realised how rubbish the prospect seemed to me at the time, so reversed my decision AGAIN and decided to let myself off the hook. Phew. I hated handing over my bankcard, but once it was done it was amazing. I had a huge, comfy bed, shower, tap and kitchen all in one place. Amazing!
Following the same rule as the day I left Vegas, the tricky part was followed by a high. I met a lot of really good people over the weekend and took some cool climbing snaps. I couldn't help but to try a bit of bouldering, of course, which quickly ended when I re-tore my butt slightly. I was a little annoyed with myself for trying and then hurting myself, so slowing the healing process, but I had to find out I guess. So bouldering was off the books for a while.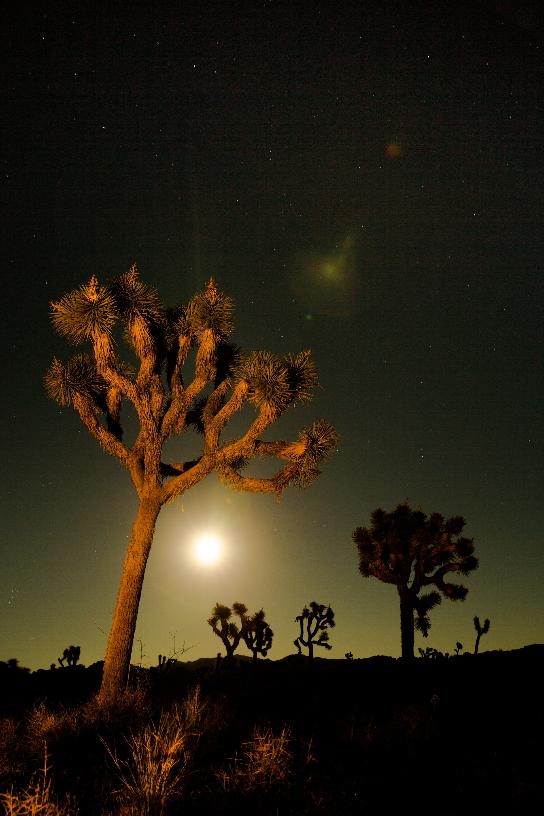 Above: A Joshua Tree backlit by moonlight.
Below: Colton Edson enjoying an evening solo in the Buttermilks, Bishop.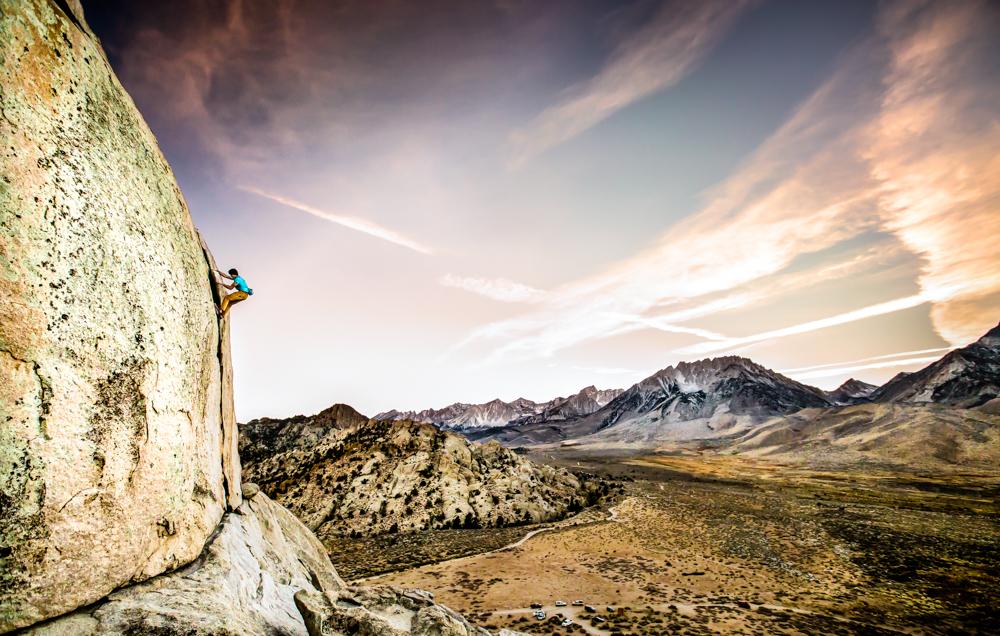 I was invited by Ryan – someone I had met at the party on Friday – to stay in his house, shared with three other climbers, for the weekend, which was a pretty awesome offer compared to going back to camping in the cold. The people living there, as well as all the others that seemed to draft through all the time, were totally chilled out and I was enjoying the social, games and communal eating. I was surrounded by good people and felt happy, so my stay extended into the next week.
By the Wednesday, I decided to try a bit of sport climbing. Apart from being really sick (initially I thought I had an uncharacteristically bad hangover, but when it lasted four days I realised I must have picked up some weird virus), climbing was surprisingly okay, provided I didn't go on the steep. Wow, I could actually climb again. Amazing!
The following day I felt the sudden instinct that it was time to leave and decided to head to Yosemite the following day. By this point, I was used to the independence of travelling alone and when the Tioga Pass into the Valley was closed, meaning I'd have to divert by five hours, I noticed that I reacted differently to the situation than I think I would have before. Previously, I would have dwelled on the fact that if I'd left a day before, I would have saved several hundred miles and two days of travelling. But instead, I felt happy to embrace the change of plan. I chose to head up to Tahoe South Lake for a night, a beautiful ski resort town, and I hardly spent any time at all comparing my new situation to what could have been perceived as the more perfect scenario.
I booked a super cheap last minute deal on a motel and treated myself to a steak – a first since leaving the UK. I was also incredibly excited to stumble across my Mum's Christmas present en route to the restaurant, so that's my Christmas shopping officially started!
The following morning I got up at 5am and drove to South Lake to take some sunrise pictures. Unfortunately, there was no sunrise to be had, but it was refreshing to be out and about with my camera next to the beautiful lake and, instead, I played with some reflection shots. At this point in the trip, I felt like some kind of internal change had happened and that I was happy and motivated to be spending time with myself, even without a well defined purpose to what I was doing. I felt freed by not needing to achieve a goal the whole time, which was a new and liberating experience for me.
Later that morning I set off for Yosemite, when unfortunately the virus returned for one last kick and I spent the journey stopping to throw up by the side of the road every few hours. After realising that the sickness was induced by eating, but that I could keep down chocolate (how unfortunate), I happily munched my way through two 600g bars and had started to feel more normal by the time I arrived.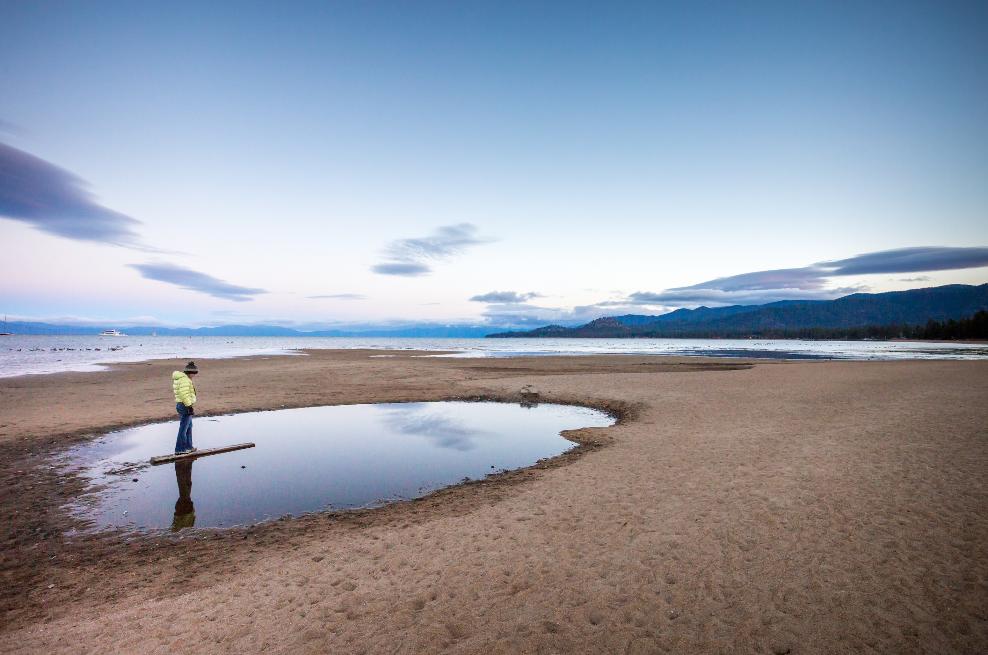 Above: Playing with reflections early in the morning at Tahoe South Lake.
Below: Caples Lake on the drive from Tahoe to Yosemite National Park.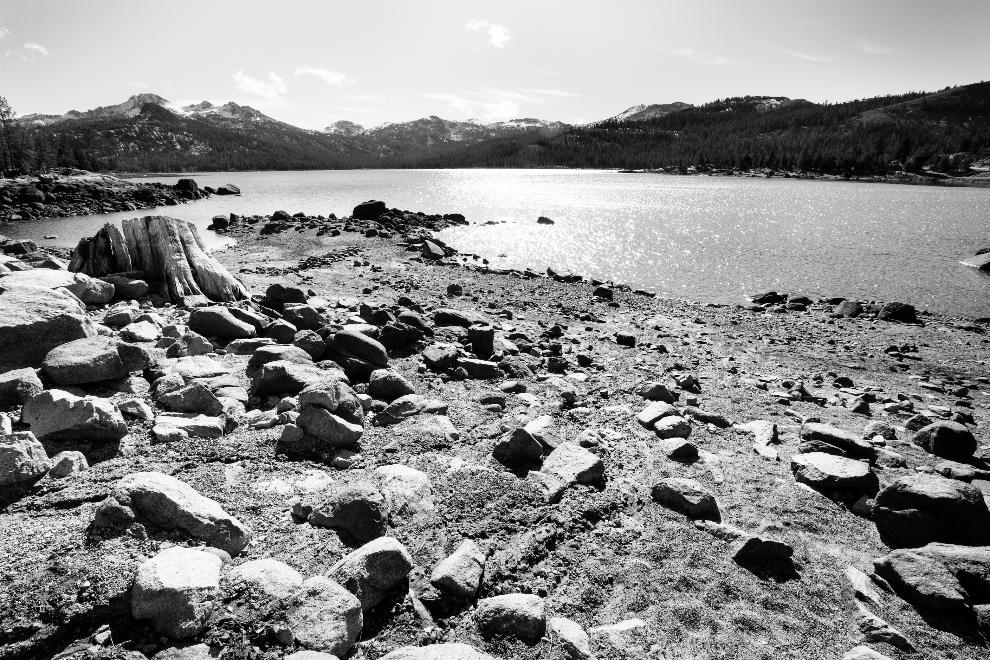 I was incredibly excited to finally be entering the park, having planned to come earlier in the trip and cancelling due to weather, injury, or any of the other reasons that have incapacitated climbing over the past five weeks. Yosemite is a place with an immense amount of climbing and photography history and as I drove down towards the Valley I felt a nervous excitement about what I was about to discover. With everything that had happened over the past few weeks, I felt a strong sense of being in a highly evocable emotional state.
When El Capitan came into view, I was amazed by the size and stature of the piece of rock. Photographs really don't capture its' presence like seeing it for real. Although I knew I was emotional, I hadn't expected the reaction I had. It was mixed and strange, something I had never experienced before and difficult to explain. I was completely moved. Whatever culminated to create that moment for me, it has had a lasting effect and I am now completely drawn to Yosemite in a way that I never have been to a place before. I hope to spend a lot of time here.
WTF, I Broke My Butt.
2nd November 2014
Well this first two weeks in the States has been a complete whirlwind of ups and downs.
…was pretty awesome. I met some great folk, did lots of climbing and drank a fair amount of beer. Perfect. I ended up staying at Kate's house, a friend of a friend who I'd never met before, for pretty much the whole ten-day duration. This was an extension to the original plan, so massively grateful to her on that one. She also kept me topped up with wine and cooked me the best gnocchi I've ever had. In fact, I don't think I would have ever eaten gnocchi again had she not demonstrated how good it can be. Forget that packeted shit. She made it with butternut squash, cream cheese, ground almonds and fresh rosemary. It really was awesome.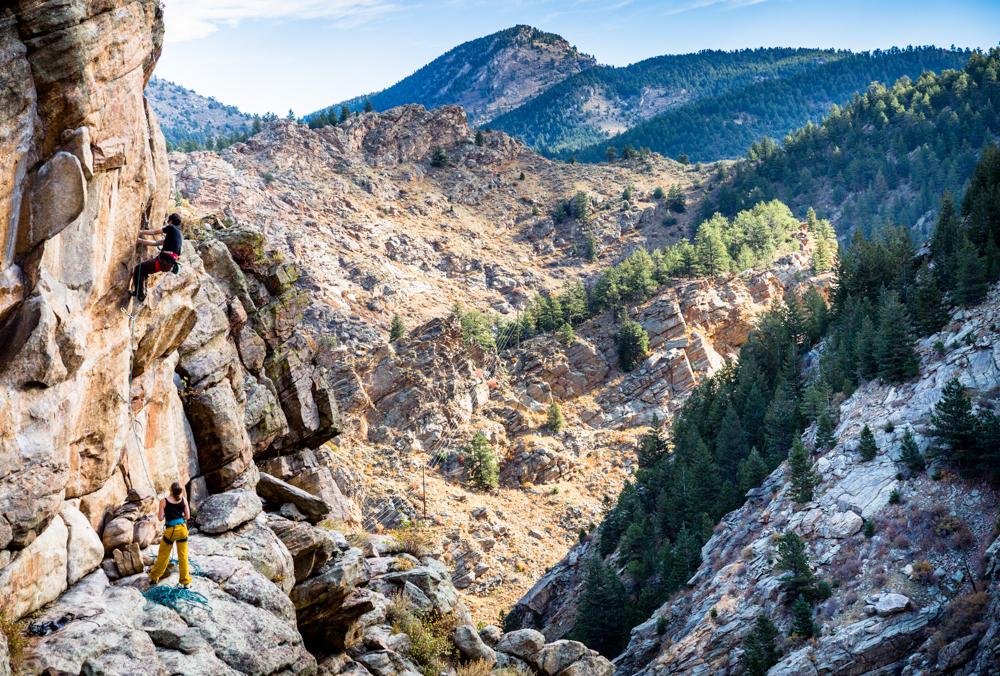 Above: Keith warming up for an attempt on Matt's project 'Clouds in my Coffee', 5.13b, Staoked Bowl, Clear Creek Canyon. FA: Matt Lloyd, October 2014. SA: Keith North, October 2014. Photo: Matt Lloyd.
I climbed through the week with Matt Lloyd – another friend of a friend and a full-time climber. He dragged me up some easy stuff, some hard stuff and some stuff that I didn't get up, which basically provided a tantalising taster to Colorado climbing. There is SO MUCH to do there and I hope to get back to do a month just in Eldo (Eldorado Canyon) sometime. The grades can be a bit sandbaggy, especially at the dubious 5.10 grade (there was a time in the States when climbers were reluctant to add another grade, so you can get piece of piss or likely airmiles depending on your route choice), meaning you have to be a bit careful, but the climbing is immense. It's a beautiful, big, trad playground and a lot of the crags are basically roadside (although Americans will tell you a ten minute walk-in is a bit of a hike). A must on the revisit list.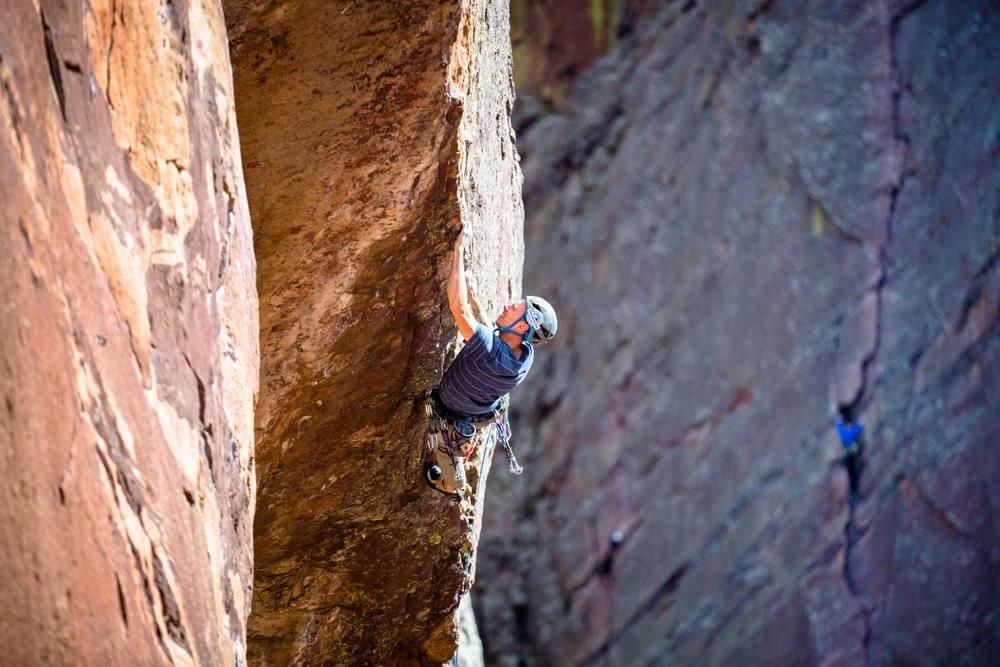 Above: Matt on the scary run-out of Candallegro, 5.13b, Redgarden Roof Routes, Eldorado Canyon. Below: Tyson seconding Kloeberdanz, 5.11c R, Redgarden Roof Routes, Eldorado Canyon.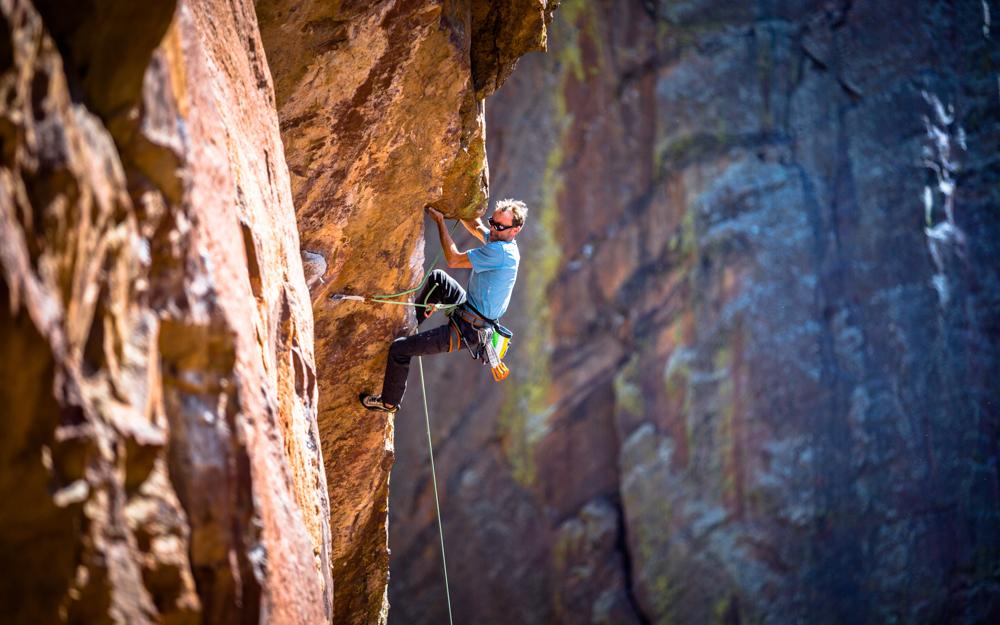 Matt also lent me his moped half way through the week, which was frikin' awesome and gave me some independence around Denver, meaning I could get to the climbing 'gym' in the evenings and also provided some ground training in the ridiculous, dangerous and scary road system of the USA for the road trip I'm about to do. More on that later.
I did a wee bit of filming of a project that Matt was trying (and got) but mostly chilled out climbing without too much self-imposed pressure. One thing I've learned over the last few years is to only film something if you really want to film it. If the circumstances are any different, you'll end up with a hard drive full of crap footage that never makes the edit suite. Unfortunately, troubleshooting with the quadcoptor continued meaning I wasn't able to play with it in Colorado. Amazingly, however, just as I'd started to really hate the thing, I finally got it working this evening with the help of another friend of a friend, Sunny (I'm now in Vegas). The issues boiled down to a dodgy gimbal tilt switch, which I've managed to set manually by going inside the controller. It's not a perfect solution as adjusting the tilt now involves screwdrivers and about ten minutes for every adjustment, but it means that I can film stuff that's not just the ground for the rest of the trip. Phew.
At the end of the ten days, Kev, the actual friend from back home in Scotland, who came on a climbing trip to the States and more or less never went home, took me up to his house in Evergreen for my final night. He lives in a wooden mountain hut that smells of burning pine, at 6,000 feet, overlooking beautiful scenery, with his dog, wife and baby. Two years ago he was on the trip I am on. I love the way that life does that sometimes. We had a great night and I wished I could stay up in his cosy, picturesque log cabin for longer, but the following morning he dropped me off at Denver airport to head to Vegas. I actually got a bit psyched for winter climbing that morning as, despite having climbed in 32 degrees earlier in the week, at altitude, the car was frozen. I got the familiar, sharp, cold smell of frost mixed with exhaust fumes and the sense of early, dark winter starts when we left the house. Yum :)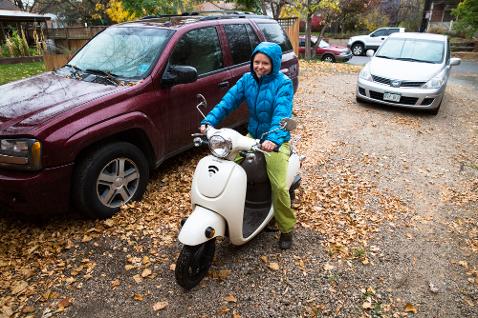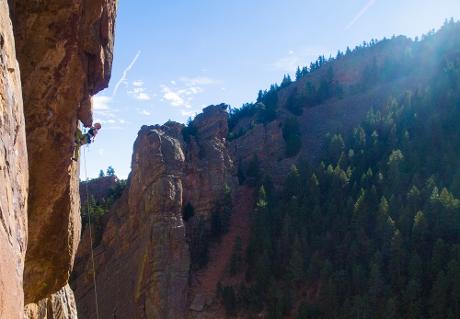 Left: Moped fun in Denver (the only day it wasn't blistering sunshine). Right: Me attempting to second Kloeberdanz, 5.11c R, Redgarden Roof Routes, Eldorado Canyon. Photos: Matt Lloyd.
…so far, has not been so much of a success. I touched down around 10.30am and by 2pm we were climbing in Red Rocks Canyon. It was really, REALLY nice to catch up with an old RAF friend, Benny, and to meet his wife, Marty, when I got here. We had a great afternoon playing on some sport routes and, for me, remembering how to use a Gri Gri (it took a few attempts to put the rope in the correct side, despite the climber picture hint). But then, devastatingly, disaster struck. I got on something that would require a bit more climbing effort that I'd eyed up before arriving – Fear and Loathing, III, a steep 5.12- sport route that would guarantee to get the blood flowing around my stumpy little forearms. I rocked onto a heel hook fairly close to the start of the route and suddenly my whole right ass cheek felt like it tore apart. It made a horrible noise and I felt the whole thing crunch. Shocked and concerned, I let go and got lowered to the ground. Not knowing anything about bottom anatomy, I was initially convinced that I'd pulled some kind of a joint out of it's socket. On Google diagnosis en route home I realised that this was, however, pretty much an impossibility since the only joint I could have done this to in that region would be my hip. Yeah, that diagnoses was a bit off. We concluded that I'd torn my gluteus muscle - I had broken my bum. I walked around on it as much as possible in an effort to stop it from stiffening up. The following day I even tried to climb on it, which was a painful mistake. Fortunately, Marty teed me up with a physio friend, who poked me around whilst stripped down to my pants (proper British pants, not American trousers) and confirmed our diagnosis, with the addition that I'd probably pulled my hamstring a bit too. Bummer. Literally. On the upside, because one's ass is in the middle of one's body and because it is huge (mine is actually quite small, but relatively speaking), it heals pretty quickly. Depending on the extent of the tear it can take between one and six weeks to heal. I have four. I did it on Tuesday and it is now Sunday and it still feels pretty ropey, so I'll be psyched if I get to climb again on this trip.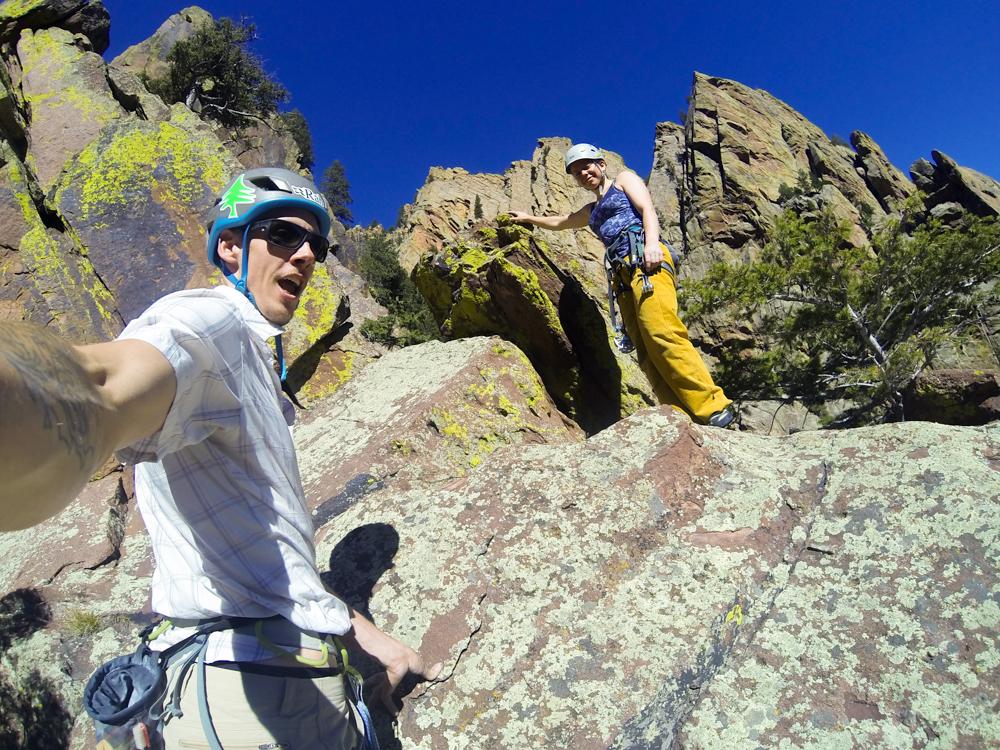 Above: Matt being an idiot.
Like with any injury, and when you're totally psyched at the time of incident, you generally 'allow' it a day or two of climbing loss. This is obviously a ridiculous exercise, as you have no control over the compulsory healing time whatsoever. Then, as things carry on, you resign yourself to the fact that it will take longer. Okay, one week, that's okay, that's better than the rest of the trip. And then longer. Okay, it's not healing as fast as I thought, I'll have to do something else for now. And then… Oh well, it'll be a bonus if I get to climb again on a six week climbing trip.
So, to save myself the torture of sitting in a house and waiting for my bum to heal, I've rented a car (trip budget now well and truly blown) and am heading down to Joshua Tree tomorrow. I get more of a sense of being on a trip when I camp, as opposed to staying in a house, as I am in Vegas, and I find it more memorable too. Even whilst not able to climb, I think that camping and socialising with climbers will be a fun and memorable adventure. Fortunately, I also have film-making and photography to get up to, so I'll see what I find when I get there and do something productive with the time, which is something I now have plenty of.
So, injury = bad and all too-familiar. But, opportunity to do other things = good and excitingly unknown. Perhaps I'll make a film this month, who knows.
Following that, I still have a film to shoot with Sandy in New York in December. I didn't know it until recently, but apparently I'm the DOP and Sandy has just bought a C300, so that's also pretty exciting! Lots of time and lots of things to come. Positive. Good.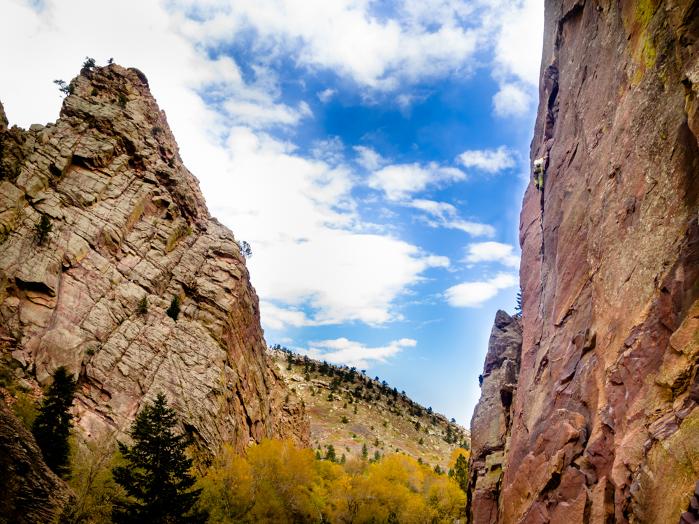 Above: P1 of The Bastille Crack, 5.7. Beautifully easy and fluid climbing. Photo: Tyson. Below: Matt soloing up a bit of unknown rock on demand for a GoPro shot.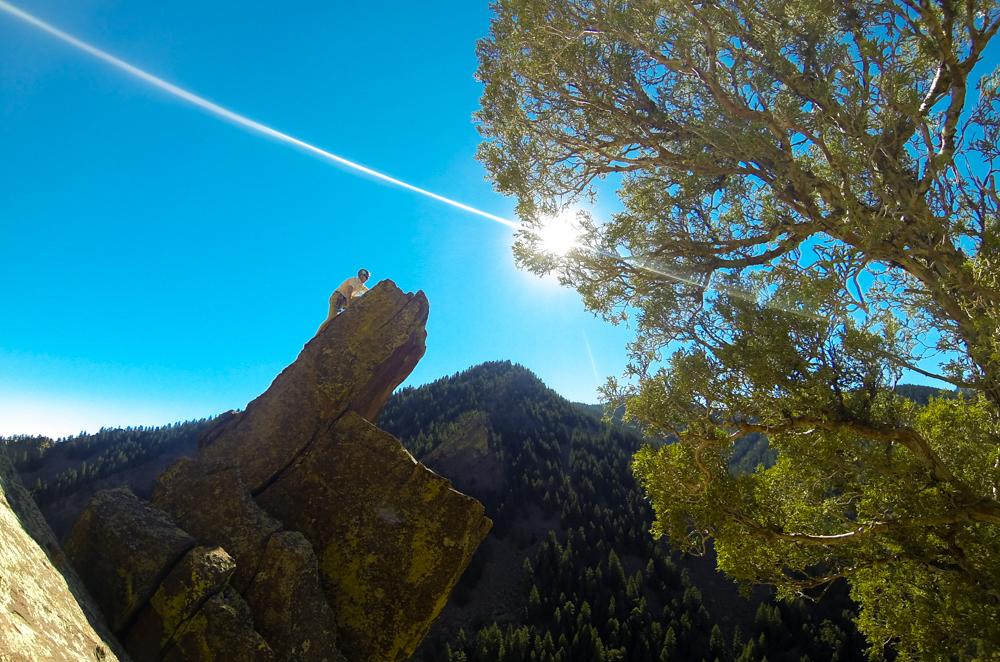 Premium Gold Moments…
18th October 2014
Okay, so I'm sitting in the United Premium Gold Lounge at Heathrow Airport waiting for a flight to Denver. Well that's a surprise!
I always find that travelling alone, especially when gazing out of a window somewhere, stirs some kind of deep reflection in me. Scenarios, smells and sounds always remind me very strongly of what I was doing, thinking or saying when I last saw, smelt or heard them. Sometimes they seem completely trivial, like remembering the thought I had when I was on a particular bend of road on a long bike ride, or where I was when I last smelt Nivea hand cream (Indian Creek three years ago – I now LOVE that smell!) but, of course, there is something that singles them out and makes them stand out in my memory. Apart from journeys generally making you think about where you are going in your life (I mean this metaphorically rather than literally - hopefully you know where you are going by the time you are on the coach to the airport), they also mean that old music collections come out and places visited years ago are visited again. This morning on the coach to Heathrow, I listened to a Queens of the Stone Age track on a really old iPod that I dug out whilst packing. It reminded me of a particular run I went on and exactly where I was on the path when the track came on, in my second year of Uni – eight years ago! Obviously, I've listened to that track loads of times but for some reason that moment resonated with me. I remember the details, like that there were lots of leaves on the path making it slimy and slippery to run on, that it was very sunny but only on the grass next to me (I was in the shade of the trees) and that I was thinking about the fact that I had given up smoking at the beginning of the year to pass the RAF fitness test (yes, you'll be glad to hear that that now sounds laughable, but all achievements are relative!) and was now suddenly finding myself motivated for running and other sports, including climbing. So, in short, I was thinking about big life changes.
I think that travelling puts me in a reflective mood because journeys tend to signify the beginning or end of something. During my time of warm reflection wobbling my way down the M3 this morning, I realised that I have mixed feelings about this trip. By far the overriding waves are of excitement and freedom, but there's a little nervousness mixed in there too. The reason for this is because I'm not just going on (a very long) holiday – I'm trying to achieve something bigger and more important to me than that.
I've made some massive changes in my life recently. Things are completely different than they were just a few months ago. I've come out of a five-year relationship and I've completely changed my career plans. For a while – about three years – I've had a feeling of time running away with me, like I've left it too late to get the things done I want to get done before I'm to old to achieve them. I've also found myself reviewing all the things I did before those three years and feeling impressed with myself, that is, impressed with myself then and not so much now. I've wondered why I've not felt as on it as I was before. "Is that age too? I just don't quite have the drive I had before, the energy. So maybe that's just what happens when you get a bit older..." NO! I'm pleased to say that this thinking was completely and utterly WRONG!
For those three years, I've been focusing solely on the future. Previously to that, I was doing everything in my life purely because I fancied it and I was totally on the ball. I seemed to be able to juggle a million things at once and never stopped to wonder if I could be bothered. I just got on with it with unfaltering motivation and was incredibly productive. I then turned my focus to getting around to tackling that 'career thing'. Error!
Firstly, I had the wrong idea about what I wanted to do. This is not too insightful, I know, but I need to include it to explain myself. I had created a future image of myself when I was about 16 and was adamantly sticking to it, thinking that this was an honourable and determined way to proceed. You have to work your ass of to get to where you want to get, right? Well, yes, but there's a big problem with that statement. It gives the impression that you should be gruelling away at something your whole life purely for the end goal. But if you're doing the thing that you really want to do, then working your ass off becomes something you don't even think about. It might be hard work but it doesn't have to be work that you don't want to work at. If you're natural motivation to get your work done is low, then maybe you're working at the wrong thing. And if you're working at the wrong thing, then perhaps you'll feel like time is running away with you – because deep down you know that you're not getting the things done you want to get done.
Secondly, my focus on the future was all wrong. A future image of yourself is theoretical. By it's nature, you can't ever reach it. When you get there, your future will have moved and you're image will have changed – probably to something that you think is bigger and better.
Fortunately, your subconscious is far more intelligent than you are and these instinctive feelings of discontentment generally bubble to the surface and let you know that something is fundamentally wrong. Having said that, I think it's a hard a skill to learn to recognise and listen to it. Fortunately for me, I did suddenly recognise my own feelings of discontentment and confusion during a conversation with my friend Evie about a month ago, and realised that I have been barking completely up the wrong tree.
My 'incorrect' future image had been to direct feature length fiction films and there are a couple of reasons why I think I had rigidly stuck to this plan, despite the growing feeling that everything about it wasn't really me. Firstly, I'm incredibly stubborn and each time someone asked me the obvious question for someone who is into climbing and the outdoors – "So, are you going to make adventure films then Jen?" – it spurred me on to 'prove them wrong', as if they were suggesting that I couldn't do something that wasn't expected of me. Hmmm. Secondly, I had for some reason put the world of fiction on a pedestal compared to documentary and other forms of filmmaking. Perhaps because it wasn't me it felt more unlikely, spurring me on to do it, or perhaps just because making money out of directing fiction is generally perceived as unattainable, I became determined to do it. Lesson? Determination can be a misplaced, self-imprisoning quality, as well as a useful one.
So, during that conversation with Evie, an influx of revolutionary thoughts (revolutionary in the bubble of my little world anyway) occurred and overnight I changed everything on my to-do list. The issue of knowing what I wanted to do was distilled down to the simple question of what I would do if I didn't have to care about what I wanted to do – if I didn't care about success or failure or what I perceived to be a 'good' career. It's painful to admit it, but as much as I have always believed in the principle of not caring about what other people think, the truth is that it's unlikely I've ever really achieved it. With this realisation, I asked myself the question "What do you want to do right now?" And the answer was: climb, and go on adventures.
There's also something in relation to climbing to me that I noticed about the word "just". Over the past few years, I've come back again and again to saying things like "Fuck it, I might just sack everything off and just go climbing". It's a massive give away. I used to think that it was a throw away comment for momentarily fantasising about the freedom of ditching all your ambitions, choosing an unacceptably easy or non-meaningful option. But I now realise that it's the part of you talking that wants to just do what it is that you really want to do. It is a simple statement because it is stripped down to your core, simple needs.
I am not an elite climber. I'm still a pretty average one on the scale of things. I have been injured for nearly two years and am still coming back from that. Of course, being reintroduced to climbing after a very long lay-off has massively contributed to my newfound motivation, as has evolving out of a long relationship and slapping myself in the face with regards to my career choices. And as a non-elite climber, there is also the question of making a living, which muddies the simplicity of the answer "climb". I do, however, already identify myself as a filmmaker and I feel comfortable with and excited by that. So really the simple answer of "climb" is actually "climb and make films", it's just that half of it was already in place and climbing was the half that was missing from my life.
There's a phrase I learned through studying directing drama: What's the itch you can't scratch? It's about making sure that you need to make the films you make. Every film you invest in should be about something you need to explore. It's an itch that you can't scratch. For years, I've been looking for those itches. I've found topics and characters that interest me immensely, but I've never quite gotten that definitive itchy scratchy thing going on. My interest in a script always tends to dissolve away after a few months of development, or when I've explored the topic enough in my life that I've solved my interest in it without the needto make a film. It was such a supremely happy revelation to me to realise that my itch has been itching me in the face for years, I've just never noticed it – my itch is absolutely, definitely and definitively climbing and adventure!
So, I'm a filmmaker and I finally have my itch. I have my answer (for now, anyway). Filming allows me to go on adventures whilst having a career and climbing allows me to film stuff that's itchy for me. Good. And over the same night that I rewrote my to-do list, I got the energy, drive and motivation back that I had been missing for the past three years.
With that done, I started seeing opportunities that were staring me in the face that I had failed to see before. For starters, this trip took on a different meaning. Initially, it was planned as a trip to New York to shoot and edit a film with a friend, Sandy, who I met on the Film Directing course at ECA, with some climbing tagged onto the beginning. Post-revelation, I was astonished to think that I was going to go on this trip and NOT FILM IT! That is kind of ridiculous for any filmmaker, even if the trip doesn't fit into their 'designated genre' (not that anyone reallyhas one), let alone someone who's into adventure as a hobby, and it just goes to illustrate how blinkered you can become to the opportunities around you by having all your energy focused on the future, or on some other prescriptive life formula. The trip has now become three film projects – the New York project with Sandy, a film of the trip and maybe a second film of some 'real' climbing at Creek's Giving. But we'll see what happens and I'll make sure I stay open to all options at all times!
And just by way of a quick caveat, all this talk about documentary filmmaking doesn't mean I'm not still interested in and open to all projects. It just means that my natural focus is very different to what I thought it was before.
My final thought is about not focusing on where you want your actions to take you. If you're freed of thinking about this, then you're free to make instinctive and passionate choices about what you do in the here and now and you'll probably see and create opportunities around you that you may otherwise have been blinded to. Things just seem to fall into you're lap in this open state. It's always the choices made in this state that seem to turn into the unexpected and unfathomable successes that people have. Those in seemingly unbelievably 'lucky' places have always travelled there via winding and unpredictable paths. They can't be planned for or predetermined, so trying to control them not only puts you in a closed state but may also be a waste of energy!
Not planning for the future is hard and scary, especially if all the people around you are warning you otherwise. It's viewed as reckless and irresponsible in our society and it's engrained in us from playschool to have a plan B and maybe C for when plan A fails. What a depressing thing to teach kids. I hate plan B's. They sap energy from plan A and I think that the way of thinking has the ability to utterly crush people's creativity and freedom of ambition.
Not planning also involves a certain element of risk, which conveniently brings me back to where I started (after my pre-ramble, that is) – that I have slight nervousness I have about this trip. I fear that I can't make the film cinematic, that the kit, limitations and environment that I'll be working with will make it too hard, that I won't find the characters or the footage to make something worth watching. I'm nervous that there won't be a story to follow. But at the same time, rationally, I don't feel worried at all as I trust myself to find something when I get there. It would be easy for me not to admit this, but I'm purposely exposing myself and forcing myself to be honest. If I wasn't nervous, then I either wouldn't care enough or wouldn't be trying hard enough. But I am, and I think that's healthy. And really, the worst case scenario really ain't that bad! I could fail to make a single film - not that bad. If that does happen, then I'll learn from it.
I know that this blog has been very long and self-absorbed, but, despite my inclination to write "sorry about that", I'm not going to. If it's only my Mum that reads this then that's fine by me (Mum – you better not be skim-reading). But if you're not my Mum and you have made it this far, well, then that's an achievement for both of us! By way of compensation, I promise to make the next one less intense and will also include some pretty pictures! ;)
Oh, and the Premium gold bit – that's down to Sandy using her airmiles to get me over - thanks Sandy. The houmous sandwiches were rubbish but the cheesy wraps were awesome.